Manny Pacquiao vs Floyd Mayweather Fight Rumors: Pac Man Needs Win Against Chris Algieri for 2015 Super Bout
Manny Pacquiao is preparing heavily for a match against American Chris Algieri in Macau on Nov. 22, with the fight being one of the biggest in the American boxer's career. Reports say that Algieri is looking for a convincing win against Pacquiao later this month.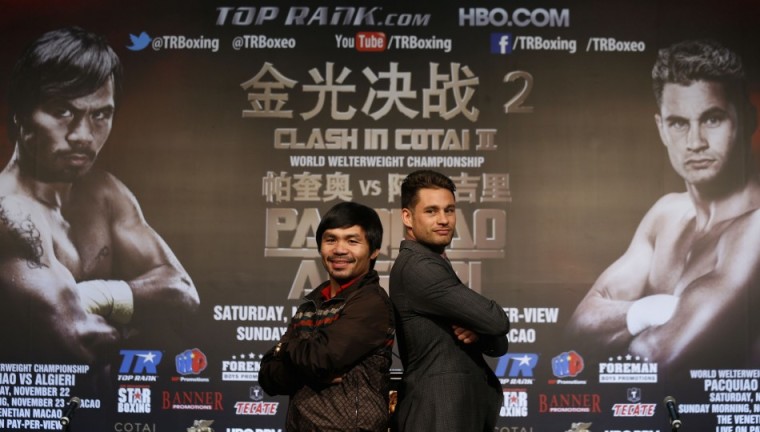 A lot is at stake for both fighters, even more for the Filipino boxer, who is still expected to fight against Floyd Mayweather Jr. in a long awaited bout. If Algieri suffers the loss in the upcoming fight, his undefeated streak will end. However, if Pacquiao loses the match, the possibility of a bout with Mayweather will only completely disappear.
Of course, if Pacquaio seriously wants to fight against Mayweather, he should get through Algieri first.
"I'm crossing my fingers – hopefully that fight will happen by next year," said Pacquiao when asked about the super-bout against Mayweather.
"Right now my mind is already set to focus on my next fight with Chris Algieri. I think the time to talk about that issue is after the fight," he adds.
However, Pacquiao at 35-years old is well beyond his prime and taking down Mayweather won't be an easy task if he manages to beat Algieri this coming Nov. 22. One of the referees in boxing, Joe Cortez, has claimed that Pacquiao is slipping in terms of performance. Algieri will be giving Pacquiao a difficult fight as he is taller than Pacquiao and younger as well.
Many think that the fight will pull through in 2015 if Pacquiao bags the win against Algieri, but if he loses against the American boxer, then all chances of the mega fight will go along with it.
Mayweather has two matches left in his six-fight contract with Showtime and it would seem that he is reserving one of those matches for Pacquiao – but only if he manages to win against Algieri.