'Monster Hunter: World' Big Title Update With Deviljho Will Arrive Next Week
'Monster Hunter: World' Big Title Update With Deviljho Will Arrive Next Week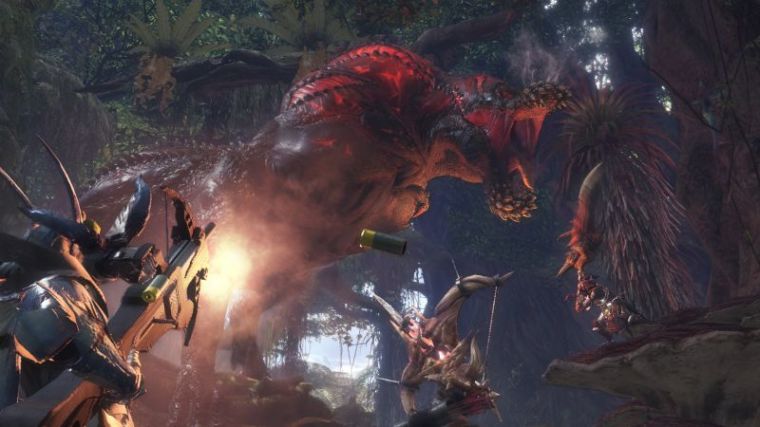 A major update that will bring a substantial lineup of improvements and the anticipated comeback of Deviljho to "Monster Hunter: World" is expected to arrive next week.
"Monster Hunter: World" developer Capcom recently announced in a blog post that the game's version 2.0.0 will come in a few days, both on PlayStation 4 and Xbox One. And as promised, the main content arriving with the patch is the Deviljho monster, a returning character that was first introduced in 2010's "Monster Hunter Tri."
"This fearsome Brute Wyvern is sure to wreak some serious havoc and bring massive headaches to any unsuspecting hunters... but those who fell this violent beast will be handsomely rewarded," Capcom said in the blog. In preparing to fight Deviljho, players are advised to craft the Vangis α and Vangis β armor sets "including brand new Deviljho designs for Sword and Shield, Hunting Horn, Bow, Insect Glaive and Charge Blade."
The upcoming title update will also bring balancing improvements to "Monster Hunter: World" weapons. These modifications include increasing the damage inflicted by Great Sword's Charged Slash abilities; adding more attack power to the Hunting Horn; allowing players to keep the Demon Gauge in play; improving input timing and hitbox detection as well as making Long Sword's Foresight Slash better, and more. Meanwhile, no changes will be applied to the Light and Heavy Bowgun.
The title update 2.0.0 will be released for free on Thursday, March 22.
In the same blog post, Capcom also announced that starting March 16, it would be giving each "Monster Hunter: World" player a free Character Edit Voucher that they can download via the PS and Xbox online stores. This gives players another chance to edit their Hunter character's gender, physical and cosmetic appearance. However, gamers can no longer change the name of their Hunter and Palico as well as the latter's looks.
In other news, Capcom also revealed that the Spring Blossom Fest will commence on Thursday, April 5, at 8 p.m. EDT until Wednesday, April 18, at the same time.