National Hurricane Center: Tropical Storm Isaac Path Map Shows Florida as Target (PHOTO)
National Hurricane Center: Tropical Storm Isaac Path Map Shows Florida as Target (PHOTO)
NOAA's National Hurricane Center in Miami, Florida, has issued a tropical weather outlook forecasting that Tropical Storm Isaac, which has been predicted to become Hurricane Isaac in the coming few days, will arrive near the coast of Tampa, Florida by Monday.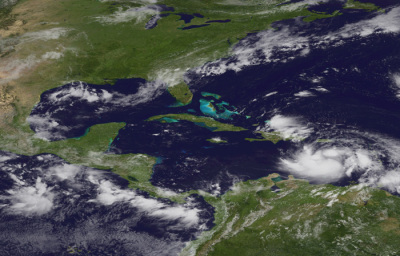 The tropical storm is developing its strength, and by the time it comes near Tampa Bay on Monday its northeast quadrant is expected to be the most powerful of any hurricane in the northern hemisphere.
At present Tropical Storm Isaac is situated about 250 miles south-southeast of San Juan, Puerto Rico. It currently has maximum sustained winds of 40 miles per hour, but with much more powerful gusts. Isaac is at present moving westward at approximately 12 miles per hour.
Tropical storm warnings have been put in effect for the British Virgin Islands, Puerto Rico, Vieques, Culebra, the U.S. Virgin Islands, Dominican Republic, Haiti, Saba, St. Eustatius, St. Maarten, Martinique, Dominica, Guadeloupe, Desirade, Les Saintes, Marie Galante, St. Martin, St. Kitts, Nevis, Antigua, Montserrat, and Barbuda.
Meanwhile fears are rising that the potential Hurricane Isaac could disrupt the Republican National Convention. The current predicted path will see it hit Florida the same day that Mitt Romney and 50,000 Republican delegates and guests arrive in Tampa.
ABC meteorologist Max Golembo has said, "Any way you take it, it's going to be a wind and rain event in Tampa. We don't know if it's going to be damaging to Tampa, canceling the convention or just delaying it."
Golembo added, "Tampa is just as vulnerable as New Orleans was in the sense that the water will funnel into the bay area and from the storm surge which will flood completely the whole entire city of Tampa." He was of course referring to Hurricane Katrina that devastated New Orleans in 2005.
"It would be a disaster in the Tampa area," Golembo said.
However, officials in Tampa have tried to remain calm and have brushed off any suggestions of impending devastation. Tampa Mayor Bob Buckhorn said, "Come on down. The event is going to take place, it's going to be a great event and we're looking forward to having you."
He highlighted the fact that Isaac was still nearly 2,500 miles away from the Florida coast, suggesting that talk of devastation at this point was premature.
Buckborn added, "We haven't been hit by a hurricane in 90 years, but that doesn't mean we let our guard down. We've got plans in place that we practice all year round. We've got plans on top of plans. The only thing the RNC does is add about 50,000 more people to the equation."
Hurricane Isaac Forming In The Atlantic Ocean -- Puerto Rico And Other Islands On Watch -- Report