Rihanna Instagram Photos Banned, Singer Reacts
Rihanna Instagram Photos Banned, Singer Reacts
Rihanna has decided to pose for a French adult entertainment magazine for men, and now the singer seems to be speaking out after the images were banned from Instagram.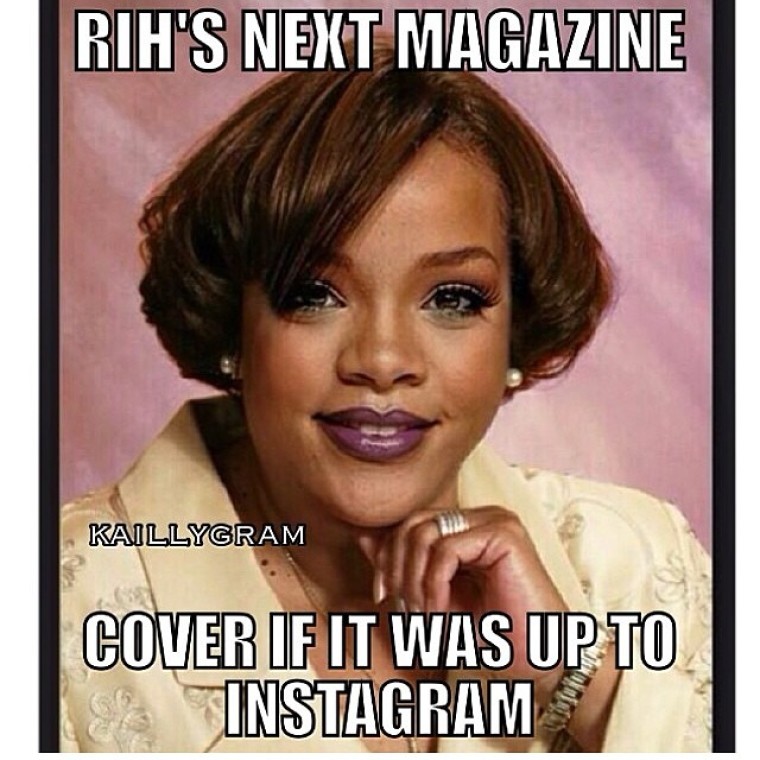 Rihanna, the 26-year-old singer from Barbados, is the covergirl of Lui magazine, where she is posing topless and bottomless in a few images. The singer seemed proud of the work, taking to Twitter to promote it.
However, it seems Instagram will not allow her to post the partially nude photographs and now the singer is speaking out about it.
"My new Cover..... Go to TWITTER to see it! #LUI," she wrote on Instagram, showcasing a close up of the cover while cutting out any nudity.
Rihanna also posted another image of her face which looks to be superimposed onto the body of another woman with a conservative outfit on.
"Rih's next magazine cover if it was up to Instagram," the image reads which the singer captioned with a sad face.
Instagram has been known to ban racy images in the past, including that of model and "Keeping Up With The Kardashians" star Kendall Jenner.
Jenner's risque Marc Jacobs runway appearance during New York City Fashion week was officially banned from Instagram last February. After Jenner, 18, strutted down the Marc Jacobs runway with her top half exposed amid backlash, Instagram explained removing the image from the photograph sharing website.
"The photo violated Instagram's guidelines that include a limitation on nudity," Instagram representatives previously told E! News.
Kim Kardashian, Jenner's 33-year-old sister, who proudly posted the image on her Twitter and Instagram accounts, reacted to the news last February.
"Ughhhh can Instagram just delete your photos," Kardashian questioned. "Maybe ‪@KendallJenner‬ was too hot for instgram!!! (SIC)"
It seems the same guidelines that got Jenner banned from Instagram are being applied to Rihanna.