'Rocket League's' Upcoming Basketball Mode Is Called Hoops
Arriving in time for the NBA playoffs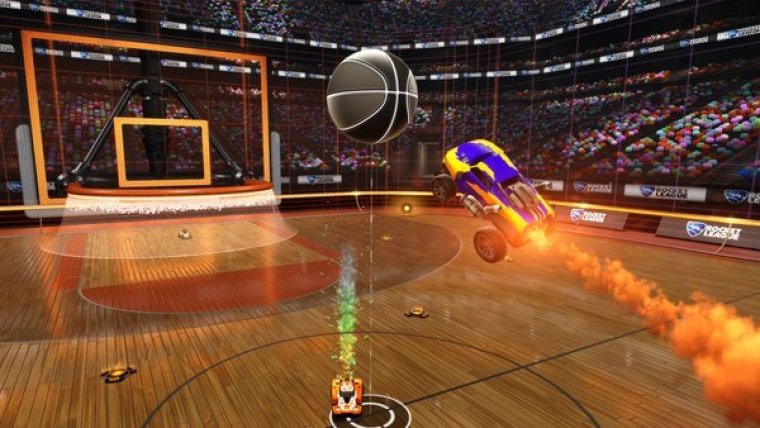 Psyonix has announced that the official name of its new mode where cars and basketball meet is Hoops. The new mode is set to arrive this April, though an exact date has yet to be provided.
"Break some axles in the Dunk House this April! #RocketLeagueHoops," Psyonix shared with "Rocket League" fans in the game's official Twitter account.
Dunk House is the name of the arena, not the mode, developer Psyonix told GameSpot. The tweet was accompanied by a GIF image showing a Battle-Car shooting the ball from the air in what appears to be the game's version of a slam dunk. Agility with the jump button or mastery of airborne ball control is expected to be key in this new mode.
Psyonix teased the new mode earlier this month, hinting a release in time for March Madness. However, the latest update reveals Hoops will be coming in time for the NBA playoffs. The game's basketball mode, together with a brand new map, will be available to "Rocket League" players for free.
Hoops is one of a number of twists to popular sports other than soccer that Psyonix has already created through a mode. Last year, the developer added its car-based iteration of ice hockey through Snow Day. The mode was also released as a free addition to the game's playlist.
"Rocket League" can be played on Sony's PlayStation 4 and Microsoft's Xbox One and Windows PC. It's the first game to support Xbox One's cross platform play, which Psyonix revealed was the No.1 most requested feature in the community. The developer further said that "Rocket League" will support Xbox One and PC cross network play "later this spring," although no exact date has been provided so far. After this announcement, Psyonix stated it has "figured out" cross network play between the Xbox One and PS4. However, this doesn't mean Xbox One and PS4 players can expect to play with each other any time soon.