Saban 'the Devil Himself': Tim Davis Follows James Franklin to Label Nick Saban Satan (VIDEO)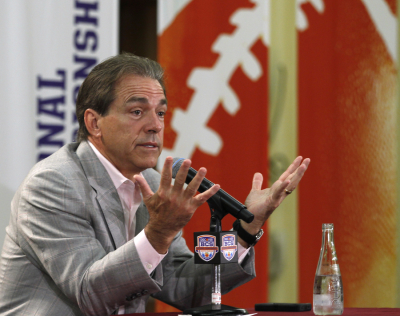 Nick Saban is "the devil himself," according to Florida offensive line coach, Tim Davis.
According to reports, Davis made the controversial comments this week, which have shocked some. Howver, others have claimed that his comments have been taken out of context, and were made in jest.
It is not the first time that Saban has been compared to Satan, and in January Vanderbilt coach James Franklin referred to the Alabama coach as "Nicky Satan." In that incident, Franklin was forced to make an apology afterwards, but it seems that Saban is unable to get away from the label.
Davis brought up the comparison again this week as he was speaking to a group of Florida boosters. He explained the difference between working for Will Muschamp and Saban: "I've always wanted to work with Will. Will's got a plan. Will coached under the devil himself for seven years. I only did three. He did seven. And his DNA is not any different than Nick.
He added, "[Muschamp]'s like the other guy, only he's got a personality. He'll smile at you. He'll talk to you. You understand? That's what he's all about. That's Will. I'm proud to work for him."
Davis worked under Saban during two seasons with the Miami Dolphins, as well as another year in 2008 at Alabama.
Some have commented that Davis was just joking, and given his audience it appears most likely he was just playing up to readers with his comments. He likely did not realize that the comments would go more public, where obviously they can be taken out of context.
Here is a video of an interview with Nick Saban following the 2013 National Championship game:
Nick Saban Post Game Interview 2013 National Championship | HD