The Dark Knight Rises Review, Trailer, No Spoilers (VIDEO)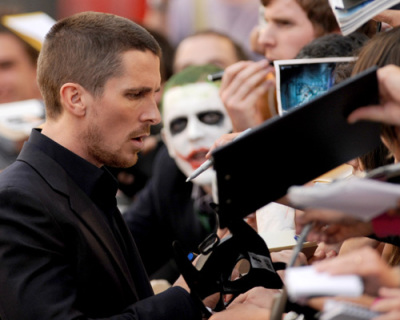 More and more reviews of "The Dark Knight Rises" are coming in, and with expectation for the latest movie in the Batman franchise exceeding high, does the new Christopher Nolan film live up to those expectations?
Following highly praised films "The Dark Knight" and "Inception" many fans have been eagerly awaiting the release of "The Dark Knight Rises." The new movie has been receiving mixed reviews, but will delight most fans. It has everything a fan of "The Dark Knight" would want, apart from perhaps the surprise and new feeling that the original had. When the original was released it was a fresh and new concept for the Batman franchise. The new movie is unable to capture that same "wow" factor, but is a fantastic movie none the less.
Most reasonable headed critics would agree that this new movie belongs in a similar realm to "The Dark Knight" and lives up to most expectations previously set by that film. However, because expectations of sequels are always to go further, to blow your mind more, and to offer deeper and greater insight, it is fair to say this new movie does not exceed previous standards - it does not blow the original out of the water.
However, critics and fans should be reasonable; a standard Christopher Nolan film is still a fantastic movie, and fans should be leaving theaters happy with the return they've been given.
"The Dark Knight Rises" is set eight years after "The Dark Knight," and fans are introduced to Cat Woman as Selina Kyle, played by Anne Hathaway, steals Bruce Wayne's late mother's pearls necklace from Wayne Manor. Hathaway is fantastic as Cat Woman, and her performance will surprise many who had written her off in the role.
Bane, played by Tom Hardy, is also introduced to fans and does not disappoint. Bane concocts a plan involving the nuclear reactor being used in Wayne's clean energy project. Hardy always had a difficult job playing the villain in this film, and not taking anything away from him, there is a slight void left where Heath Ledger's Joker once stood in "The Dark Knight."
With the villains in place and trouble brewing Gotham City becomes in desperate need for a hero, the Dark Knight. However, Wayne's doctor has assured him that the damage to his knees and shoulders is so bad that all hope is surely lost. However, undeterred Wayne once again dons his Bat Suit.
Butler Alfred, played by Michael Caine, is distraught with Wayne, and refuses to stand by and watch his boss die in battle. Meanwhile Lucius Fox shows his genius in helping Wayne with new weapons that can help him fight his new enemies.
As the story develops Bane seems to have struck the winning blow against the Dark Knight, and the movie darkens, only for a thrilling finale to take place which does not disappoint.
The final part of the trilogy does not blow the mind like "The Dark Knight" managed, however, it is still a fantastic film and far exceeds some other final trilogy films in other franchises.
Below is the trailer for "The Dark Knight Rises":