'True Detective' Season 3 News: Cast Member Provides Promising Update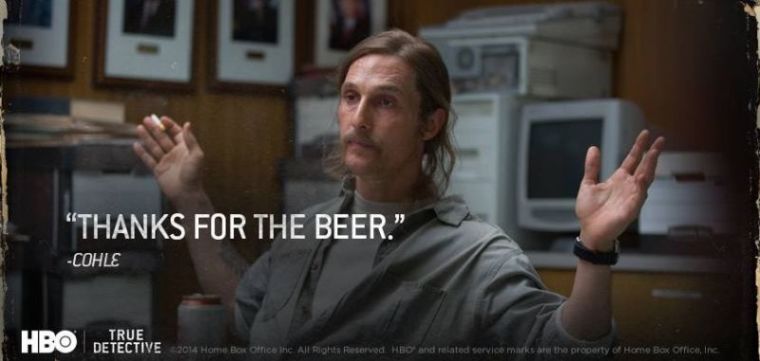 "True Detective" is getting a second chance at life with season 3, and HBO is making sure to replicate the success of the first season.
This is why it comes as no shock that the first season of the anthology crime drama, which starred Matthew McConaughey and Woody Harrelson, will be the inspiration for the third season.
Jon Tenney, who will be part of the "True Detective" cast for season 3, teased to Observer what to expect when the series returns while also keeping cards close to the vest.
"I can't get into real specifics, but I think it does move a little bit in the direction of season one... a little bit more maybe than season two," the actor teased.
"The scripts are just so compelling. Again, really moving. The company is great. I can't really say a whole lot, but I'm thrilled to be part of it and I think people are going to really dig it," he went on to say.
This comes as good news to those who are worried that "True Detective" will not be able to come back from the second season, which received poor reviews and ultimately put the fate of the whole show in jeopardy.
The second run of the series, which boasted major star power, failed to capture the magic of the first season and was ultimately named by several media outlets as "one of the worst television programs of 2015."
HBO did not immediately address the show's poor performance. Then-president of programming Michael Lombardo took the blame, saying that he rushed creator Nic Pizzolatto to write a script to beat the deadline instead of providing him enough time to come up with a compelling story as the first season.
"The first season of 'True Detective' was something that Nic Pizzolatto had been thinking about, gestating, for a long period of time. He's a soulful writer. I think what we did was go, 'Great.' And I take the blame. I became too much of a network executive at that point. We had huge success. 'Gee, I'd love to repeat that next year,'" he told The Frame in 2016.
"Well, you know what? I set him up. To deliver, in a very short time frame, something that became very challenging to deliver. That's not what that show is. He had to reinvent the wheel, so to speak. Find his muse. And so I think that's what I learned from it. Don't do that anymore," he went on to say.
Mahershala Ali will take the lead in "True Detective" season 3, which takes the mystery and the action to Arkansas. The actor will play the role of a detective who is linked to a mystery persons case that spans decades. Also set to star Ray Fisher and Carmen Ejogo, the new season will explore different eras as it dives into the case.
Pizzolatto is taking directorial duties this season after Jeremy Saulnier left the production early. He was supposed to direct three episodes but had to leave after only helming two due to scheduling conflicts.
A premiere date for "True Detective" season 3 has not been announced.