Diet high in fat, calories could reduce the brain's ability to regulate how much people eat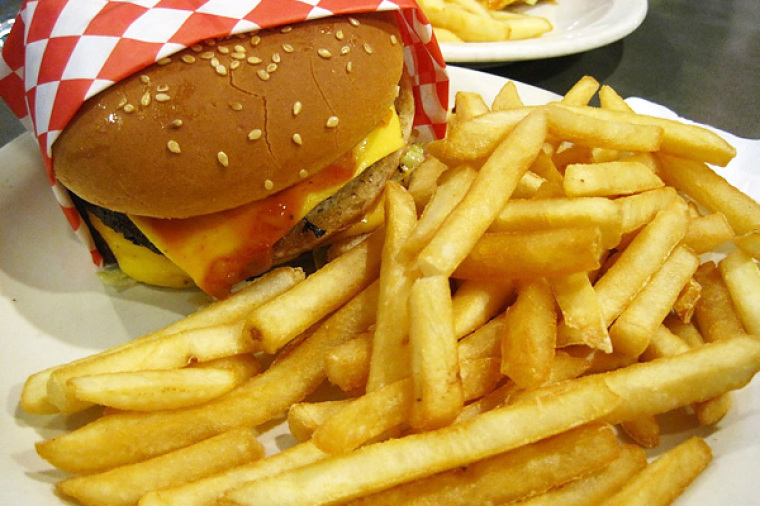 For people who love overeating burgers and hot dogs simply because they are delicious, new research from Penn State College of Medicine suggests it could be the high fat or calorie count in these popular junk foods that could reduce their brain's ability to say no more.
The research, conducted with rats and published in The Journal of Physiology, found that large star-shaped cells in the brain called astrocytes control the signaling pathway between the brain and the gut. Researchers found that "after short periods of being fed a high fat/high calorie diet, the brain adapts to react to what is being ingested and reduces the amount of food eaten to balance calorie intake."
If this diet is continued long-term, however, it "seems to disrupt this signaling pathway," researchers said.
"Calorie intake seems to be regulated in the short-term by astrocytes. We found that a brief exposure (three to five days) of high fat/calorie diet has the greatest effect on astrocytes, triggering the normal signaling pathway to control the stomach," Dr. Kirsteen Browning of Penn State College of Medicine said in a statement.
"Over time, astrocytes seem to desensitize to the high fat food. Around 10-14 days of eating high fat/calorie diet, astrocytes seem to fail to react and the brain's ability to regulate calorie intake seems to be lost. This disrupts the signaling to the stomach and delays how it empties."
Browning said researchers plan to examine the findings further to see if they could be used for health interventions in humans.
"We have yet to find out whether the loss of astrocyte activity and the signaling mechanism is the cause of overeating or that it occurs in response to the overeating. We are eager to find out whether it is possible to reactivate the brain's apparent lost ability to regulate calorie intake. If this is the case, it could lead to interventions to help restore calorie regulation in humans," she said.
In "The Hidden Dangers of Fast and Processed Food," published in the American Journal of Lifestyle Medicine, Dr. Joel Fuhrman stated that "most chronic diseases that afflict Americans are predominantly lifestyle induced."
"The belief is that the vast majority of heart attacks and strokes could be prevented if people were willing to adopt healthy lifestyle behaviors. In addition, healthy lifestyles would impact a significant number of cancers which are also believed to be related to lifestyle exposures, especially to obesity, cigarettes, and other toxins," he noted.
Fuhrman explained that in the last 50 years, the health of Americans has deteriorated to the point where 71% of the population is considered overweight or obese due to a body mass index (BMI) over 25 kg/m2.
He argued that if American health was being measured by health standards in places such as Ikaria, Greece; Sardinia, Italy; Okinawa, Japan; the Nicoya Peninsula of Costa Rica; and Loma Linda, California, where groups of centenarians register a healthy BMI below 23 kg/m2, 88% of Americans would be overweight.
Of the remaining 12% of the population, he argued that perhaps "only about 5%" is at a normal weight as a result of eating healthy and living a healthy life."
"The Standard American Diet (SAD) is clearly not a healthy diet," he wrote.
While it is now readily acknowledged by many that junk food impacts the body, Fuhrman states that most people aren't aware that it also affects mental health.
"Many people recognize that junk food, fast food, processed food, white flour, sugar, maple syrup, honey, agave nectar, and all the junk people are eating contribute to in obesity, diabetes, heart attacks, strokes, dementia and cancer, but many don't realize the strong causative role an unhealthy diet may have in mental illness," he said. "Currently, 1 in 5 Americans suffers from a psychiatric disorder. And many people don't realize the harm that processed foods have on Americans living in urban areas where they don't have easy access to whole, fresh foods."