A former prisoner in the Islamic Republic of Iran speaks out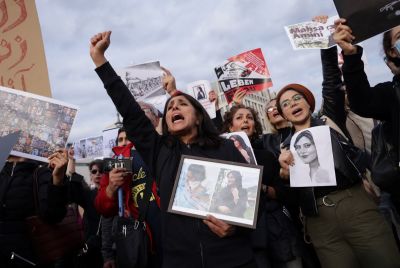 I have followed and written about Iran since its 1979 Islamic takeover.  Given my long professional interest in communicating about the dangerous Islamic Republic's leadership, I was fortunate to meet and interview Iranian Christian Marziyeh (Marzi) Amirizadeh, who was formerly jailed in the notoriously brutal Evin prison. 
Amirizadeh spoke about the current "Women, Life, Freedom" movement protesters, who are still in the streets opposing Iran's ruthless authoritarian regime despite public hangings, murders, political repression, and the ongoing arrests of more than 18,000 people, including Iranian journalists. 
The current protests began in September 2022 following the death of 22-year-old Mahsa Amini, who was under arrest for improperly wearing her head covering (hijab).  Amini was beaten to death while in "morality" police custody.  Amirizadeh observes, "It's not just about a piece of cloth. The protesters are not in the streets facing guns and bullets just for that. Our people wonder if the Western nations are going to stand with them for regime change rather than betraying them by making deals."
The "Women, Life, Freedom" movement embodies decades of simmering frustrations, especially among the younger population, which has given up on reforms.  Amirizadeh explains that Iranians consider themselves and their country separate from what they view as a criminal regime, and believe that they and Iran have been taken hostage by the Islamic Republic authorities.  She explained, "Sharia law has ruined their lives, but it is not that they are turning their back to God. As soon as you are born, there is no option for you. Papers are filled out right away and you became a Muslim." She added that only the Koran is available in bookstores and that millions of people never practice Islam. 
Amirizadeh and her close friend Maryam Rostampour were arrested in 2009 when officials caught on that they were giving away Bibles (20,000 in total) and had founded several secret house churches. 
When the guard booked them, he hung a sign around their necks with their names and their charges:  "Accused of promoting Christianity in Iran." They were smiling when their pictures were taken in prison, viewing the accusations as an honor. 
They were jailed in Iran's Evin prison, notorious for its harsh treatment of political prisoners.  The two women remained in the prison for 259 days.  Amirizadeh's best-selling books, Captive in Iran and A Love Journey with God, detail the severe hardships — and the miracles — she experienced.  She recalls her imprisonment, "I was witness to how many people got arrested and tortured right in front of my eyes. It broke my heart." 
Since immigrating to the United States, Amirizadeh continues to draw attention to the oppression of Iran's 85 million people, 70% of whom are under 30 years old.  
During my interview, she reflected on her life growing up.  "Every morning at school, they forced us to stand in line and say, 'Death to America and death to Israel,' that Israeli people are our enemies, and they should be eliminated from the face of the world. That is cruel to brainwash little children." She explained that the radical clerics' ideology teaches students that the 12th Imam will come to conquer the world through an Islamic caliphate and that "you will go to heaven by destroying Israelis and Americans." 
She views it as a miracle and a dream to be living in America. "Finally, God brought me here and I'm so blessed and honored to live in this great country." 
Persecution is helping people to see the truth in Iran. "When we were evangelizing in Iran," Amirizadeh recalls, "we did not have even one bad experience. Everyone was so thirsty to find the truth and I could see that God had prepared their hearts even before we talked to them." 
She added, "The Church in Iran is suffering for justice and we have a responsibility to stand in solidarity with Iranians who are fighting against the enemy of the church and the world. Our duty is not just to read our Bibles at home, enjoy our freedom, and go to church. For me, faith without action is dead. Everywhere Christians must stand up for freedom before it is too late. The Islamic Republic regime is a threat to the whole world. They are spreading agendas into your soul. Do not invite this evil to your home and to your country. Wake up!"  
She recommends that nations can show their support for the "Women, Life, Freedom" protesters by recalling their ambassadors, stopping negotiations, and any financial support that could be "used to suppress and kill more people."  The Biden administration's temporary decision to keep the Islamic Revolutionary Guard Corps (IRGC) on the Foreign Terrorist Organizations List was welcomed by Iranians. 
Human Rights Activists News Agency (HRANA) reports that since September, 19,200 people, including journalists, lawyers, teachers, students, and civil rights activists have been arrested. The prison population is bloated and 39 may face the death sentence. One protester, Majid-Reza Rahnavard, 23, was executed publicly. He was convicted of "waging war against God," a capital offense. His body hung from a crane in the northeastern city of Mashhad. 
"This time, people are saying 'enough is enough' and say they will fight until the regime collapses," Amirizadeh stated. 
Arlene Bridges Samuels, freelance writer, speaker, and consultant is the  featured weekly columnist at The Christian Broadcasting Network Israel, Guest Columnist at Allisrael.com, and former Southeast Regional Christian Outreach Director at the American Israel Public Affairs Committee (AIPAC) for nine years.