Ask Chuck: How do we catch up from past financial mistakes
Dear Chuck,
My wife and I made more than our share of financial mistakes early in our marriage and are still making up for losses. Can you give us some tips on how to catch up?
Catching Up Financially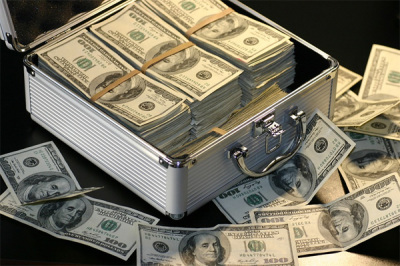 Dear Catching Up Financially,
Ha! You and me both! I could write a book on all the financial mistakes I have made. To answer your question, I've compiled a short list of common financial mistakes to avoid.
First and foremost, remember that you are a temporary steward entrusted with managing what God provides.
"Yours, O Lord, is the greatness and the power and the glory and the victory and the majesty, for all that is in the heavens and in the earth is yours. Yours is the kingdom, O Lord, and you are exalted as head above all. Both riches and honor come from you, and you rule over all …"  (1 Chronicles 29:11–12a ESV).
Mistake: Spending more than you earn
Now that you know your role and responsibility, never spend more than you earn. It's the quickest way to end up in debt and will set you back months, years and even decades with interest payments and missed opportunities to save and invest. Imagine playing limbo every month — the bar represents your income, and you represent control over your spending. 
Mistake: No emergency savings
When spending less than you earn, you can fund an emergency savings account. The money set aside for this purpose will prevent you from having to use a credit card when the unexpected hits — which it will! You might as well learn to expect the unexpected! Things happen that may catch you off guard: a flat tire, a lay-off, a medical issue, etc. — so having an emergency fund grants you financial protection.
"Go to the ant, O sluggard; consider her ways, and be wise. Without having any chief, officer, or ruler, she prepares her bread in summer and gathers her food in harvest. How long will you lie there, O sluggard? When will you arise from your sleep? A little sleep, a little slumber, a little folding of the hands to rest, and poverty will come upon you like a robber and want like an armed man" (Proverbs 6:6–11 ESV).
Mistake: Streaming services that waste time and money on entertainment
Last year, CNBC reported that consumers spend an average of $133 more each month on subscriptions than they realize. Eighty-five percent of U.S. households have at least one video streaming subscription, and 60% have at least one paid music streaming subscription. These are usually auto-paid, and users fail to notice the cost.
Many are charged for subscriptions they do not use. As a result, many consumers underestimate how much they spend on subscriptions each month: mobile phone, internet, TV/movie streaming, Amazon Prime, music streaming, miscellaneous digital subscriptions, gaming, news and others. Cutting back on streaming can save you money and time. Closely monitor bank and credit card statements to avoid paying for what you do not use (or need).
Mistake: Carrying a balance on a credit card
Assuming you have a credit card or two, never carry a balance. Current interest rates are ridiculous, and more than half of Americans are paying them. Do you want to pay 25% more for debt you carry over each month? This is financial suicide. Set a goal to pay off balances as quickly as possible using the avalanche or snowball methods, a balance transfer, or a combination of these methods. Try Crown's online courses, work with one of our Budget Coaches, or contact Christian Credit Counselors.
"Owe no one anything, except to love each other, for the one who loves another has fulfilled the law" (Romans 13:8 ESV).
Mistake: Taking expensive vacations
When I was growing up, vacations were spent driving to visit out-of-town family or a National Park. They were never expensive but always fun! Today, people fly to destinations, even if they are in debt. One survey showed that despite inflation and credit card debt, consumers have a "treat yourself" mentality, indulging in drinks, experiencing new activities, and purchasing expensive souvenirs. FOMO, hidden costs, under-estimated extras, and more can lead to post-vacation debt. Budgeting and planning ahead prevent overspending. Pray about a trip you want to take. Then work and save together. God can provide in amazing ways that you would miss if you choose to go into debt.
"Trust in the Lord and do good; dwell in the land and befriend faithfulness. Delight yourself in the Lord and he will give you the desires of your heart. Commit your way to the Lord; trust in him, and he will act," (Psalm 37:3–5 ESV).
Practice contentment and improve your finances
"Keep your life free from love of money, and be content with what you have, for he has said, 'I will never leave you nor forsake you'" (Hebrews 13:5 ESV).
When we realize that this life is so very temporary, we learn to be content, which leads to far less spending. Less spending creates more giving, saving and investing, which reduces stress and accelerates the ability to catch up.
Thank you for your question. Due to the importance of this topic, I plan to cover more mistakes next week.
I would like to invite you to our Crown Reunion in Ridgecrest, North Carolina, from October 12–15, 2023. Here, you will learn more about financial stewardship, meet our staff and some of our international partners, and grow spiritually with new friends. More information is available here: https://www.crown.org/reunion/.