Biden and the perils of geezerspeak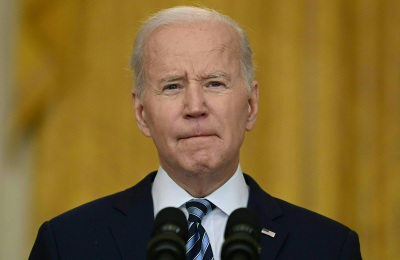 President Biden has set the world aflame with his declaration regarding Russian President Vladimir Putin: "For God's sake, this man cannot remain in power!"
The Russian bear is growling, politicians are wailing, pundits are moaning, and people everywhere are aghast.
Yet Biden's impromptu utterance did confirm the warning the Apostle James sounded in the Bible: "Consider what a great forest is set on fire by a small spark ... the tongue also is a fire, a world of evil ... set on fire by hell" (James 3:6).
You can best understand Biden's sometimes strange statements if you know that the president often is talking in Geezerspeak. It takes one to know one. So, to be honest, at age 80, I find myself slipping into Geezerspeak, though not with the tremulous impact as that of President Biden.
Here are some insights into Geezerspeak, a language in which I have high proficiency:
1. Many Geezers (and the occasional Geezerette) believe they have a right (even a duty) to provide the final word on everything.
"The hoary (gray) head is a crown of glory; it is found in the way of righteousness," says Proverbs 16:31.
When Geezers don't walk "in the way of righteousness" they become smug as they compare the abundance of their life experience with others and believe their gray-white hair gives them a license to talk about anything and everything when they need to listen.
2. The older we get the more the filters come down and the rawer the speech.
Without the controlling power of the Holy Spirit and the "righteousness" referred to in Proverbs 16:31, some Geezers assume they can drop filters, forget decorum, be contemptuous of their audience, and say whatever they wish — the more shocking the better.
3. Some Geezers often lose the ability to separate passion from polemic.
President Biden, for example, said his statement about Putin was due to a sudden surge of "moral outrage."       
St. Paul writes, in Ephesians 4, "Let no corrupt word proceed out of your mouth, but what is good for necessary edification, that it may impart grace to the hearers."
This requires spiritual and emotional, as well as physical sobriety in the lives of those who hold hefty powers.
4. When it comes to cause and effect, geezers own the hill.
We older folk have lived through so much and seen so much tragedy, witnessed (and committed) so many errors that we sometimes cannot imagine why others don't get it. 
Frustration over watching younger generations make the same mistakes that will result in the same predictable outcomes erupts into the "hoary" person's psyche, causing him or her to give an inappropriate response, intensifying tensions rather than steadying the situation.
5. Geezers were born and raised in the commonsense era and are impatient when people ignore the obvious.
Geezers get terribly irritated and grouchy when those around them fail to understand what should be so clear.
6. Geezers need to show they shouldn't be written off and be taken seriously.
Vladimir Putin, at 69, is at the threshold of Geezerhood and is already asserting the need of being taken seriously. "I will thrash him," he said of young Ukraine President Volodymyr Zelenskyy, who, like Putin likes to be regarded as being in top physical condition, and, again, like Putin, has allowed himself to be photographed in his muscular glory, showing that he is a tough guy who, though youthful, should not be pushed aside.
7. Presidents, including those as young as John F. Kennedy, all develop a preoccupation concerning their legacy, and the older the president the more intense the pressure.
Life is short, the clock is moving fast, and legacies can sink in the deep swells of crisis. This tempts a chief executive to forget caution and rush forward, often into disaster. Lyndon Johnson wanted a legacy as a peacemaker who ended the Vietnam War and pursued what some regarded as a reckless course, resulting in his not running again for the presidency and disaster in Vietnam.
On a trip with President Nixon to a vote-rich state in the critical year 1972, I was assigned to corral a certain senator from that state who earnestly wanted to be photographed with Nixon — something the White House just as passionately did not want because the senator was deep into Geezerhood and frequently made embarrassing comments from which the president wanted to dissociate himself.
"Keep Senator (anonymous) away from the president!" I was ordered.
As President Nixon descended the steps of Air Force 1, the senator lunged from my clutches to make the grand entrance with Nixon. I had to gently lay hold on his arm or even try to get in front of him.
All this came to mind when I read President Biden's declaration about Vladimir Putin. Every political leader — especially presidents in the Geezerhood season — need "managers" strong and credible enough to restrain executive impulse of speech and action.

Presidents and their handlers are, after all, human, though on a large scale and holding the power to do much harm through words "unfitly" spoken.