Blessing Abortion Is Foolish, Corrupt and Evil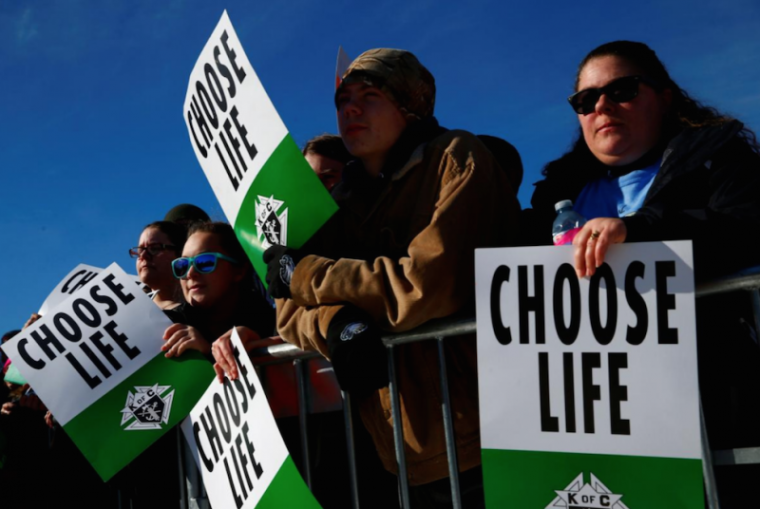 Abortion is now widely accepted and promoted as a basic human right and as reproductive freedom, liberating women from the burden of childbearing and motherhood.
The Washington Post recently covered religious leaders blessing a late-term abortion business based on the "sanctity of the health and free will of women." At the ceremony, a Baptist pastor was quoted as saying that through abortion God affirms a woman's "moral agency."
Despite the cover of the cloth, these clergy are false teachers. Instead of preaching biblical truth and trusting God who delivers us from trouble, they advance the abortion mindset.
This abortion mindset sees pregnancy as a matter of personal choice, and choosing not to be pregnant as the highest degree of empowerment for the average woman. She should trust abortion, not God, to protect her from economic hardship or financial dependency. Abortion, not God, will bring her out of limited opportunity in work and education. Abortion, not God, will save her from having to devote her life to a family member with permanent disabilities.
Abortion, not God, will somehow instantly relieve her from living with a constant reminder of having been sexually violated against her will, perhaps by a family member she must remain in contact with.
Abortion is also their holy panacea for women—the magic cure to the scourge of inequality with men, the stroke that levels the playing field to upend the patriarchy and liberate the female sex from her biologically ordained bondage to men and the demands of motherhood.
Like many young women who choose abortion, I was as ignorant of the abortion mindset and rhetoric as I was of the developmental milestones of my baby at 12 weeks.
But I began to be against abortion immediately after experiencing it, because I knew something was irretrievably lost. I knew I had failed as the last line of defense against the taking of an innocent life.
Facing this reality—that death lies at the center of every abortion—may not break the abortion mindset. Here, the false teachers are complicit, helping women claim their freedom and express relief.
Others' hearts will break to realize their devaluation as women; now they must compulsively prove their equality with men. This is actually a hopeful sign—the seeds of seeing abortion for what it is and not what the false teachers present.
Yet, getting a new mindset is a process for many of us. We're against abortion.
But.
But, there must be exceptions, we're told. But, if the sex was forced, you needn't be burdened with the life you carry. But, if your child is diagnosed as less than perfect, you too can escape the burden such a pregnancy may bring.
The abortion mindset denies that every life is worthy of protection.
The abortion mindset in effect, denies God, placing individual women in His place.
The abortion mindset assumes women alone are in control of the creation of new life, and as such, they retain sole ownership of pregnancy. In our hearts, we know it's morally indefensible to grant a group of people ownership over another group, despite the special circumstance of the utter dependency of one group upon the other. In our hearts, we know this dependency should lead to a greater responsibility to protect the dependent ones, rather than a license to kill. We know the myth of autonomy is a lie. Try telling your friend who is thrilled to share the news of her pregnancy that, of course, she retains her bodily autonomy until the child is born, at which point you will take an interest. If she isn't hurt, you may not actually be friends.
The abortion mindset assumes that men are irrelevant in matters of pregnancy and childbirth, denying that it takes two to create a pregnancy. The abortion mindset says men don't matter. If he is not actually silenced in the public discourse, he will find he has no voice in any court should he decide to speak on behalf of his child. And those who say men don't own women's bodies will next defend a woman's right to exercise ownership over the other body in question—her child's.
The abortion mindset assumes the unborn are not human, denying the science of embryology, which tells us as soon as the human egg is fertilized by the human sperm, the new organism, the zygote, is a distinct, living, whole human being. Over 20 embryology textbooks agree. But the mindset will dismiss neonatology saving premature babies as young as 20 weeks in favor of defending abortion rights throughout all nine months of pregnancy. This assumption also denies the many citations in Scripture indicating life begins before conception, in the mind of God.
The abortion mindset will justify destroying the youngest members of the human family in the name of "family planning." It will deny that God is the author of life, that the raw material belongs to God. Clergy and others with an abortion mindset may twist God's word about the origin of humankind to "prove" life begins with the child's first breath, forgetting He says life is in the blood.
Finally, the abortion mindset may then even condone the shedding of innocent blood, which is expressly prohibited, both in God's word and in the moral law written on our hearts. It is especially tragic that these clergy fail to teach the abortion providers they bless that God hates, and sees as an abomination, "hands that shed innocent blood."
Those who deny God, the Bible says, are not only foolish, but corrupt, doing evil, and not one of them does good. Likewise, to deny God's sovereign role in the creation of a new life in every single pregnancy is foolish, corrupt and wrong. And whether or not you are clergy, to deny God's abundantly clear direction to protect innocent blood in the name of "moral agency" is foolish, and corrupt and evil in the extreme.
So many women and men share my experience; they tell me that having exercised their "moral agency" the aftermath of living with the immorality of the abortion choice becomes unbearable. Guilt and grief become your jailer, holding you captive, locked up, until faith in Jesus Christ frees you. That's why it's so important that we handle sin and sorrow carefully and properly.
As Christians, we want to inspire the hope of repentance—an entirely new mindset about the matter, including a new mindset about freedom and empowerment. About who to love and what to hate. About faith and using our liberty to better love and serve the least and the lost among us, which may often be our pregnant neighbors, or our own flesh and blood.
I pray these pastors and those they have blessed in their corruption will repent. I pray they will cry out to God to redeem the lives that have been taken, and restore the peace they've destroyed and ask for his merciful forgiveness.
It's their only hope.
Kim Ketola is the host and executive producer of Cradle My Heart Today, a companion to her award-winning book Cradle My Heart, Finding God's Love After Abortion. Kim's radio work earned her induction into the Minnesota Broadcasting Hall of Fame in 2013. Cradle My Heart is a safe space for listeners to share stories and connect with others who are finding God's love—especially during unintended pregnancy and after abortion.