Caution — swine crossing (and they're people)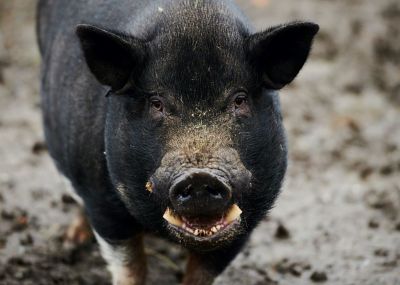 "Argh — I just don't get it!"
Said my red-faced (from anger) and exasperated wife. She was joined by my youngest daughter who gets very animated and wide-eyed when she's (ahem) 'expressing' her outrage at something.   
Their fury was directed at several individuals who were shamefully treating a young woman our family has known for a very long time. An almost two-decades-long good friend of my daughter, she had just achieved a very serious milestone in her life, and we were there to celebrate with her.
The problem — both that day and for as long as we can remember — these other people, who have been in her life, were also there. Instead of praising and rejoicing with her, they acted in a very demeaning way, while tossing in some cutting remarks for good measure.
What gives?
Truth be told, this was par for the course with this crew. Oh, the stories I could tell you as I think back through the history we've had with them, but let's not open that bag.    
And the cherry on the sundae? They profess to be Christ followers and are in church most every Sunday.
So, you get my wife and daughter's indignation and the mismatch they see between what that group should have been doing and how they were behaving. Add to that all the help we've given those people over the years and the returned-evil-for-good we've gotten back, and you've got a strange situation indeed.
Except it's not strange at all. Which is what I tried to tell my wife and daughter.
It all comes down to recognizing who and what you're dealing with.
The nature of a thing
Jesus' seemingly uncharacteristic statement comes out of nowhere and is found in the most unlikely of places — the Sermon on the Mount.
"Do not give what is holy to dogs, and do not throw your pearls before swine, or they will trample them under their feet, and turn and tear you to pieces" (Matt. 7:6).
Christ does some important expectation setting for us here: not everyone will melt in the face of our Christian kindness. In fact, some will not only spurn your charity but will actually try to eat your face off afterward.
Christ likens these people to dogs and swine, which is a serious insult.  
I love dogs, but not this kind of dog. The reference here is to an animal that is large, savage, and ugly.
In Christ's day, they were everywhere, invading the garbage and the rubbish thrown into the streets. They were thought unclean and filthy (Prov. 26:11); were threatening (Ps. 22:16, 20), would howl and snarl (Ps. 59:6), and were greedy and shameless (Isa. 56:11). To be eaten by dogs was a sign of God's special curse resting upon a person (1 Kings 14:11; 16:4; 21:24).
Spiritually speaking, dogs in Scripture are often portrayed as predators who feed off others.
And I likely don't need to tell you that swine were viewed as similarly contemptible and filthy. The Old Testament mentions swine as unclean animals (Lev. 11:7; Deut. 14:8). For the prodigal son to be sent into the fields to feed the pigs was a sign of hitting rock bottom (Luke 15:15-16).
We're treated to an interesting second look at both dogs and swine in Peter's second letter: "The dog returns to its own vomit, and the sow has bathed herself, only to wallow in the mud again" (2 Pet. 2:22).
Combining both Jesus' and Peter's words, we get a couple of important lessons about recognizing and understanding the innate nature of a thing and fake faith.
First, you shouldn't be surprised if dogs and swine attack you — it's in their character to do so. This is what I tried to tell my wife and daughter about the hurtful actions of the people with which we were dealing. The best course of action is to avoid them like you would a rattlesnake.  
Second, it can be hard to spot them … at first. Jesus tells us that, for various reasons, we offer wonderful and precious things to dogs and swine, indicating that we might not recognize them for who they really are in the beginning.
But Peter tells us that, eventually, they make themselves known by their evil lives. Paul says the same thing when he writes, "They profess to know God, but by their deeds they deny Him" (Titus 1:16).  
Make no mistake: we're not talking about a Christian struggling with sin (e.g., Rom. 7:14-25), but rather a consistent, persistent, hateful walk because they have never been born again. And the grossness of their life is something on which Peter doesn't hold back (just picture his imagery in your head).     
So, what are we to do? Jesus' admonition is clear: steer clear of them and expect only havoc if you choose to ignore His warning. This is especially important in view of the fact that the harvest is plentiful, but the laborers are few (Matt. 9:37; cf. John 4:35).
And keep in mind, you'll find plenty of them in church which means one thing: walking through those doors doesn't make you a Christian any more than going into McDonald's makes you a hamburger.
Robin Schumacher is an accomplished software executive and Christian apologist who has written many articles, authored and contributed to several Christian books, appeared on nationally syndicated radio programs, and presented at apologetic events. He holds a BS in Business, Master's in Christian apologetics and a Ph.D. in New Testament. His latest book is, A Confident Faith: Winning people to Christ with the apologetics of the Apostle Paul.