Defending America's priceless heritage by defending the Jews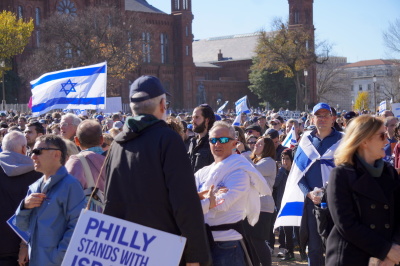 As I write this column, I continue to be profoundly shocked by the malignant eruptions of corrosive anti-Semitism across the landscape of our nation. When I see substantial throngs of Americans chanting "Gas the Jews" and "Globalize the intifada" in New York City, or anywhere else for that matter, I am shocked in a way I have personally never been shocked before.
If I had not seen it and heard it with my own eyes and ears, I would not have believed it. And frankly, virtually every Jewish friend and acquaintance I am privileged to know feels the same way. And who can blame them?
Someone very close to me once told me, "Richard, something unimaginable and terrible has never happened to you. It has happened to me when my father was diagnosed with brain cancer and died when I was 17.  When it happens to you, you never feel quite the same security again."
In the collective memory of every Jew is the 20th century's Holocaust murder of 6 million Jews. When that has happened to your people, you know the unimaginable can happen. It did!
How could this rise in anti-Semitism be happening in America? After all, America, to her credit, has been different in her treatment of Jews.
In 1790, even before the passage of the Constitution's First Amendment defending religious freedom, America's first president, George Washington, visited a Jewish synagogue in Newport, Rhode Island. Subsequently, he wrote a letter to the synagogue's membership declaring the right of everyone to worship as they choose, not as a matter of tolerance, but as a fundamental human right.
President Washington closed the letter with the following benediction:
"May the children of the Stock of Abraham, who dwell in this land, continue to merit and enjoy the goodwill of all the other inhabitants; while everyone shall sit in safety under his own vine and fig tree, and there shall be none to make him afraid."
Has America been perfect in practice and in principle on this issue?  No, she has not always lived up to her noble ideals.
However, as former Senator and Vice Presidential candidate Joseph Lieberman observed several years ago:
"This is a country founded by Christians, a majority whose citizens are Christians. But … those rights to life, liberty and a pursuit of happiness, which we have as the endowment of our Creator, have been given to everybody. So, this is a nation that — the majority of which is Christian. I will say to you as a Jewish American that I believe in the 5,765 years of Jewish history, there has never been a country, other than Israel during certain times of its history, which has given Jews more freedom. … That's the glory of this country and, frankly, the grace and gift of the Christians who founded the country." (Joseph Lieberman, "Faith in America," on Meet the Press, March 20, 2005).
This is the glorious heritage bequeathed to us by our forefathers, and it is up to us as Americans to protect it and to pass it on unsullied and undiminished to our children and our grandchildren.
As freedom-loving Americans, we must insist that our federal government understand and act upon the fact that the true culprit in the Middle East is the Islamic Republic of Iran. The terrorists who staged the heinous attacks on Israel on Oct. 7 trained for their mission in Iran.
The mullahs in Iran are the spiritual and financial sponsors of Hamas, Hezbollah and all the other malicious actors stirring up genocide against the Jews in the Middle East —and make no mistake about it, it is genocide.
Dr. Quanta A. Ahmed described his experience helping with the orderly handling of the corpses of the victims of Oct. 7th in his commentary "The Scenes of Genocide I Saw in Israeli Morgues" in The Wall Street Journal.
"I examined bodies and ashes, incinerated teeth and bones. I saw toddlers, teens and adults, young and old, many of them bound, tortured and burned alive.

One word continually came to mind: genocide. No matter how it emerges, the monster is easy to recognize. As a doctor, I had a rare and panoramic view of the aftermath: the targeted people's long, agonizing journey to death." 
Describing the horrors he has witnessed previously in northwestern Pakistan, Kurdistan and other ISIS atrocities, Dr. Ahmed asserted that the Oct. 7 attack was more savage and "barbaric than anything before it" and that "Islamism is a virulent imposter of Islam with intentions anathema to the faith."
Israel has no choice. Hamas is committed to the genocide of the Jewish people. How can you make peace when your next-door neighbor is fanatically committed to murdering you and your family?
Islamism is the ideology driving this human catastrophe. 
As Dr. Ed Husain, a professor at Georgetown's School of Foreign Service, pointed out in an op-ed in The Wall Street Journal, Islamism (as opposed to Islam) was incubated in Egypt in the 1920s and departed from previous Islamic traditions. The Muslim Brotherhood formulated the following declaration of faith:
"God is our objective. The Prophet is our political leader. The Quran is our constitution. Jihad is our method. Martyrdom is our aspiration."
As Dr. Husain observed, "no Muslim before the 20th century would have belittled his faith's sacred text by regarding it as a political manifesto."
Islamism is a blood cult that has arisen within Islam with barbaric embodiments such as Hamas. And this Islamic cult has no compunction about murdering any and all Muslims who reject their heinous vision of the future. In fact, to date, they have killed more of their fellow Muslims than any other group of victims.
And Iran is the "great enabler." Our government must take the necessary measures to take away Iran's ability and will to continue the financing of genocide against the Jews in Israel and anti-Semitism everywhere it rears its malignant head.
It is often said, "When people tell you who they are, believe them!" Iran's mullahs and their Hamas clients have shown us who they are by word and deed. We need to believe them and unite to defeat them so they can no longer poison the minds, twist the souls and destroy the bodies of more generations of people in the Middle East — Jewish and Gentile.
The Israelis are fighting for the fundamental human rights of everyone in the Middle East, including the Palestinians, and we should support them in every way we can. If the Israelis prevail, everyone in the Middle East will have a better future. If the Iranian mullahs win, everyone's future will be grotesquely bleak.
Dr. Richard Land, BA (Princeton, magna cum laude); D.Phil. (Oxford); Th.M (New Orleans Seminary). Dr. Land served as President of Southern Evangelical Seminary from July 2013 until July 2021. Upon his retirement, he was honored as President Emeritus and he continues to serve as an Adjunct Professor of Theology & Ethics. Dr. Land previously served as President of the Southern Baptist Convention's Ethics & Religious Liberty Commission (1988-2013) where he was also honored as President Emeritus upon his retirement. Dr. Land has also served as an Executive Editor and columnist for The Christian Post since 2011.
Dr. Land explores many timely and critical topics in his daily radio feature, "Bringing Every Thought Captive," and in his weekly column for CP.