Enough with the fake friendships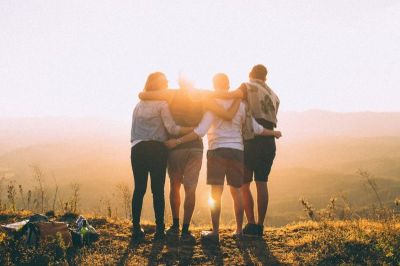 I have a "friend" who I used to be regularly involved with that now only sends me a text twice a year — once on my birthday and another on my wedding anniversary. Nothing much, just a simple "Happy …" and that's it.
I absolutely hate getting them.
I'm sure you'll call me petty, ask me what I did to spoil things, tell me I should be grateful that someone — anyone — takes the time to wish me well, and say that it's how most people roll today where personal interactions are concerned. After all, we just don't have the time to really be involved in other people's lives, do we?
Plus, doesn't the Bible warn us that "A man of too many friends comes to ruin" (Prov 18:24)?
Maybe it's just the sigma male in me that bristles at superficial exchanges like these. But something tells me I'm far from being alone in my position that there should be more to friendships than the I'm-only-sending-you-this-because-you-came-up-on-my-digital-tickler-today type of interaction.
Psychologist Kathleen Smith gives us the bad news when she writes, "Whether we realize it or not, many of our relationships are built on a foundation of superficial chatter, mutual disdain for others, and anxious focus on those we love."
I doubt that's what you want in a friendship; I know I don't. Smith goes on to say: "Most of us don't want our relationships to stay stalled in surface-level conversations. We crave relationships where we can talk about our beliefs and experiences, even if they are different. We want to be honest about how we're doing, and what we want, without the other person anxiously trying to fix us or edge away. But having this kind of relationship with our friends, much less our family, seems daunting."
To make matters worse, we have the less-than-pure motivation some people have for being "friends" with us, which Pastor Tim Keller speaks about: "It is disappointing to note that the vast majority of people only associate with us because they believe we can help them in some way."
Not a pretty picture, huh?
Proverbs 18:24 does indeed warn that those kinds of superficial friends can wreck us but then goes on to say that "there is a friend who sticks closer than a brother." I'm betting it's that type of friend we really want and, hopefully, desire to become to other people.
The Hebrew word for "friend" in the Proverbs passage is ʾahab, or ʾaheb, and is a very strong word that literally means "lover." It's used elsewhere to describe God's friendship with Abraham: "Did You not, O our God, drive out the inhabitants of this land before Your people Israel and give it to the descendants of Abraham Your friend forever?" (2 Chron. 20:7) and Jonathan's friendship with David: "Now it came about when he had finished speaking to Saul, that the soul of Jonathan was knit to the soul of David, and Jonathan loved him as himself" (1 Sam. 18:1).
That's the kind of friend you and I both crave, but as Dr. Smith said, those kinds of relationships are becoming more difficult and rarer, in large part due to our current culture's social media conditioning that trains us to be aloof, uncaring, and self-centered.
Such an attitude is bad enough when it's aimed at other people, but it's an eternal catastrophe when it's directed at God.
The superficial "friendship" you never want to have
The "God /Jesus is your friend" sermonette, which bypasses repentance, obedience, self-denial, and a call to personal holiness is extraordinarily popular today because it's laced with the same superficiality as our social media-induced fake acquaintance-making. God becomes another personality we attach to loosely and is looked upon in a how-do-I-benefit-from-you manner.  
That kind of affiliation ends up producing what the puritan Matthew Mead calls "the almost Christian" with the end result of that kind of relationship being tragic.
We see Jesus describe it this way: "Not everyone who says to Me, 'Lord, Lord,' will enter the kingdom of heaven, but he who does the will of My Father who is in heaven will enter. Many will say to Me on that day, 'Lord, Lord, did we not prophesy in Your name, and in Your name cast out demons, and in Your name perform many miracles?' And then I will declare to them, 'I never knew you; depart from Me, you who practice lawlessness'" (Matt. 7:21-23).
God forbid that happens to any one of us.
To avoid that end, you and I both need to eschew not only the indifference-oriented and inauthentic relationship ways of which the world reeks but also the shallow and unsaving "friendship" with God that is taught today in too many pulpits.
Instead, we want to have the kind of real, saving relationship with Jesus that Lazarus had.
History tells us that after he was raised from the dead by Jesus, Lazarus traveled down the south coast of Cyprus to a city called Larnaca where he became the bishop of the church there. When archaeologists uncovered his sarcophagus on Larnaca over which a church now stands, they found an inscription whose ending line can hopefully describe us one day:
Lazarus, Bishop of Larnaca
Four days dead
Friend of Jesus       
Robin Schumacher is an accomplished software executive and Christian apologist who has written many articles, authored and contributed to several Christian books, appeared on nationally syndicated radio programs, and presented at apologetic events. He holds a BS in Business, Master's in Christian apologetics and a Ph.D. in New Testament. His latest book is, A Confident Faith: Winning people to Christ with the apologetics of the Apostle Paul.