Evidence against the existence of skeptics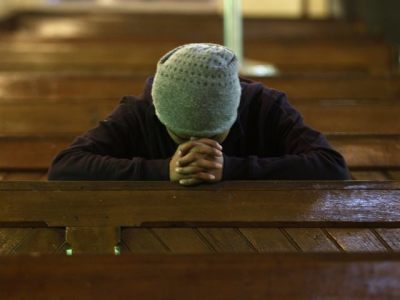 Start with studies today or go back years and years and you'll find the research says the exact same thing: deep down, we all know there is a God.
"Religion comes naturally, even instinctively, to human beings, a massive new study of cultures all around the world suggests," said a CNN article some years back. The piece was citing a three-year Oxford-based project, which incorporated more than 40 different studies by dozens of researchers looking at countries from China to Poland and the United States to Micronesia.
Their conclusions all arrived at the same destination — the existence of a higher power, including widespread belief in an afterlife and an instinctive tendency to suggest that natural phenomena happen for a reason. "We tend to see purpose in the world," said Oxford University professor Roger Trigg. "We see agency. We think that something is there even if you can't see it ... All this tends to build up to a religious way of thinking."
This isn't surprising as the Bible says that even though people may externally profess disbelief, "that which is known about God is evident within them; for God made it evident to them. For since the creation of the world His invisible attributes, His eternal power and divine nature, have been clearly seen, being understood through what has been made, so that they are without excuse (Rom. 1:19-20). John Calvin called this innate belief in God the "sensus divinitatis" — the "sense of divinity/deity."   
And there's a strange and almost amusing way God shows this to us.
Admit it, you've prayed before
In his later years, during a crisis where a loved one was very ill, skeptic and enemy-of-Christianity Mark Twain admitted: "I prayed. I prayed like a coward; I prayed like a dog."
The fact that all of us have prayed at some point in our lives reveals that we aren't quite as skeptical of God's existence as we might make out.
Of course, many will object to that assertion. For example, Sigmund Freud contended that religious belief and practices like prayer were nothing more than a coping mechanism that assisted people in dealing with the harsh realities of life.
Freud argued that our ancestors looked at the fury of nature, illness and many other things that robbed them of their control and were driven to look past their intellect to something that wasn't real and couldn't be verified. A religious belief then formed that satisfied their strong emotional need and desire to be saved, said Freud.
But what if those storms didn't cause the belief, but instead revealed it? 
That's the contention of pastor Tim Keller in his masterful message, "They Greatly Feared," which covers a familiar episode in the Old Testament where a storm comes upon the ship carrying Jonah who was running from God's assignment of going to Nineveh. Storms, he says, tend to reveal who we really are and what we really believe.
Keller says that when all on the ship begin to cry out in distress to their false gods, their actions were showcasing what he calls our "involuntary muscle and reflex toward God."
So, does this innate instinct prove that God exists? Not at all.
"That involuntary reflex is not evidence for skeptics of the existence of God. It's actually evidence from God against the existence of skeptics," says Keller.
Keller's point is that the rough patches in life expose the truth that we are all God-knowers and have a natural predisposition to reach out to Him. We can try and explain it away in Freudian style, but that often becomes an exercise in what's called "drowning the fish" — you can pour all the water you want on the animal, but in the end, it will still be there smiling at you.
Like Twain found out, the gravity and suddenness of situations reveal the real you. C. S. Lewis puts it like this: "Surely what a man does when he is taken off his guard is the best evidence for what sort of a man he is? Surely what pops out before the man has time to put on a disguise is the truth? If there are rats in the cellar you are most likely to see them if you go in very suddenly. But the suddenness does not create the rats: it only prevents them from hiding."
We can go round and round on the topic of apparently unanswered prayers (I've had a boatload; Jesus had at least one Himself) and debate the anthropological origins of religions, but those conversations won't put a silver bullet in the truth behind the prayer life we've all engaged in at some point in our lives.   
Considering the religiosity in all of us, Karl Barth wrote: "No human demeanor is more open to criticism, more doubtful, or more dangerous than religious demeanor."
And yet, we have, as Keller calls it, that involuntary muscle and reflex that reaches out to God. It shows that we really aren't as skeptical about Him as we might think.
And in the end, that's the real us. 
Robin Schumacher is an accomplished software executive and Christian apologist who has written many articles, authored and contributed to several Christian books, appeared on nationally syndicated radio programs, and presented at apologetic events. He holds a BS in Business, Master's in Christian apologetics and a Ph.D. in New Testament. His latest book is, A Confident Faith: Winning people to Christ with the apologetics of the Apostle Paul.