Fading churches and institutions: Memories of Southwestern Baptist Theological Seminary
The urgent need for revival and reformation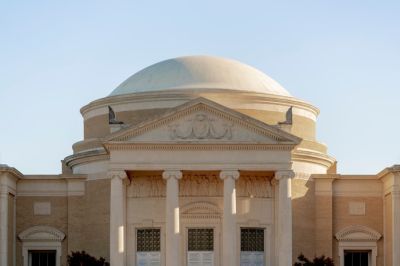 On a bitterly cold January morning in 1964, the mighty dome of the administration building at Fort Worth's Southwestern Baptist Theological Seminary dared the chill and gleamed with energy and spiritual fire that could not be stifled.

At least that was the way it seemed to me, a young freshman theology student pulsating with joy and anticipation even after an eighteen-hour drive (there was no I-20 Interstate Highway at that time) from Alabama to Fort Worth and the Southwestern campus. I had made the long journey with a friend to secure student housing for my little family.

I couldn't squelch my excitement, since Southwestern was the largest evangelical seminary in the world. It also housed the planet's largest theological library. I couldn't wait to wander through those stacks of the greatest theological works in history.

After my student years at Southwestern, I would go out of my way once again to walk those sacred grounds and remember that idyllic time when young theologians dreamt of winning the world to Christ and being ambassadors for the Lord throughout all the nations.

In recent years I still drive from our home in Houston to Fort Worth and Dallas mostly to visit relatives there. And I almost always manage to work in a personal pilgrimage to Southwestern.

Almost sixty years later the big dome that inspired me is still there, along with some newer buildings. But something is missing. I park my car with ease because there are many empty spaces. There was a time when one had to circle the campus to find a place to leave his or her automobile.

The sidewalks along which many students once strode now seem to have a significant reduction in human traffic. A chapel that can seat a multitude is now sparsely occupied.  And, as Christian Post has noted previously, the hard numbers reveal the facts: Southwestern, after years of nobility followed by stretches of institutional crisis, including a scarring conflict at the highest administrative level, is now in decline.

I could not have imagined all that on the thrilling morning in 1964 when I first gazed at the Seminary. It seemed everlastingly dynamic. Yet there it is: enrollment, according to a recent report, is the lowest since the Second World War. The 20-21 academic year experienced a 70 percent drop in enrollment. The glimmering new auditorium seats 3,500 though the student body is down to little more than 900.

Southwestern, sadly, is an example of the decline afflicting many churches, denominations, and institutions. In fact, it reflects what is happening in its own denomination.

The situation prompts a stark question: Are we living through the age of apostasy that Jesus prophesied in Matthew 24 would befall the world prior to His Second Coming, or is the crisis a result of sheer apathy?

Apostasy—falling away from the faith—may well be part of the answer, since other once-great denominations and their institutions are also declining in membership, attendance, and support.

But apathy may be a major part of the problem. Our society has come through and is perhaps still in the throes of, an age of searing light when God causes what is done in the corners and dark places to be revealed for all to see and hear.

Ecclesiastes 12:14 predicts a time when "God will bring every deed into judgment, with every secret thing, whether good or evil." Jesus Himself prophesied that "nothing is hidden that will not be manifest, nor is anything secret that will not be known and come to light." (Luke 8:17)

Apathy is a sign of exhaustion and hopelessness. It prompts a still harder question: What's the point? How is it possible for major leaders who warn about the consequences of sin to squelch their own consciences regarding what they do in the dark and hidden places?

We seem to be living in a situation like that of Ezekiel when the Lord showed him what was really going on behind Temple walls: "great abominations." (Ezekiel 8:9.)  If we are in such a season of shocking disclosure, then there is hope. Saint Peter, in another era like that in which we live, expressed the urgency: "it is time for judgment to begin at the household of God" (1 Peter 4:17)

If that happens the outcome will be the greatest antidote to apathy and apostasy: Authentic revival. The Welsh Revival of 1904-1905 is a graphic example.

When that occurs, people will trust the church, listen to its message, and understand its relevance. Congregations will thrive with passionate, committed men and women ablaze with God and His Gospel of salvation and hope, which this present world needs so urgently.

Churches have been at this point before in history. When their leaders and people look realistically at the issues and seek God's face in prayer, supplication, and repentance, revival, and reformation come, and people and their societies are blessed.

And great institutions that seem now to be wastelands recover their vitality in and through the Holy Spirit.


Wallace Henley was born two days before the attack on Pearl Harbor on December 5, 1941. After serving as a White House aide during the Nixon administration, Henley went on to become an award-winning journalist for the Birmingham News in Alabama. He is the author of more than 20 books, including God and Churchill with Jonathan Sandys, Winston Churchill's great-grandson. Henley has led leadership conferences around the globe. He has been married to his wife, Irene, for more than 50 years. They have two children, six grandchildren, and six great-grandchildren. His latest book, Who Will Rule the Coming 'gods': The Looming Spiritual Crisis of Artificial Intelligence, is available wherever books are sold.