Fascist or facile? The 'He Gets Us' Super Bowl ads and the Jesus of Scripture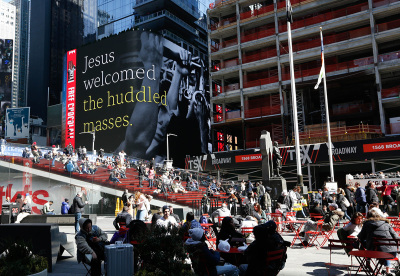 Millions of people saw the ads. Reactions ran from warm embrace to vehement denunciation.
I'm talking about the "He Gets Us" ads aired during Super Bowl 57. They sought to arouse curiosity among viewers who don't know much about Jesus, or who associate Him only with Christians they perceive as self-righteous, angry, condemning, and hypocritical.
"He Gets Us" describes itself as a "movement to reintroduce people to the Jesus of the Bible and his confounding love and forgiveness." The emphasis from the ads during the Super Bowl was clearly on "confounding love and forgiveness."
"The goal is that the two commercials will not only inspire those who may be skeptical of Christianity to ask questions and learn more about Jesus but also encourage Christians to live out their faith even better and exhibit the same confounding love and forgiveness Jesus modeled," said "He Gets Us" spokesman Jason Vanderground.
The first, a 30-second spot, encouraged viewers to "be childlike" and showed images of children playing cooperatively, helping each other, laughing, and expressing mutual love. "Jesus didn't want us to act like adults," it said — "He gets us. All of us."
The second, a 60-second spot, titled "Love Your Enemies," showed images of violent encounters, and people clearly out of control. It concluded, "Jesus loved the people we hate. He gets us. All of us."
Viewers' responses were mixed. Ad Meter, which polls audiences about advertising, found that of the 51 commercials aired during game, "Be Childlike" ranked 8th and "Love Your Enemies" 15th, both well above average. That should be encouraging to the sponsors and those who share their hope to awaken fresh interest in Jesus Christ.
Not all responses were positive, however, with Congresswoman Alexandria Ocasio-Cortez (D-NY), the most influential member of the "Squad" of radical-Left Democrats in Congress, tweeted, "Something tells me Jesus would *not* spend millions of dollars on Super Bowl ads to make fascism look benign."
It's difficult to imagine how the ads could be understood as promoting fascism. Ocasio-Cortez's tweet instead has all the earmarks of what psychologists call "projection": accusing others of precisely one's own attitudes. It's rather rich for a self-professed socialist and champion of the "Green New Deal," which would force uniformity — the goal of fascism — on the American people to accuse others of fascism.
Democratic operative Sawyer Hackett protested, "With the money the 'He Gets Us' people spent on their right-wing Jesus ads, they could permanently house 1,563 people experiencing homelessness." True enough. But as a Fox News politics reporter pointed out, "Twitter users were quick to note that Hackett didn't take issue with any of the other ads promoting things such as beer or gambling — just the ones promoting Jesus."
It's hard to imagine, frankly, how the ads could be described as "right-wing," or, as other critics charged, anti-LGBTQ. They instead portray Jesus as the one who "gets us — all of us." Nonetheless, The New Republic, a prominent left-wing publication, ran this story headline: "The 'He Gets Us' Jesus Super Bowl Commercial Is Connected to an Anti-Abortion, Anti-LGBTQ Group," adding, "The ad urged viewers to look past their differences. Meanwhile, the group behind it is rolling back nondiscrimination protections."
Servant Foundation, which funds "He Gets Us," also supports Alliance Defending Freedom, which supports restrictions on abortion and defends the right of artists not to be forced to express approval of LGBTQ through their creations.
But the ads themselves? Nary a hint of such. Instead, they portray Jesus as highly inclusive, as modeling love for enemies, as bringing peace to those in conflict.
Does it follow, then, that the ads are wonderful expressions of the Christian faith, effectively inviting people to "get Jesus" because "He gets us"? Do they offer viewers a profound understanding of who Jesus is and what He came to do? Or are they rather superficial, shallow representations of Jesus?
In short, while not fascist, are they facile?
"The medium is the message," Marshall McLuhan said almost 60 years ago, warning communicators that what they want to convey will always be shaped in part by the medium through which they seek to convey it. Face-to-face dialogue, in-person oratory, printed fiction or nonfiction, newspaper short-form or magazine long-form, radio or television, and later internet, email, and social media — all would have profound effects on the messages delivered over them.
That certainly is the case with Super Bowl ads. Priced at $7 million for 30 seconds of advertising time during the Super Bowl, the organizers had to compress each message, drastically. In-depth systematic theology they could not deliver.
So, it's understandable that these ads would necessarily present only the barest hint at what Jesus—the one Person about whom more has been written in history than about anyone else—is all about.
Still, one wonders whether a more balanced view of Jesus might have been offered. Yes, Jesus "gets us." He understands us better than anyone else. Scripture tells us that in His life here on Earth, He was "tempted in all things as we are, yet without sin." It says He wept over a friend's death — even though He knew He was about to raise that friend from the dead. He Himself described Himself as "gentle and lowly of heart."
But Scripture also tells us that Jesus was so outraged at those who exploited religion for personal gain that He wove a whip and drove them out of the temple precincts, overturning their tables. It tells us that at the same time, He offered Himself as "living water" to an outcast woman, He also confronted her with her adultery. It says He called hypocritical, abusive religious leaders "whitewashed tombs" and "blind guides" and fools.
Might these ads somehow have presented Jesus simultaneously as the one who sat down to dinner with despised tax collectors and prostitutes, and who said, "Let the little children come to Me, for of such is the kingdom of Heaven," yet also called people to "Repent, for the kingdom of Heaven is at hand" and called those who gathered riches just for themselves fools whose souls would be required of them?
Perhaps. It's a lot easier to give that balanced introduction to Jesus in five minutes than in 60 seconds, let alone 30.
No doubt there will be plenty of theologians who, like me, cringe at the superficiality of how these ads presented Jesus.
Yet we, too, stand in need of correction. A prophet greater than all who came before him introduced Jesus with just thirteen words (eleven in Greek): "Behold, the Lamb of God, who takes away the sin of the world!"
But those very words suggest what might be the most important shortfall of the "He Gets Us" ads.
They make no mention of what Jesus said was the main purpose of coming, as God in human flesh, to Earth: "the Son of Man did not come to be served, but to serve, and to give His life a ransom for many."
To take away the sin of the world. To give His life a ransom for many. That, not just to exemplify a holy and righteous, loving and kind life, was the main aim of the incarnation.
I pray many people who saw those ads or will see them and others in the same series, will be curious enough to search into who Jesus is and what He came to do. I hope many Christians will be reminded by them of the model Jesus provides of compassion and forgiveness.
And I hope those of us who are prone to criticize the ads — as indeed I do — will remind ourselves also of what the Apostle Paul wrote:
"Some, to be sure, are preaching Christ even from envy and strife, but some also from good will; the latter do it out of love, knowing that I am appointed for the defense of the gospel; the former proclaim Christ out of selfish ambition rather than from pure motives, thinking to cause me distress in my imprisonment. What then? Only that in every way, whether in pretense or in truth, Christ is proclaimed; and in this I rejoice" (Philippians 1:15–18)
You can learn more about "He Gets Us" at www.HeGetsUs.com, and I would encourage you to do so.