Finding my way out of PTSD, abuse with a newborn baby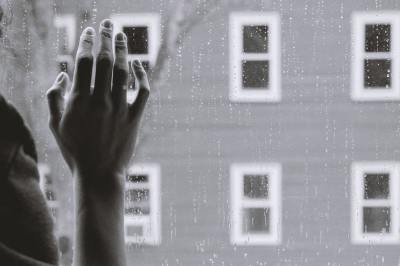 Unplanned trials and challenges test a person — they can either chip away at her until she caves to the pressure, or they can forge strength inside of her that she never knew she had.   
I was on the path to caving until my life-changing discovery of the Hope Center, a pregnancy resource center in Greeneville, Tennessee, that I can truthfully credit with saving me and my son.  
I had survived the Aurora Colorado theater shooting in 2012, but the trauma of that incident clung to me every day. Meanwhile, my husband had returned from the Army struggling with PTSD. While I was ecstatic to learn I was pregnant, he did not share in my excitement. My hope was that once my husband saw the beauty of the face we had created, he would want to stay and fight for our marriage, despite both of us already fighting our own battles.  
Our beautiful son, Owen, was born on New Year's Day, and I thought this signified the start of a successful and happy 2021. But the day after he was born, my husband received a letter in the mail from the VA explaining that his disability benefits would be decreasing, leaving us unable to afford our house.   
During this time, my husband's PTSD worsened. He could hardly stand the colic of our newborn son, and as his anger and depression grew, Owen and I took the brunt of it. I struggled to find a lifeline or any stability as the tornado of events quickly wrapped around me.   
Owen was only six weeks old when I packed up our life in Florida and moved in with my parents in Tennessee, leaving my husband behind. The visits he made to see his son were few and far between and I soon found myself divorced — a single mother whose expectations for her life were simply specks in the rearview mirror.  
The lingering trauma of the shooting and abuse, mixed with the pain of losing my marriage, left me in a darkness that slowly crept into every area of my life. Just as I felt completely overcome by the strangle of hopelessness, I somehow stumbled upon the Hope Center, a local pregnancy center that offers women compassion and support during pregnancy and motherhood.  
I had no idea the trajectory of my life, and of my son's, was about to radically change.  
When I first entered the Hope Center, I could feel the happiness and peace engulf me like a warm hug. A feeling I had unknowingly longed for, for many years. They welcomed me without hesitation and helped me to accept my past while working to build my future, one that centered on good choices for my mental, physical and spiritual well-being. Discovering authentic family and friendship at the center made me realize I didn't have to raise Owen on my own.   
They showed me how to breastfeed, baby-proof the house, and soothe a newborn with colic. They provided the physical items I needed to care for Owen, including diapers and wipes, but they also provided the emotional ones — love, support, and encouragement — while I navigated new territory as a single parent just trying to get back on her feet. I had been broken and defeated but despite all my struggles, my newborn baby still deserved care and a loving parent.   
And as if that wasn't already enough, the Hope Center took to heart my career goals, which I had ever since the shooting: to become a registered nurse so that I could spend my life honoring those who lost theirs. They helped me to apply to schools and acquire the necessary financial assistance including the incredibly generous Unplanned Movie Scholarship, an award granted to one young mother each year who bravely chooses life despite unexpected setbacks. This has enabled me to thrive in a demanding accelerated nursing program so that today I am on track to graduate in 2024.    
I can say with certainty that I wouldn't be in the emotional or educational position I am today without the gift of my son. Despite suffering deep trauma, hopelessness, and despair, Owen has changed my life for the better. His constant love and energy bring immense joy to each day. 
Because of him, I met wonderful people at the Hope Center who I still turn to for guidance, support, and friendship. With their help, the tragedies in my life have not become the focus of my story but rather the foundation upon which my strength and success were built. 
Hollie Fraser is from Greeneville, TN and is working to complete her nursing degree while raising her son Owen.