For children with disabilities, a family makes the difference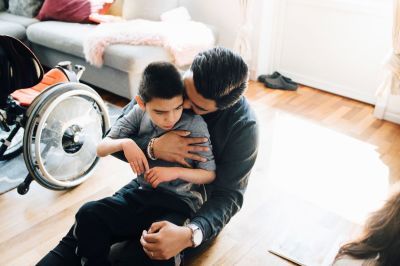 Crispus, a young boy in Uganda, was born with hydrocephalus — a condition where too much fluid accumulates in the brain. People in his village believed it was due to curses of evil. But Crispus' father, a God-fearing man, accepted this child was who God had for him and his family. Yet at 6 years old, Crispus still could not walk — until Crispus and his father got connected with Ekisa.
At Ekisa, we believe all children belong in families. Whether it's their own, foster or adoptive — a family is where children thrive.
For children with disabilities in Uganda, growing up in a family is a challenge. Parents might not understand their child's condition, recognize their inherent value, or believe they can offer the care their child needs. This results in many children with disabilities being abandoned or placed in residential care, such as an orphanage or a children's home. But if an organization can provide better care for a child living in an institution, we must ask why that same help cannot be provided to the child at home, living with their family. Residential care has been shown to negatively affect a child's development physically, cognitively, socially, and emotionally. Consequently, children who already struggle in these areas are adversely impacted all the more. 
Holding tight to a core value of the Imago Dei — that all children are created in the image of God — Ekisa Ministries is working to change this. Our mission is for every child in Uganda to grow up in a family, regardless of their disability. We want all children to be recognized for their God-given value.
Children with disabilities belong in families
Research confirms children grow best in families. Their development and future are shaped by consistent nurturing, love and care. But children with disabilities in Uganda face huge barriers — namely, discrimination and a lack of access to necessary services. This is why helping families who have children with disabilities stay together long-term requires a holistic family-strengthening approach.
This approach means equipping family members with skills and knowledge so they can change their own circumstances and better navigate the challenges of keeping their family together. Life-changing support services increase the chances children can be cared for at home and might include medical care, multiple therapies, counseling and financial empowerment.
A complex issue
Admittedly, keeping children with disabilities with their families, or placing them into a foster or adoptive family, is a complex issue. With international funding and initiatives in the past, Uganda once saw unprecedented progress in family-centered care. But with decreased funding, this movement has lost momentum in recent years.
The government departments that oversee cases for orphaned or vulnerable children are severely under-budgeted preventing case follow-up. Children are placed into orphanages with an unrealistic hope that it will be temporary and, therefore, a sufficient solution for the country's most vulnerable children. Yet these homes are rarely temporary.
Often there is limited awareness of the adverse effects of these types of facilities by those in the U.S. and other Western countries who donate to orphanages. Ekisa and other groups are working to increase the focus on family-strengthening services and encouraging donors to support children cared for in families. Whether it be a child with a disability or one without, we want to help support families to care for their own children — not do the caring for them.
Progress made simple
Despite the challenges, meaningful progress is being made. By providing access to necessary services, such as physical or occupational therapies, a child's quality of life improves. Parents often have the feeling that they will never be able to care for their child with disabilities. But after receiving holistic family-strengthening services like education, counseling and financial training, they gain hope and confidence to be able to care for their child and gain a community of other families just like them.
Children with disabilities who remain at home also create change in their communities. With increased exposure, perceptions shift. Fears distill. And stigma lessens. Acceptance and inclusion begin through one personal interaction at a time. Progress on a grand scale can be made in simple ways and we see it happening today.
Crispus is now running. He received physical therapy and his father was trained in exercises to do with him at home. Crispus is a funny, friendly, vibrant child who attends school and does chores like the other children. People who used to fear him now smile and wave. They understand his value; he is welcomed, loved and thriving. The whole community has been changed by his presence.
We must not neglect the impact of a loving family on all children, regardless of their capacity. Let's ask ourselves honestly what we value and what is most important for a child, not just for ourselves and our families in the United States, but for all families worldwide.
Then, let's lift up the organizations working towards the same. Our support can make all the difference.