Knowing vs. showing your Christian faith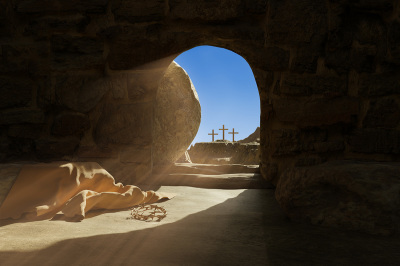 "Why are you a Christian?"
So, in 25 words or less, how would you answer that question? Seriously, think about it for a minute or two.
If I'm the target of that query, I usually pause briefly, knowing that I can respond in one of two ways.
Most of the time, my questioner is looking for me to explain the reasons that caused me to embrace the Christian faith. So, I start by telling them that I'm a Christian because I believe two truth propositions: 1. God exists; 2. Jesus exists, and He rose from the dead.
If those two claims are true, then Christianity is valid and anything contradictory or opposed to it is false. End of story.
Of course, what follows then is a debate on why I think God exists and whether Jesus' biographies are legit, which I'm happy to have. Sometimes what I tell them has a positive impact and other times it doesn't take long to see that if Jesus instantly appeared next to them and smiled, they'd still walk away unbelieving.
The second way I can answer the "Why am I a Christian" question is actually the more accurate. However, it's rare when I have a person in front of me who can absorb it with consideration and not look at me like I just grew an extra head.
The real reason I'm a Christian is because God had mercy on me and reached down to save me.
I know that as sure as I know I'm typing this, but that type of knowledge is different in kind than the awareness and acceptance of the evidence supporting Christianity. As William Lane Craig has well stated, it's the difference between knowing and showing the Christian faith.
What just happened?
Let me give you an example of this from my own life.  
For no natural reason I can share even now, decades ago, I became mesmerized by a book I read on Bible prophecy. I wasn't on fire for God (quite the opposite), had no previous interest in the subject of prophecy, and didn't understand Scripture at all.  
And then, all of a sudden, I was wide-eyed and electrified by the idea of the Second Coming. A real God-thing in action was happening, but I was oblivious to it.
Once I'd gotten to the end of the book, I found the final chapter was aimed at me understanding the Gospel. The author was clear that Jesus' return wasn't good news for people who had never entered into a saving relationship with Him.
That would be me.
What followed in the book was a short explanation of how to get right with God, which came over me like a warm arm around the shoulder that I'd never had. So, I crossed my legs on the couch, followed the author's direction, and cried out to God for salvation.
After that, nothing external to me changed. I had the same job, went to the same school, same family, same friends, same everything. But inside, I changed.
As one theologian said, "You're saved before you know it" and that was me to a tee in the weeks that followed. Never read the Bible on my own before and had no desire for it. Now I loved it. Couldn't wait to get to church. Talked to people about God; even people I didn't know.
That's called evangelism, by the way. Which I had never done.
When I ran down the aisle and threw all the money I had in my pocket into the plate for a missionary who visited the church, I returned to where I was sitting, looked back, and thought, "What just happened?"
That wasn't me before.
So, what was going on? The truth of God became living knowledge in me because of the "Holy Spirit, whom God has given to those who obey Him" (Acts 5:32). I believed because "the Spirit himself testifies with our spirit that we are God's children" (Rom. 8:16), and now loved God "because you are His sons, God sent the Spirit of His Son into our hearts, the Spirit who calls out, 'Abba, Father'" (Gal. 4:6).
Amazing stuff. Although I didn't know it, there were two factors working on me at the same time: God used the facts and reason of Bible prophecy as the instrumental cause of my salvation, but He was the efficient cause of it.
I was shown the Christian faith through prophecy, but it was made known to me through the Holy Spirit.
Beyond the evidence of prophecy (which is quite strong), it wasn't until years later that I could show you other reasons why I believed and knew the Bible was true. Far from using them as confirmation bias, those proofs are compelling and meaningful; they've been instruments used by God to save many and have helped intellectually strengthen my faith.
But those reasons on their own will fall short of producing faith in a person. They need to be united with God's Spirit who delivers the gift of faith and ability to assent to them.
When that happens, you have a life that combines both knowing and showing. The person knows they're saved because of their changed life and shows that transformation to others as proof.
Does this mean there's no way to falsify the Christian faith and prove its illegitimacy to someone who professes such belief? Not at all.
The primary way of doing that was given by Paul some 2,000 years ago — find the body of that Jewish carpenter and it's game over (1 Cor. 15:14). But good luck with that.  
So, why am I a Christian? I believe because of truths that intelligently show God exists and Jesus exists, and that He rose from the dead. And I know these things because God saved me, and I have His Holy Spirit who enables me to believe.
And if you're a Christian today, the same is true with you. 
Robin Schumacher is an accomplished software executive and Christian apologist who has written many articles, authored and contributed to several Christian books, appeared on nationally syndicated radio programs, and presented at apologetic events. He holds a BS in Business, Master's in Christian apologetics and a Ph.D. in New Testament. His latest book is, A Confident Faith: Winning people to Christ with the apologetics of the Apostle Paul.