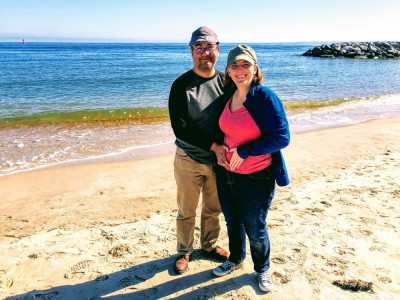 My name is Joy Granados. I'm a 38-year-old woman with cystic fibrosis who has struggled to become pregnant because of my age and disease. On April 5, 2021, my husband Vini and I buried our child 36 days after he was born. We were told by doctors that he was "incompatible with life" because of Trisomy 18, but the hundreds of people who attended his funeral physically and virtually disagree. So do Vini and I.
My brother is a Catholic priest who delivered Mateo's homily. I gave the eulogy. Republished below with minor edits is what was delivered for Mateo and 200 attendees on April 5. What I want people to know is that Vini and I embraced Mateo's life to the fullest for 259 combined days of pregnancy and post-birth life. It was heart-shattering, but I wouldn't change a thing.
The sorrow is often more than Vini and I can bear. But I will be Mateo's mother for eternity, and Vini his father.
Eulogy
Thank you so much for being here to celebrate with us the life of Mateo Augusto.  
As a child, I always loved the Choose Your Own Adventure books.  These are books where you can choose the ending you want, by turning to a different page in the book.  How I wish Vini and I could just turn to a different page in the book of our marriage for a different ending to the life of our son.
As most of you know, I have cystic fibrosis.  When Mateo was diagnosed with Trisomy 18, I realized that I had been given CF for my son. A son who would have a lifetime of doctor's appointments and would need a mother who knew how to be his best medical advocate and protector.  Something that CF taught me throughout my life.  I wanted the ending to be that, just like his mama, Mateo beat all the medical odds, and the miracle of his life would continue to glorify the kingdom of God.
God told me in prayer, shortly after my first trimester, "I took care of you and your Cystic Fibrosis and against all odds, you survived. I have plans for your son and I will take care of him, you need to just trust me and embrace his life.  Well, God's definition of "taking care" of Mateo and my definition were very different.
Yet this ending has brought us blessings that we could not otherwise have experienced.  The blessing of Mateo interceding for us from heaven.  We have felt the grace and strength of the supernatural as you all have prayed for Mateo and our family.  Vini and I were humbled by watching the care and love that Mateo received from his doctors and nurses each day, while fighting for his life with us.  We were so blessed by those caregivers, including Dr. Steinhorn, who flew in from San Diego on a red eye to monitor Mateo's portable vent (that Hopkins made happen) so we could have a few hours together at home instead of the thirty minutes as originally planned. That truly was a direct gift from God.
I didn't know that death could be beautiful for those left behind, until I bathed, washed, dressed and prepared my son's body to be taken by the funeral home.  I drank in that face.  That sweet face that was free of tape and tubes.  The face of how God exactly made him.  I loathe the fact that only once my son was dying could I see that face.  
As Mateo was dying in our arms at home, a scene from the Trilogy Lord of the Rings, came to me.  The scene when Sam held Frodo in his arms after Frodo had been stung by Shelob, the spider, and Sam presumed Frodo dead.  With tear stained cheeks, Sam told his companion and friend, "Please, Mr. Frodo, don't go where I can't follow.  Wake up, Wake up!"  Now, our cheeks were tear stained and Mateo was going where we could not follow, at least FOR NOW, and our hearts shattered.  
Vini says, and I agree, we are both better human beings for having known Mateo.  He has changed us, and we will never be the same.  He has made all things new for us, as Christ makes all things new for all of us.  We have learned so much from our son.  We have learned to embrace the joy of the present and let go of the fear for the future.  I have learned the purpose of my life as a mother and the feeling of completeness I now have because I have been able to experience it.   The purpose of being a mother, MATEO's MOTHER. I take comfort in the words my uncle Bill said to my father at his son's burial, "the good news is, it doesn't get worse than this."
Now we walk through a valley of tears but amidst the tears there still is joy to be felt. The joy of 36 days of Mateo snuggles and those sweet eyes, MY EYES. The joy that my son was an incredible source of light and love on this earth and that he inspired so many. Not all Trisomy18 parents can say the same. Our hearts are shattered, but we need to count our blessings as Jesus counts our tears of which there are many.  Some doctors say, "Trisomy 18 babies are incompatible with life."  Well Mateo IS compatible with life and as his Tio Father Scott says, "but maybe he was not compatible with this world."  His soul is too pure, so the Lord brought him home.  Since his passing, I have moments where I feel a sense of peace and a slight pressure around me, as though Mateo is hugging and comforting his mama, even in death, as I tried to comfort him in life.   
Driving home from the hospital, we asked Mama Mary to come and take our son, to her son, when the time came.  Many of you had the privilege of knowing my grandmother, Lorraine, grandmolie.  I had a vision that night that once Mama Mary brought Mateo to Jesus, grandmolie ran to the gates, pushing people out of the way, saying, "get out of my way, THAT'S MY GREAT GRANDSON!" 
The thought of grandmolie watching Mateo, who is no longer disabled, running, laughing, and playing always brings a smile to my face. Our boy is in the highest pinnacle of heaven, for people who never sinned on Earth.  How perfect.  Amen.
Joy Granados is a wife and social worker at a Virginia school.