My journey of faith in Jesus as a former Muslim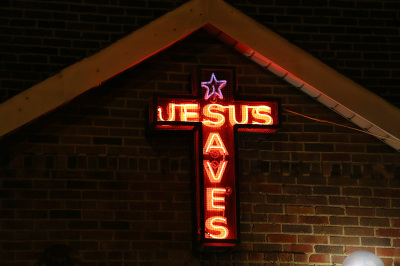 My first encounter with Jesus came through a YouTube link of a pastor, on the social media page of someone I never met. There was no logical explanation for why I was instantly captivated because no one ever witnessed to me, and I had no Christian friends. I was a devout Muslim disillusioned with Islam, but God flipped a supernatural switch in me.

I became eager to understand God's true nature without a Christian community to help me. Nonetheless, all alone with my thoughts and the wonderful world of biblical content online, I came to saving faith and was baptized in a church thousands of miles from home. I had no cultural context or relatives that could get me started on my faith journey — just my sweet and faithful new mentor, a Bible, and of course, the internet.
When I first learned the Gospel of Christ and His Lordship, I had to throw away everything I had ever learned about Jesus in Islam. My mentor would check in with me daily, by phone or text, to ensure I was praying, reading the Word, and listening for the Holy Spirit. Though she lived thousands of miles away, she discipled me with the love and patience of a seasoned saint — just as our Lord commands.
Since I had lost almost everything I knew and loved after leaving Islam, there were times of great loneliness but also tremendous spiritual growth. For the first two years, Scripture came alive by the power of the Spirit. Online resources like logos.com and credible Bible-teaching pastors were invaluable resources. I eventually found an amazing local church where I have been at for several years, but I still have that childlike curiosity to learn about God's great mysteries of the faith. I still love the "rabbit holes" that lead me to deeper realities about my relatively new relationship with Christ.
Recently, I have been struggling with my teenager about her behavior and experienced rage inside me that I haven't seen since coming to faith. I felt so horrible about my outbursts and cried incessantly to God for forgiveness and the strength to stop them. Every day I prayed not to act that way again, but my inability to force her to change made me furious. Resentment, anger, guilt, then shame — the vicious cycle for most parents of an unruly teenager.
Though I prayed for peace, forbearance, and self-control, it only came in short waves. At times I would hear in prayer, "Do you trust me?" but I still could not stop the nagging whispers telling me I must try harder. The enemy was in my ear, lecturing me that she would choose to follow Christ if only I were a better parent. In the middle of my despair, my stepkids' mom sent me a video of a pastor she loves and thought I would enjoy. It turns out he is a die-heard TULIP Calvinist, something I knew nothing about. It sparked a curiosity that reminded me of my first encounters with the Gospel. I spent the next several weeks listening and reading as much as possible about whether man's free will plays a part in predestination and election to salvation.
Though I will not be able to eloquently explain the theological complexities of the various scholarly positions, at the root of the debate is whether we as sinful creatures can choose to believe or if that choice is made for us by God. Calvinists primarily believe in the total depravity of man and limited atonement, which means Christ only died for the elect who were chosen for salvation. God's election unto salvation is not based on a foreknowledge of an individual's faith but is based on the free, sovereign grace of Almighty God:
"Even as he chose us in him before the foundation of the world, that we should be holy and blameless before him. In love he predestined us for adoption to himself as sons through Jesus Christ, according to the purpose of his will,to the praise of his glorious grace, with which he has blessed us in the Beloved" (Ephesians 1: 4-6).
At the other end of the spectrum is the prescient view, which believes God gives everyone the opportunity for salvation and, in His divine foreknowledge, elects those that He knows will choose Christ. It is God who initiates the call, but man decides to respond. Furthermore, just because God knows the outcome doesn't mean He pre-determined it.
At the heart of the question is who ultimately controls whether we become believers. Is man's free will the determining factor in God's election, or does God have total and absolute control? If we truly believe in God's sovereignty, how can salvation be at the mercy of the wretched sinner's decision?
I was so enthralled with the question of whether any of us could lay claim to "choosing faith" that I decided to share the idea with our home church group. It was fascinating to hear how passionately people felt about it! Some insisted on the importance of free will and salvation being open to all. They argued it would be cruel of God to elect some and not others, totally out of character for the just and gracious God we serve. Others thought even asking the question was strange and inappropriate. How could we possibly argue against the existence of free will in coming to faith?
I had to keep reiterating that it wasn't me who invented these two perspectives — I was simply bringing our attention to a theological debate that has existed for centuries. Most importantly, there was no intention for the 20 of us to come to a definitive conclusion.
Whether man's free will plays a role in God's election or not still is a great mystery to me. Coming to faith was beyond anything I could have predicted, so it would be surprising if I had very little to do with it. Either way, coming to saving faith is impossible without God's sovereignty, His grace, and His will. None of us can "make" our loved ones follow Jesus. Regardless of how profound our testimony may be, the interplay between another person's free will and God's sovereignty has nothing to do with us as spectators. We pray; we intercede; we teach them the Gospel. Yet, the relationship of the Lord with each of His children is a vertical one. It has been pre-determined since before the foundation of the earth.
There is a spiritual tension between the doctrines of divine election, evangelism, and God's absolute will. However, our confidence in the perfect will of God to accomplish his purpose on earth is also liberating. We can share the Gospel without fear of failure. Yes, we want people radically transformed by a personal relationship with Jesus, but we cannot force that to happen.
I finally understood why the Lord asked me, "Do you trust me?" I needed to surrender the result to Him. There is a comfort in that powerlessness. I finally found peace in my surrender.
"I prayed to the LORD, and he answered me. He freed me from all my fears" (Psalm 34:4).
Hedieh Mirahmadi was a devout Muslim for two decades working in the field of national security before she experienced the redemptive power of Jesus Christ and has a new passion for sharing the Gospel.  She dedicates herself full-time to Resurrect Ministry, an online resource that harnesses the power of the Internet to make salvation through Christ available to people of all nations, and her daily podcast LivingFearlessDevotional.com.