The Father of Contemporary Gospel Returns Home
Friends, family and gospel luminaries are coming from far and near to celebrate the robust life of Dr. Hawkins.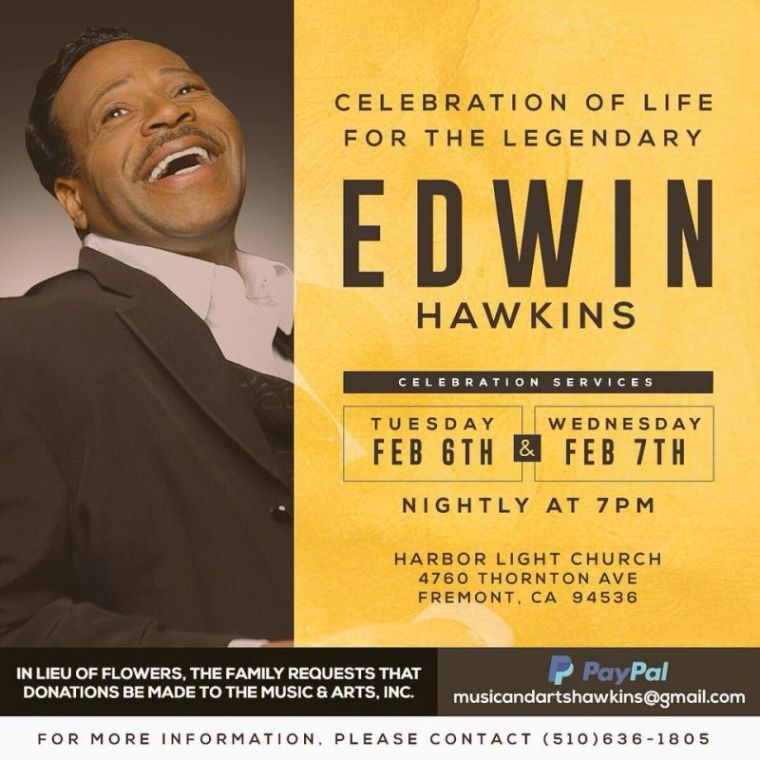 He was loved everywhere, and a mutual fondness endeared him to generations of gospel musicians, singers and listeners. He and his siblings helped shaped the course of gospel music in the late 60's and were the architects of the sound now recognized as contemporary gospel music. The Hawkins Singers have individually and collectively chartered a course for gospel musicians and singers to follow, still to this day. Dr. Edwin Hawkins passed away on Monday January 15, 2018.
For his impact, the four-time GRAMMY Award winner was heralded appropriately and colloquialized as "the Father of Contemporary Gospel". His impact on sacred music has been felt far and wide and celebrated in audiences of all racial and age demographics. Whether through a recording, seminar or his annual Music and Arts Conference, Dr. Hawkins committed himself to enriching the sound and art of gospel music ministry and performance. Dr. Hawkins' last recorded album "Testify" was released in 2008 but his work didn't end there. When not working on his own music, he wrote for and produced many songs and albums for rising and independent gospel artists.
Hawkins' performance with the San Francisco Symphony last December was a bit of a dream come true with reflective vastness of the reach of his genius. The pen was mightiest in Dr. Hawkins hand, he gifted us with a rich catalog of music that included much more than "Oh Happy Day". Though his reputation preceded him, his demure demeanor often precluded the public from lauding him in the manner his discography deserves. Undoubtedly, his indelible mark on gospel music, will never be forgotten.
Songs like: "Kings and Kingdoms", "Worship the Lord" and even "This Day" are sang in moments of worship, even though many singers and musicians are unaware they are Edwin Hawkins gems. Please keep the Hawkins' family in your prayers as we pause to remember the man that touched the world and wrote the song(s) that made the whole world sing!
Friends, family and gospel luminaries are coming from far and near to celebrate the robust life of Dr. Hawkins. Scheduled to perform at the star-studded celebration filled with friends, family and beneficiaries in the gospel community he so graciously poured into for decades are: Donnie McClurkin, Marvin Winans, Bebe Winans, Beverly Crawford, Anita Wilson, LaShun Pace, Ted Winn, Melonie Daniels-Walker, Chrystal Rucker, BSlade, Minister Carole King, Tibari and Bishop Yvette Flunder.
Donald Lawrence will serve as musical supervisor and Derrick Hall who was Dr. Hawkins' music director is the celebration bandleader. Gospel innovators Kurt Carr and Ricky Dillard will step in as guest choir directors alongside Jonathan Grier and Rusty Watson, musical director for the Love Center Choir. The original Edwin Hawkins Singers will unite for a performance as will The New Edwin Hawkins Singers and the Dream Team. The two- day celebration will not feature a eulogy but Central City Productions (The Stellar Gospel Music Awards) founder Don Jackson, Bishop Carlton Pearson, Dr. Mary Beth Gentry and one of the first artists to ever stand in his shadow, Min. Richard Smallwood will stand to share remarks and reflections.
The two-day celebration of life for Dr. Edwin Hawkins begins tonight and will continue tomorrow evening at the Harbor Light Church in Fremont, California. The celebration is open to the public and viewing convenience for those unable to attend has been provided by local CBS affiliate KPIX, also viewable on Dr. Hawkins' Facebook page.
Fred Willis engages his online audience with the SoulProsper Media Group, Threaded (a digital magazine) and as editor-in-chief of Signature Radio and News (online). He is currently a contributor on the Huffington Post blog and continues to expand the reach of his media voice with his newest podcast: "On the Record".