'The Judas principle' should humble us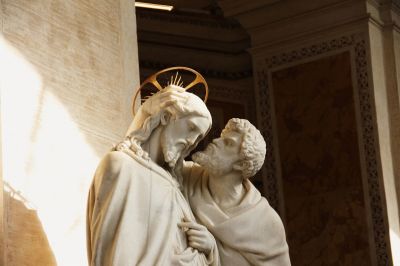 It causes my heart to skip a beat every time I read it.
If you've ever heard a message on the first set of John 15 verses, chances are the thrust has been somewhat warm and fuzzy. You and I are to abide with Jesus and we'll be good Christians, doing the things we ought.
Except that's not really the main principle of what's being taught in that section. It's a tad more ominous than it might first appear.
I call it the Judas principle.
Let's rewind the clock just a little and see how we get to chapter 15. In chapter 13 we find Jesus not only celebrating the Passover and instituting the Lord's Supper, but we witness another important event take place that's full of significance for what's recorded later in chapter 15.
After Jesus washes the disciple's feet — all the disciple's feet, including Judas' — He zeroes in on His traitor and quotes the prophecy related to His betrayal (John 13:21). So, there would be no mistake about who Christ's defector was, Jesus tells them, "That is the one for whom I shall dip the morsel and give it to him" (John 13:26).
And what's the significance of that act? A host giving a morsel of bread to a guest at a dinner was a sign of friendship. It's amazing to watch Jesus' actions towards the "son of perdition" (John 17:12), isn't it?
But instead of His kindness being returned to Him, we're told that Satan took full possession of Judas and "he went out immediately," to which John adds symbolically, "and it was night" (vs. 29).
Here we have the Judas principle in action – he was leaving the Light of the world and returning to the darkness where he'd been abiding since Day One. Truth is, he'd never left.
You're always abiding somewhere
Now let's return to chapter 15. The eleven true disciples remain in the room; the one false believer has left.
And what does Jesus talk about? Abiding.
It's a simple Greek word, menō, which means to stay; to remain. It's a key word in John's theology and occurs 11 times in this chapter alone, 40 times in his Gospel, and 27 times in John's epistles.
In other words, John thinks remaining with Jesus is a pretty big deal.
At the beginning of chapter 15, we find the last of Christ's great "I am" statements in this Gospel, with Jesus describing how we identify true believers vs. fake and what end awaits the latter:
"I am the true vine … Every branch in Me that does not bear fruit, He takes away; and every branch that bears fruit, He prunes it so that it may bear more fruit … Abide in Me, and I in you. As the branch cannot bear fruit of itself unless it abides in the vine, so neither can you unless you abide in Me. I am the vine, you are the branches; he who abides in Me and I in him, he bears much fruit, for apart from Me you can do nothing. If anyone does not abide in Me, he is thrown away as a branch and dries up; and they gather them, and cast them into the fire and they are burned. My Father is glorified by this, that you bear much fruit, and so prove to be My disciples" (vv. 1-6, 8).
Remain (abide) with Christ and bear fruit, which proves you're the real thing. Or leave Jesus, "do nothing" where glorifying God is concerned and end up being "burned."   
The latter is the Judas principle and is horrifying to think about.
I can't help but wonder if John was reflecting back just a little to Judas' leaving them that night when he referenced unbelievers this way in his first epistle: "They went out from us, but they were not really of us; for if they had been of us, they would have remained with us; but they went out, so that it would be shown that they all are not of us" (1 John 2:19).
Many years ago, John Piper had someone approach him and ask how they could know if they were truly saved. Piper leaned in and quietly said, "Let's see where you are 10 years from now."
When it comes to the wonderful doctrine called the perseverance (or preservation) of the saints, it's important to remember that our perseverance does not ensure our salvation but rather our salvation ensures our perseverance. In other words, God gets the credit for it, not us.
We abide with Jesus because of His grace (Eph. 2:8-9) and only by His doing do none of us leave Him and go out, like Judas, into the night.  
Robin Schumacher is an accomplished software executive and Christian apologist who has written many articles, authored and contributed to several Christian books, appeared on nationally syndicated radio programs, and presented at apologetic events. He holds a BS in Business, Master's in Christian apologetics and a Ph.D. in New Testament. His latest book is, A Confident Faith: Winning people to Christ with the apologetics of the Apostle Paul.