The key distinction between false and saving belief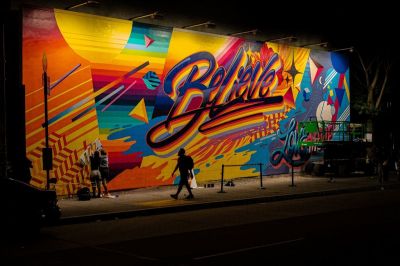 Over the years, I've had discussions with a guy about God and they've always gone the same way. He begins by telling me he believes in God, and not just any god — not the god of Islam, Aristotle's unmoved mover, etc., but rather the One presented in Scripture.
At some point, though, I'll bring up what the Bible says about a particular subject that we're discussing, and he immediately starts to laugh, advancing quickly to the point of mocking and contradicting the points I've made. He then kicks out his own opinion on the matter, which differs from Scripture and is devoid of any other authority.
"Thus saith the Lord" is swapped out for "So saith I."  
The reason these encounters of mine with him aren't yawners is that he's not an atheist, agnostic, or follower of any other mainline religion. He says he believes in God — our Christian God.
His type of belief highlights a key and eternal distinction between one that dooms its believer to forever separation from God and one which saves. It can be summed up this way:
There's a difference between believing in God and believing God.  
The best of the worst
If you've been a Christian a long time and a constant reader of the New Testament, you (like me) probably gloss over the breathtaking statements and acts carried out by the guys who — at the time of Christ — were what I call the best of the worst when it came to belief in God: the Pharisees.
Pretend for a minute that you've never heard of them.
What if I came to you and said that I knew a group of incredibly devoted individuals who knew their Bible backward and forwards, had the right God in their crosshairs when it came to prayer and all religious things, and could put anyone else to shame with respect to externally practicing the Law of God. What would your first impression of them be?
Hold that thought for a moment.
Now I continue by telling you that Jesus asked the following question to this group of people: "How will you escape the sentence of Hell?" (Matt. 23:33). Would you initially be a little surprised, maybe even taken aback a bit?  
It's OK to admit it; I would. That's because we're conditioned to believe that if a person has the proper view of who God is, they'll naturally incline themselves to God's truth about, well, everything.
But that's not true.
Believing in God and believing God are two very different things, and the Pharisees give us a lesson on this truth that none of us should ignore. The examples they provide are everywhere in Jesus' biographies.
Over and over again, Jesus told them the truth about who He was, but they wouldn't accept it. Even when He did the impossible.
"So they were saying to Him, 'Who are You?' Jesus said to them, 'What have I been saying to you from the beginning? If I do not do the works of My Father, do not believe Me; but if I do them, though you do not believe Me, believe the works, so that you may know and understand that the Father is in Me, and I in the Father. Believe Me that I am in the Father and the Father is in Me; otherwise believe because of the works themselves'" (John 8:25; 10:37-38; 14:11).
But they didn't.
So much for the argument of unbelievers that goes: "show me a miracle and then I'll believe." It's as social theorist Stuart Chase puts it, "For those who believe, no proof is necessary. For those who don't believe, no proof is possible."
Worse, we're told that their unbelief progressed to the point of what the Bible calls "scoffing" (Luke 16:14) at Jesus, which is an interesting Greek word that means to "turn up the nose" as a way of disagreeing with a fair amount of ridicule and sneering thrown in.
I swear that's exactly how the guy I have my conversations with looks when he blows off my biblical admonitions.
And here we have the proof of a false faith — an inability to believe what God says even though the person says they "believe" in God. Jesus put it this way:    
"Why do you not understand what I am saying? It is because you cannot hear My word … He who is of God hears the words of God; for this reason you do not hear them, because you are not of God. You do not believe because you are not of My sheep. My sheep hear My voice, and I know them, and they follow Me" (John 8:43, 47; 10:26-27).
The bottom line of all this is very important.
So, you believe in God? So what? "The demons also believe and shudder" (James 2:19).  
You and I, and especially my friend who scoffs at the Bible, need to go further than just believing in God to believing God.
Then and only then do we escape the sentence of Hell. 
Robin Schumacher is an accomplished software executive and Christian apologist who has written many articles, authored and contributed to several Christian books, appeared on nationally syndicated radio programs, and presented at apologetic events. He holds a BS in Business, Master's in Christian apologetics and a Ph.D. in New Testament. His latest book is, A Confident Faith: Winning people to Christ with the apologetics of the Apostle Paul.