The psychics will never see this coming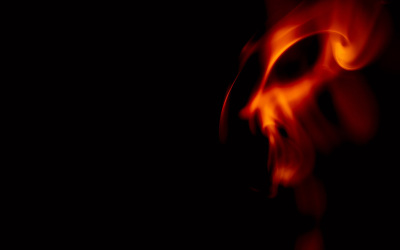 If you're in the market for a new career, how about one that will bring home almost $300,000 a year and require you to work only three hours a day (with weekends and 2 weeks off for vacation)?  
The job? Pet psychic.
Nikki Vasconez, a former lawyer, started working as a pet psychic four years ago and even though she charges over $500 for a 90-minute consultation, she has a waitlist of nearly 8,000 clients.
Starting out, she made a video about a dog named Albie who she claims told her he didn't like his nickname. She says he didn't specify what it was, only that it made people think he was large and overweight.
"Those were his exact words", she said. The dog's nickname was "Big Al".
According to an article in the Wall Street Journal, "Pet psychics are making their way from the fringe to socially acceptable. Those who tell others about their experiences with animal communicators say they are more likely to be asked for referrals than be mocked…People book sessions with animal communicators to unravel behavioral issues, to learn about preferences for end-of-life care, and when the time comes, to make sure their pets are enjoying the afterlife."
Oh boy.
If pets aren't your thing, how about becoming just a regular psychic? According to an article in the New York Post, people have become frustrated with seeing therapists and are now turning to psychics for advice.  
One example is Aria D'Amore, 35, an artist and model living in Jersey City, who became dissatisfied with therapy after nearly 30 years, so she decided to seek help from an "intuitive healer" practicing tarot and astrology. D'Amore now consults with her healer/astrologer in hour-and-a-half sessions that cost her $125.
With animals costing over 4X as much as people, I'm guessing pets must be harder to read than humans.
Discernment needed ahead
According to a Pew Research Center survey, 15.0% of Americans consult a psychic or fortune-teller, with women more likely to visit psychics or fortune-tellers than men. If that statistic is true, given the current American population of over 300 million, that means tens of millions of Americans have gone to psychics.  
And you thought the occult was just a niche thing.

With psychics (or anything paranormal for that matter), you basically have three possibilities staring you in the face with respect to what and who they really are.
First, they're fake and they know they're fake. Scammers are everywhere and despondent, misguided people looking for help and answers make for perfect prey. Personally, I think a pet psychic is a brilliant scam as there's almost no way to falsify the "reading". The only thing better would be dealing with inanimate objects (e.g., a house psychic: "Your home is telling me it wants a new roof.")
Second, they're fake but they believe they're real. The pet psychics cited in the WSJ article, for example, truly seem to believe that their "readings" are legit.
Lastly, they're real and they believe they're real. This category is rare but does exist. More on this in a moment.
So why are way too many people seeking out occult practitioners these days? A New York Times article cites James Alcock, a professor of psychology at York University in Canada, who has spent his career looking at belief systems and debunking scientific studies of the paranormal. "If you look throughout history," Alcock says, "whenever there has been some sort of upheaval or some sort of collective anxiety in society, interest in psychics has shot up. People experience a lack of control and anxiety."
Thomas Rabeyron, a professor of clinical psychology and psychopathology at the University of Lorraine in France, agrees saying, "Psychics are barometers of social anxiety".
Sadly, this is nothing new. A perfect Old Testament example of anxiety seeing out the occult is Saul visiting the witch at En-Dor when he was facing the onslaught of the Philistine army: "Seek for me a woman who is a medium, that I may go to her and inquire of her" (1 Sam 28:7).
Unfortunately for those who encounter the real thing, they think they're dealing with something that's helpful when it's an entity more malevolent than they can imagine.
Stating the obvious, the need for discernment is off the charts in such cases because the power behind the psychic will do its best to appear as a bearer of good much like the possessed woman cited in Acts who tried to act as a herald for the Gospel message: "It happened that as we were going to the place of prayer, a slave-girl having a spirit of divination met us, who was bringing her masters much profit by fortune-telling. Following after Paul and us, she kept crying out, saying, 'These men are bond-servants of the Most High God, who are proclaiming to you the way of salvation'" (Acts 16:16-17).
The woman in question was a living, breathing example of what Paul would write later: "Satan disguises himself as an angel of light. Therefore, it is not surprising if his servants also disguise themselves as servants of righteousness" (2 Cor. 11:14–15).
With the uptick in psychic visitations (now over a $2 billion industry), it isn't out of the question to think it is one of the many signs of the clock ticking down to the final end times as Scripture says: "But the Spirit explicitly says that in later times some will fall away from the faith, paying attention to deceitful spirits and doctrines of demons" (1 Tim. 4:1).
On that point, Dr. Merril Unger, in his book The Haunting of Bishop Pike (that chronicles a horrific example of the peril psychics pose), speaks about the train-wrecking nature of "deceitful spirits" when he warns: "The essential thing to understand concerning all the phenomena of spiritualism, whether telekinesis, psychic visions, automatic writing, trance speaking, materializations, apparitions, excursions of the psyche, or whatever is that fact is used as a springboard to fraud … Satan's masquerading as an angel of light is far more destructive than his forays as a devouring lion" (emphasis in the original).
Amen. Let's hope those pursuing psychics for their pets or themselves come to this realization. If they don't, trust me, they and their psychics will never see their end coming.  
Robin Schumacher is an accomplished software executive and Christian apologist who has written many articles, authored and contributed to several Christian books, appeared on nationally syndicated radio programs, and presented at apologetic events. He holds a BS in Business, Master's in Christian apologetics and a Ph.D. in New Testament. His latest book is, A Confident Faith: Winning people to Christ with the apologetics of the Apostle Paul.