Amy Grant, Christian artists team up for Faithful Project honoring women in the Bible 
,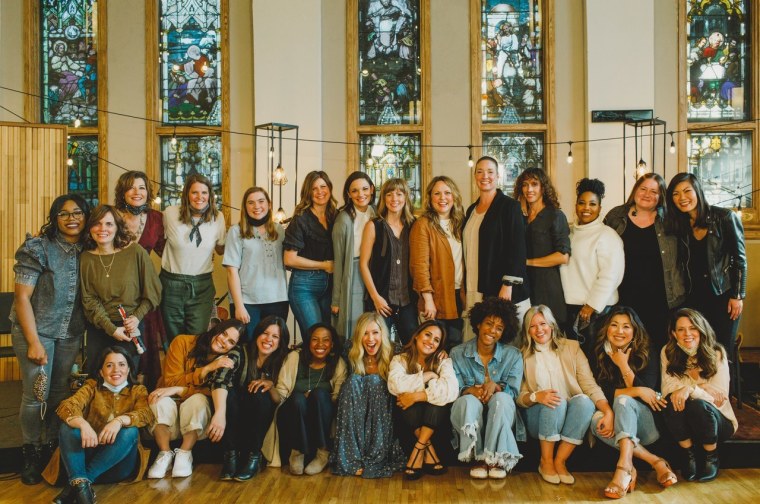 Many of today's influential female Christian authors and artists, including Amy Grant, teamed up to create the Faithful Project, a collection of stories and music that celebrate God's faithfulness to women throughout Scripture. 
The project first came together in the Winter of 2019 before the COVID-19 pandemic, when a group of well-known authors and songwriters gathered as a community to write and sing.
Grant was among the group of women who are a part of the Faithful Project, which highlights why the stories of women in the Bible matter. 
"I think every different perspective in a story adds to the whole picture. Whether it's a minority, a disenfranchised group, a silent group, we need all the voices to speak," Grant said in a statement shared with The Christian Post. "That was one theme that we kept coming back to during our gatherings. We weren't trying to elevate women at the expense of anybody else but with the message, 'We are one,' and 'We are one' includes everybody."
The book features authors Ann Voskamp, Lisa Harper, Kelly Minter, Ruth Chou Simons, Ginny Owens, Sarah Macintosh, Amanda Bible Williams, Sally Lloyd-Jones, Kelly Needham, Raechel Myers, Savannah Locke and Trillia Newbell. Grant penned the book's introduction and the song of Mary Magdalene, which is featured on the project's first single, "A Woman."  
The tune is performed by Grant and Ellie Holcomb. Other artists involved in the album include: Sandra McCracken, Leslie Jordan, Christy Nockels, Rachael Lampa, Kelly Minter, Sarah Kroger, Christa Wells, Tamar Chipp, Jess Ray, Janice Gaines and Taylor Leonhardt, along with some of the aforementioned authors of the book. 
"There were some stories of women picked out that were so obscure … and they were not all 'glory stories,' some were so tragic, but each story played a very important role in the history of this culture, and it was important enough for her story to be remembered," Grant said of their creation process during the writing retreats.
"With this project, we are taking time to think about these women's lives and what it meant. Any time we listen to the past empathetically, when we try to connect organically to the people speaking (from the Bible) we ask, 'What does that say to us now?'" the "Better than a Hallelujah" singer added. 
Faithful, (published by David C. Cook), uses Scripture to help readers understand how God has always viewed women. Additionally, each song on the thematic album features a Christian woman telling the story of God's consistent devotion.
The Faithful Project will host a livestream event at 7 p.m. CT on May 1, featuring many of the artists and authors involved in the book.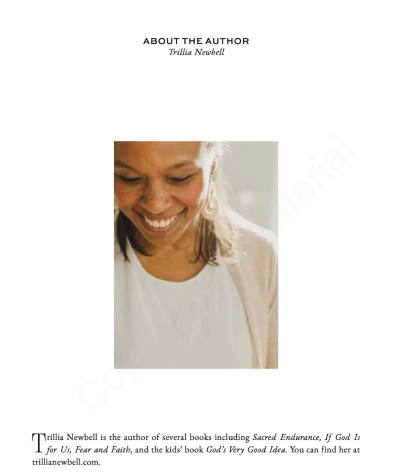 To learn more, read an exclusive excerpt shared with The Christian Post from a chapter of the book written by Trillia Newbell, the author of several books, including Sacred Endurance, If God Is for Us, and Fear and Faith, among others.
Here's Newbell's writing on the story of Naomi: 
Dark, thunderous clouds fill the sky. Even the slightest glimpse of sunshine is quenched by the cumulonimbus. 
You take a step of faith and walk outside. Big balls of frozen ice begin to fall, hitting you one by one. It hurts. It doesn't make sense. 
Keep walking … 
The dark clouds seem to close in around you. Each step is harder and more treacherous. 
Keep walking … 
The farther you walk, the harder it gets. "This plodding is so rot with pain," you mumble as you look ahead. There in the distance is a ray of sunlight. You remember that beautiful inheritance. You know it's coming. 
Keep walking … 
It's an act of valiant faith to put one foot in front of the other. 
Keep walking … 
You're going to make it to the end. Weak. Tired. But hopeful, because of that little ray, that faint but sure ray. 
Keep walking … 
And when you get there, you'll realize He has always been there.¹ 
I have experienced those dark clouds. It's a familiar scene. Loss is something I'm all too familiar with: my father died when I was nineteen years old, I lost four children to miscarriage, and my oldest sister passed away at age forty. Even now, listing it out can feel overwhelming. During seasons of discouragement, loss, or confusion, you and I go searching for answers or even the slightest glimmer of hope. That's one of the many reasons I'm so thankful for God's Word. God was gracious to tell the stories of those who have gone before us, who, like many of us, experienced times when everything seemed to be surrounded by dark clouds. 
In the book of Ruth, we find such a story. 
Famine, loss of homeland, loss of husband, and loss of children. They're something no one would ever wish for. We see all these great losses in Naomi's life in the book of Ruth. So often we look at these passages and only glance over Naomi. We admire the loyalty of Ruth in staying with her mourning mother-in-law. We also look to the love story of Boaz and Ruth as proof that Mr. Right could come from any circumstance if we display enough trust. And, rightly, we see the faithfulness of God within dire circumstances.
But if we focus on Naomi, we see that she faced great tragedy and feared that only more would come. But as is the case so often, God provided far above all that she imagined.
 Naomi's fear of tragedy 
Naomi wholeheartedly believed that the Lord had dealt bitterly with her. Twice we see this referenced in the first chapter. First, she urged her daughters-in-law to leave her. She said she desired that they be cared for and that they find new husbands. She knew she was too old to conceive more sons, and if she did, the women would have to wait until the sons were grown to remarry. (Not to mention that Naomi herself would have to find a new husband, since hers had died as well.) All these factors coming together were inconceivable to Naomi, so she urged the women to leave, adding, "No, my daughters. It is more bitter for me than for you, because the LORD's hand has turned against me!" (Ruth 1:13). 
She did not desire any further tragedy for her daughters. The women wept. As we know, one left. However, Ruth stayed. 
Next, we see that Naomi and Ruth traveled to Bethlehem (where Naomi was from). When they encountered the women who lived there, they asked if it was indeed Naomi. She responded: "Don't call me Naomi," she told them. "Call me Mara, because the Almighty has made my life very bitter. I went away full, but the LORD has brought me back empty. Why call me Naomi? The LORD has afflicted me; the Almighty has brought misfortune upon me." (vv. 20–21) 
Naomi not only believed the Lord was angry with her, she urged the women to call her Mara, a name she chose because it reflected how she saw her new identity: bitter (Ex. 15:23). Only because we're familiar with the end of the story do we know that Naomi misinterpreted her circumstances and applied wrath where there was none.
Some of us, perhaps like Naomi, think God is out to get us, and so we wait for the next tragedy, assuming the worst about Him. We'd never say it, but we can tend to exercise our faith in a way that communicates we're convinced God is tyrannical. God is not tyrannical. He is loving. He can't do anything contrary to His love for us. Even hard circumstances turn out for our good (Rom. 8:28). You and I can rest in the assurance of His love.
Despite her sorrow, Naomi loved Ruth and desired good for her. To make a short story even shorter, Naomi coached Ruth and instructed her on how to win over Boaz. Ruth obeyed, married Boaz, and bore a son.
What is beautiful is how the same women that Naomi told to call her Mara are the women at the end of the story who point Naomi to the faithfulness of God. The women said to Naomi:
"Praise be to the LORD, who this day has not left you without a guardian-redeemer. May he become famous throughout Israel! He will renew your life and sustain you in your old age. For your daughter-in-law, who loves you and who is better to you than seven sons, has given him birth." (Ruth 4:14–15)
We can learn a great deal here. First, consider if Naomi had hidden all her fear and bitterness. What if, instead of being open and honest and raw, she had chosen to put on a good face and share platitudes? Her honesty allowed for others to minister to her. They reminded her of the love and faithfulness of God to her.
You and I can often share that quip "I'm fine" when we are not, even when speaking to our closest friends. The Lord used Naomi's vulnerability to point us back to Him and show us all that He was doing in her life. He so often does the same for us. When we are open and honest, our real needs become known and we can then look back and see the faithfulness, restoration, and goodness of the Lord. 
Oh, the great faithfulness of God — as much to Naomi as to Ruth. In the Lord's faithfulness to Naomi, through her daughter-in-law Ruth, He provided far and above all that she could have requested. And we know that God carried out a great redemption plan through this story as well. Ruth and Boaz's son, Obed, was the father of Jesse, and Jesse the father of David, which eventually led to the Messiah's birth (Romans 15:12). 
Many of us don't actually go through tragedy as much as we fear the potential for tragedy. I have struggled with a fear of the future, waiting for the worst to happen. I fear that danger is right around the corner. As I shared at the beginning, I've tasted enough tragedy to know that life is hard and pain often is just around the corner. In many ways, perhaps, I've always been in a state of waiting for the next hard thing. I don't mean that to sound melancholy or pessimistic. On the contrary, I'm hopeful!
The Lord has always been near to me throughout my trials. I've experienced His faithfulness and His steadfast love. Paul tells us that suffering produces endurance (Romans 5:3). I can affirm that a great deal of my learning to trust the Lord for my future — clinging to my Savior — has come through sorrows. Paul concludes this text by reminding us that our hope will not put us to shame (v. 5).
But we live in a Genesis 3 world, where the curse affects every aspect of our lives. Death and tragedy happen every single day. While some are close enough that we experience them, most are outside our narrow view. But like Naomi, we are not walking alone. God is with us and for us; He is on our side (Romans 8:31)