Victoria Osteen reveals why she remains positive and fights discouragement, negativity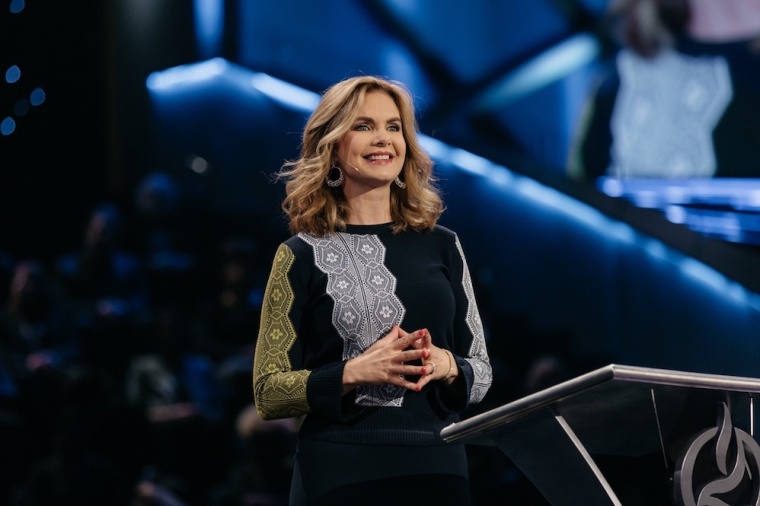 New York Times best-selling author Victoria Osteen just released her new book Exceptional You! and revealed to The Christian Post why and how she remains positive despite criticism, discouragement and negative experiences.  
The co-pastor of Lakewood Church in Houston, Texas, alongside her husband, Joel Osteen, lists seven practices that can help readers remain focused on life's victories at a time when negativity has saturated society.
Osteen and her husband reach millions worldwide through radio, television and their "Night of Hope" events held across the United States, but the mother of two says she's no stranger to negativity and discouragement. In her book, she provides practical advice on how she and her family remain focused on the goodness of God through all of life's setbacks.
The following is an edited transcript of The Christian Post's interview with Osteen in which she describes the motivation behind Exceptional You! and addresses people who might think positivity is unrealistic. She also shares some of the things she does to embrace what God says about His children.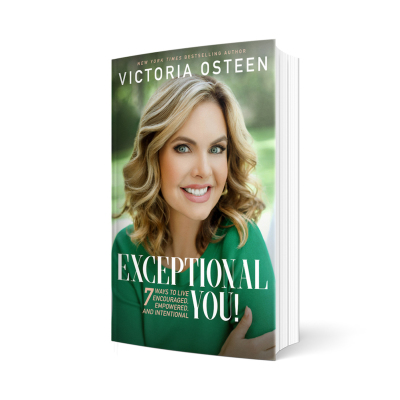 CP:  What inspired you to write Exceptional You!?
Osteen: I believe that inside of every person is exceptional. We're created, formed and fashioned in the image of an exceptional God, and I just want people to know that they have exceptional in them.
They have gifts, they have talents, and sometimes, people go around and they don't feel exceptional. They feel ordinary and they try to find their identity in things outside themselves: social media, looking at other people, and trying to follow this example or that example.
I just really want people to know whose they are (belonging to God) and who they are because of whose they are. So I just think that this thought of exceptional is important in this time where people are struggling with who they are, struggling with their identity. I just want people to stir up the gifts and the talents God has for them and really understand they're exceptional in God's eyes.
CP: What advice do you have for anyone who puts their confidence in their success and giftings and have trouble with finding their worth in God alone?
Osteen: I think we can all struggle with that if we're not careful. In the society that we live, we think we are what we do. And comparison is the worst thing that we can do and we're usually comparing our weaknesses to someone else's strengths. It's such an important thing to realize that we have gifts and that we have talents, and that we're all on a journey and not every journey looks alike.
There's a divine purpose and destiny that's uniquely ours. When we begin to really look to God and say, "God, show me my calling. Yes, I want to sing, I want to be in a band, I want to follow this dream." But if we really say, "God, we want to do this, but really, I'm going to give you my dreams. I'm going to go for them, but I'm going to give them to you, Lord, and you take them and you can make them better than I ever thought possible."
Sometimes we just get so stuck in our own way that we forget that God is here to help us not only fulfill our dreams but to fulfill our souls.
When we realize that God is in control of our lives and His plans for us are good, it may not look exactly like we think it should look, but we should enjoy every day and realize it's a gift from God and appreciate what we have.
I wrote in one of the chapters about "don't wait to appreciate," sometimes people have to lose something, they have to realize how valuable it really was. So I encourage everyone to really appreciate what you have right now. Because you might not like your job, you might be disgruntled with your family member, but there are people who are praying for what you have.
CP: Your book provides seven "exceptional" practices. Can you share a testimony of how you had to apply one of those practices to your own life?
Osteen: You know, every morning when we get up we should just say, "OK, I'm going to reset my life. I'm not going to carry around yesterday's mistakes. I'm not going to carry around disappointments, things that didn't work out." Whatever it is, "Oh, I didn't work out or didn't take my kids here." Even simple things, if we will decide today's a new day and we have an opportunity to choose how we're going to live our life, and we're going to prioritize our time. But the choice is ours and the attitude with which we do it with is ours.
Sometimes we just set every dial in our life and we get up and we just go full speed ahead, when we really need to re-evaluate our lives and how we are spending our time. What are we setting as priorities in our life? I think that's one thing that I really would encourage people to do because God's mercies are new every single day. And every day He gives us what we need for the day. So it's how we utilize it or how we spend it, so to speak, and how we steward it. The choice is ours and many times it's, "What attitude are we going to have?" even if we start out our day and we face an unexpected challenge.
CP: Not everyone is as positive as you and your husband have happily displayed throughout the years. How do you encourage those people who might think being overly positive is not being realistic?
Osteen: Sometimes it's easy — maybe the way you were raised or the area you were brought up in — to just see things one way. I just encourage people to look for what's right in your life, and not always looking for what's wrong in your life.
Filling your memory box with good things. It does come as a positive message, but God is a positive and hopeful God. We're to put our faith in the substance of things hoped for.
God wants us to hope and believe and expect good things for our life, and then we have to take it a step further and we have to look for those good things. Bad things happen in our lives and we have to train ourselves to look for the good because anybody can see what's wrong, anybody can see what's bad. And I believe when we begin to really decide that we're going to look for the good, be appreciative every single day and just have that grateful heart, somehow it changes our perspective.
I think so many times we have to think about what we're thinking about as well. Negative thoughts can just swirl in our minds. We can think about them over and over again. We have to learn that we have to erase those negative thoughts. But the only way we can really erase them is to replace them with affirming thoughts of faith, replace them with what God says about you.
You can't just leave your mind open and empty because the wrong things will fill it. So you have to be proactive and just decide that when you catch yourself thinking negative thoughts — and everybody has to do this — we have to just catch ourselves and just say, "You know what? I believe that God's helping me. That whatever is going to come against me, I can bear." And just begin to even quote Scripture. Begin to think positive thoughts. But you can't just leave your mind open. You have to replace and erase those negative thoughts.
CP: Christians tend to get spiritual amnesia and forget the way God has helped and rescued them in the past. What are practical things that you do to help yourself remember specific positive memories?
Osteen:  I talked in the book about keeping your memory box full of good things. The Bible talks about, "Out of the good that a man puts in his heart that's where the good will come out."
It's our responsibility to have those places in our hearts or even physically. I have a notebook that has all of where my children have written me notes, my husband, (Mother's Day, birthday) and they just put a smile on my face. I'll just go through those or I'll take a gratitude list that I have and just begin to remember and say it out loud, even what I'm grateful for because sometimes thinking it is not enough.
You have to get it in the atmosphere. You have to let it fill the atmosphere that you're in. I like to do things like that and really, there's negative people in our lives and sometimes you have to just get away from the negative and you have to go somewhere where there's positive, faith-filled words being spoken in a community of believers. You have to make these choices every single day because the truth is, life is hard. And if we don't fight a good fight of faith and decide we're going to put ourselves in the places that are going to feed our soul, then it's going to even be harder.
Keep your memory box full of good things. In fact, one time, I would get to where if someone complimented me, I would think, "Oh, they're just being nice, they don't really mean it." Then one day, I was like, "First off, that's not doing me any good and it's disrespectful to the person." And it was as if God just dropped in my heart, "When someone's giving you a compliment, you receive it like I'm talking to you." So if someone says something nice like, "good job," I'll just say, "Thank you very much." And I just think to myself, "Thank you, Lord, I'm just going to put that in my memory box."