15 Bible Verses Denver Broncos Fans Should Know for the Super Bowl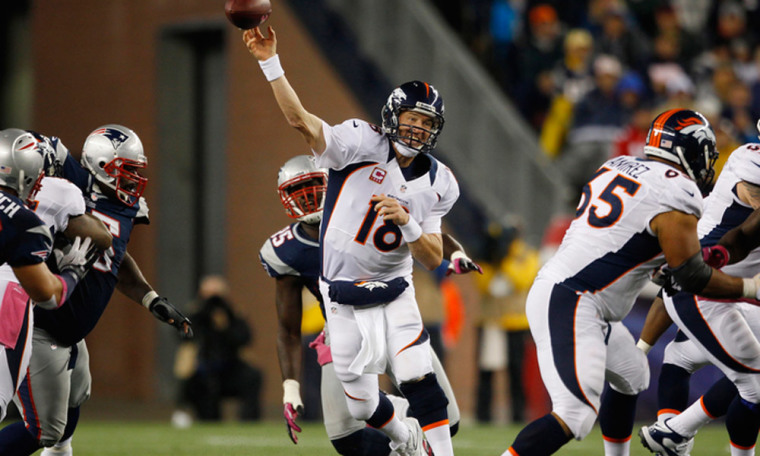 Hey, Broncos fans! Just when you thought you didn't need anything else to get pumped about the Super Bowl, here's some Scripture suggesting you'll emerge victorious over Russell Wilson and the Seattle Seahawks at the end of Sunday's big game.
If anything, it's good Twitter fodder to give your team a heavenly edge! (All verses are English Standard Version unless otherwise noted.)
WHO LIKES HORSES?
Jeremiah 4:13
Behold, he comes up like clouds; his chariots like the whirlwind; his horses are swifter than eagles—woe to us, for we are ruined!
Job 39:19-22
Do you give the horse his might? Do you clothe his neck with a mane? Do you make him leap like the locust? His majestic snorting is terrifying. He paws in the valley and exults in his strength; he goes out to meet the weapons. He laughs at fear and is not dismayed; he does not turn back from the sword.
Revelation 19:11
Then I saw heaven opened, and behold, a white horse! The one sitting on it is called Faithful and True, and in righteousness he judges and makes war.
Revelation 19:14
And the armies of heaven, arrayed in fine linen, white and pure, were following him on white horses.
2 Kings 6:17
Then Elisha prayed and said, "O Lord, please open his eyes that he may see." So the Lord opened the eyes of the young man, and he saw, and behold, the mountain was full of horses and chariots of fire all around Elisha.
Proverbs 21:31
The horse is made ready for the day of battle, but the victory belongs to the Lord.
Habakkuk 1:8
Their horses are swifter than leopards, more fierce than the evening wolves; their horsemen press proudly on.
Isaiah 63:13
Who led them through the depths? Like a horse in the desert, they did not stumble.
Jeremiah 12:5
If you have raced with men on foot, and they have wearied you, how will you compete with horses? And if in a safe land you are so trusting, what will you do in the thicket of the Jordan?
ROCKY MOUNTAIN HIGH
Psalm 125:2
As the mountains surround Jerusalem, so the Lord surrounds his people, from this time forth and forevermore.
Matthew 5:1
Seeing the crowds, he went up on the mountain, and when he sat down, his disciples came to him.
Psalm 2:6 NIV
I have installed my king on Zion, my holy mountain.
DEMARYIUS AND JULIUS CATCH FOOTBALLS
John 20:28
Thomas answered him, "My Lord and my God!"
TAMME, THAT IS
Malachi 1:2
"I have loved you," says the Lord. But you say, "How have you loved us?" "Is not Esau Jacob's brother?" declares the Lord. "Yet I have loved Jacob…"
FOR MR. ELWAY
John 3:16
For God so loved the world, that he gave his only Son, that whoever believes in him should not perish but have eternal life.
+ + +
SHARE these if you want the Broncos to beat the Seahawks!