A Caring Teacher Creates a Social Media Movement and Students Share Their Heartbreaking Thoughts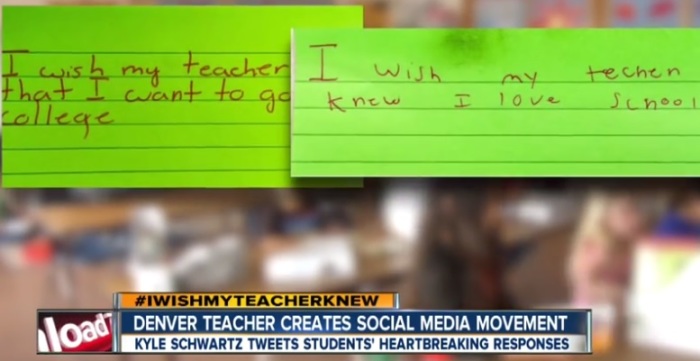 Kyle Schwartz, a caring teacher at an elementary school in Denver, has found a brilliant way to not only get her students to open up, but also get closer to them as young people. What happens next will warm your heart!
Schwartz wanted to create a safe space for the children to be open about their home lives, potential concerns or positive notes. Most of the feedback is very personal, as well as positive comments about the teacher. Many share how much Kyle means to them and that she is more than just a teacher to them.
The response to Schwartz's "I wish my teacher knew..." notes was overwhelming. It even blew up on Twitter, with many people sharing the hashtag.
She posted these responses online and received similar prompts from other schools from all over the world. The beauty in this act of kindness is that these students know that no matter what happens in life they always have a friend in Ms. Schwartz.
Watch how these students share their innermost thoughts with a caring teach below: