Awakening Events, Salvation Army team up for drive-in concerts featuring Casting Crowns, Michael W Smith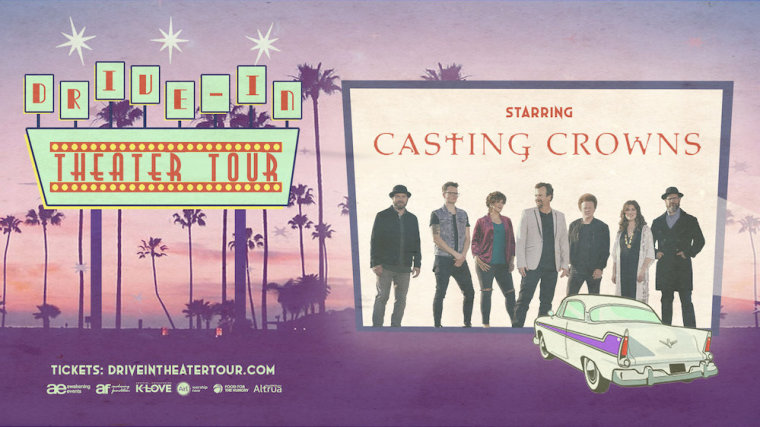 Awakening Events and The Salvation Army have teamed up this summer to support Americans in need by hosting a star-studded nationwide drive-in theater concert tour.
Among the list of Christian performers participating in the 50 drive-in theater concert tours is Casting Crowns, Michael W. Smith, TobyMac, Mac Powell and Steven Curtis Chapman. The acts will present $44,000 worth of donations in checks to The Salvation Army while onstage. 
All of the proceeds will go to assist the international charitable organization in providing basic human needs programs to aid individuals and families facing long-term impacts from the COVID-19 pandemic.
"The Salvation Army is so grateful for the generosity of Awakening Events, which will help us continue serving vulnerable Americans in need," Dale Bannon, national community relations and development secretary of The Salvation Army, said in a statement shared with The Christian Post on Friday. 
"The gift from Awakening Events will allow our local communities to provide hope to individuals and families, and we pray that their generosity inspires others to also give," he said.
The drive-in theater tour is specifically designed to keep families safe during the ongoing coronavirus outbreak. Attendees will be able to safely enjoy live music while in their own vehicles or on a blanket close to their cars. All families in attendance will have to abide by the social distancing guidelines.
A spokesperson for The Salvation Army told CP that "people living in poverty are feeling the effects [of COVID-19] quicker and more significantly" than others impacted by the pandemic.
"Because of these impacts, The Salvation Army is rapidly evolving services to ensure low-income individuals and families have access to desperately needed resources like food and shelter," the spokesperson added. 
Dan Fife, president and founder of Awakening Events, a Christian booking company, told CP that he wanted to partner with The Salvation Army because of its commitment to "meeting human need by providing hope to millions of Americans." 
"We're honored to support their efforts to provide food, shelter, counseling, financial assistance and spiritual support to individuals and families in need during these difficult times," Fife shared, expressing his excitement to be able to help fans safely come together again and enjoy live music. 
"In the climate of today we need more positivity in the world, and we take great pride in being able to offer some of that positivity safely," added Curtis Pinkerton, director of marketing for Awakening Events.

In addition to the drive-in theater concert tour, The Christian organization, which has a presence in every area code in the United States, has implemented drive-thru food pantries to provide meals from a safe social distance.
The Salvation Army spokesperson also explained that they've increased food distribution at shelters and "clients are welcome to stay during the day," as they've "enhanced cleaning protocols to ensure clients' safety." They've also offered "educational programming and activities for children to continue to enhance their education, provided rent and utility assistance to those struggling to make ends meet, and emotional and spiritual care."
A call-in service called Hope Hotline was also implemented to support people in quarantine who are feeling isolated, lonely, and fearful with emotional and spiritual healing by trained professionals. 
"Over 680,000 individuals have received support since March and people can continue to call the Hope Hotline at 1-844-458-HOPE (4673) from 9 a.m. to 1 a.m. ET," the rep added. 
A full list of cities and dates for the drive-in theater concert tour can be found at AwakeningEvents.com.