Whose fault is a miscarriage?: 'Chosen' season 3 explores painful question posed by Jesus' followers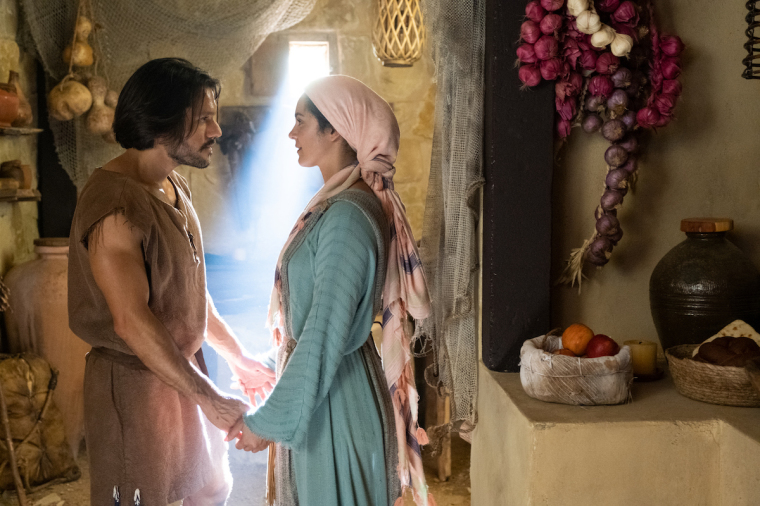 The hit TV series "The Chosen" is tackling some difficult questions in season 3 and the two-part finale, which will be in theaters through Monday, highlights the painful reality of miscarriage and how followers of Jesus wrestle with God over it.
Actress Lara Silva plays Simon's wife, Eden. While Simon (who later becomes known as Peter) is away on the mission field with Jesus, she suffers a miscarriage. The dramatic scene was depicted in episode 5 of the new season and Silva said she had to dig deep to portray such a painful event that happens to millions of women worldwide. 
"It was extremely hard," she told The Christian Post. "I had to really open my heart to, 'Wow, this happens to so many women.' So I dug in and I wanted to hear stories, and I wanted to listen to them. It made me reach out to friends and family that had gone through it. We just don't know how to deal, how to help women when they're struggling and going through that because it's so hard, and it's a traumatic experience when we lose a child."
An estimated 23 million miscarriages occur annually worldwide, according to the NIH's National Library of Medicine.
Silva, who is newly married, said she herself has never experienced the loss of a child through a miscarriage, but took the storyline seriously.
"I felt so much responsibility and weight that I was carrying like, 'How am I going to portray this? God chose me for a reason, so I'm going to do the best that I can and help shed light and get to tell the story that happens to so many women,'" she recalled.
Following the airing of the emotional scene, the actress said she received an outpouring of love and messages from women who felt "empowered and brave to share their story."
"That's why I'm so grateful for 'The Chosen,' to write that in because we don't get to see that often in a lot of shows, especially faith-based shows because we don't want to talk about it and make women feel guilty like they did something wrong, and that's not the case," Silva continued.
Season 3 highlights various moments where followers of Christ are challenged by not having their prayers answered.
The disciple Little James, played by actor Jordan Walker Ross, is portrayed as a disabled follower who has yet to receive healing. The characters Simon and Eden have displayed the marriage dynamic of Christ's followers since the first season, but the newest season showcases the burden that Simon's ministry with Christ has on his wife. 
"I remember in season one, we were hashtag marriage goals and as the struggles come, everybody was like, 'Oh my goodness, this is real.' It's not just we're strong in our faith all the time. Sometimes, one is wavering in their faith more than the other. And so, in season three, it's Eden who is suffering in silence and asking, 'I've been faithful from day one, I've been a believer since day one and why is this happening to me?" Silva explained to CP. 
After episode 6, Simon is the one left with questions. 
"'He's the Messiah; whose fault is this?'" she echoed. "That's so relatable for anyone." 
Eden was left comforting Simon at the end of episode 6 because she had more time to process her emotions after the miscarriage.
"Now that Simon knows about it, where does that leave them? Where does that leave their faith together and their faith separately with their relationship with Jesus? It's heavy, but it's incredible and beautiful and just so relatable," she added.
She added: "I'm sure we would all love an explanation for some of the hardships that we face. But it takes just so much work in ourselves and our hearts to build that spiritual maturity and leaning in on and seeking God to hear what it is that He's trying to teach me or tell me in this."
Silva said believers must know that God can be trusted and although it's no one's plan to suffer, the Lord uses everything for good.
"He loves us, even when we have doubt and fears, and only Jesus can fill us with hope and peace while we're waiting for our breakthrough spiritually or our own miracle. God does miracles for some, but not others," she continued. "So when that miracle does happen for someone else, and not for you, it takes that spiritual maturity to be genuinely happy for them, and to praise God that that person has been healed or given their miracle that gives life to us while we're in waiting."
"The Chosen" is the most successful crowdfunded series of all time with over 400 million views, not counting DVDs — while it was still in production. The final two episodes of season three will premiere in more than 2,000 theaters nationwide from Feb. 2-6. 
"I'm so excited because honestly, the finale, the story that we have [for] the finale and the experience that you'll get to see on the big screen is the miracle feeding of the 5,000. Seeing that is going to be incredible, and then also Simon and Eden. What happens? Does Eden talk to Jesus? Does she go to Him? Does He go to her? What is the resolution? And we might or might not get it still because that's real life," Silva concluded. 
Tickets are no longer available but seasons 1 through 3 can now be watched on Angel Studios and the new Chosen app.