Kim Kardashian buys Attallah Cross pendant worn by Princess Diana for $200K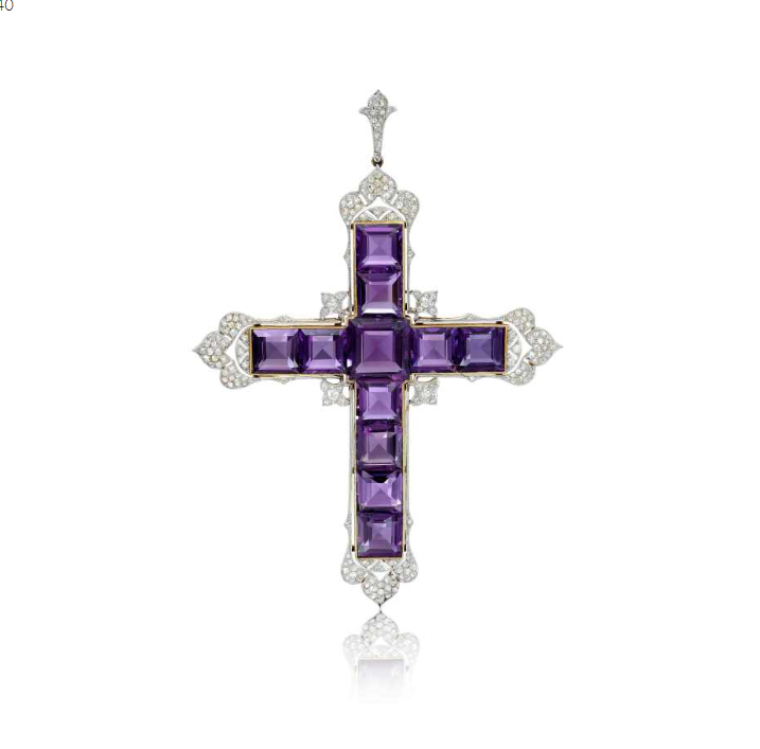 Reality television star Kim Kardashian has acquired the Attallah Cross, a diamond-encrusted pendant worn by Diana, Princess of Wales, at a Sotheby's auction in London. 
The 1920s piece, designed by luxury jewelry maker Garrard, was sold for £163,800, or roughly $202,834, more than double its pre-auction estimate, The Times (U.K.) reported.
The Attallah Cross, which features square-cut amethysts and circular-cut diamonds and weighs approximately 5.25 carats, was originally purchased by businessman Naim Attallah in the 1980s.
Princess Diana wore the piece of jewelry on several occasions, including for her attendance at a Birthright gala in London in October 1987. Birthright is a charity working toward the protection of human rights during pregnancy and childbirth.
"Jewellery owned or worn by the late Princess Diana very rarely comes on to the market, especially a piece such as the Attallah cross, which is so colourful, bold and distinctive," Kristian Spofforth, head of jewelry at Sotheby's London, was quoted as saying. "To some extent, this unusual pendant is symbolic of the princess' growing self-assurance in her sartorial and jewelry choices, at that particular moment in her life."
This is not the first time Kardashian, the star of the E! reality series "Keeping Up with the Kardashians," has shown interest in historical fashion items, having worn a dress previously worn by Marilyn Monroe at the Met Gala last year.
Diana's charity work around the world was inspired by her deeper Christian faith, which was not as recognized as it should have been, Mike Whitlam, former director general of the British Red Cross, said in a previous interview with The Telegraph.
"I think she had a stronger faith than people give her credit for. She wanted to put love where there was hatred, and make a huge difference to people's lives so that they could live a better life," Whitlam said in August 2017.
"When you talk to people about making the world a better place, there are not many people who think it's doable. She did," added Whitlam, who had worked with Diana on a number of charity campaigns, including her landmine trip to Bosnia.
Diana's husband, Charles III, who is now the U.K.'s king, has spoken out on a number of occasions on the religious persecution of Christians and other minorities around the world.
Kardashian, the 42-year-old mother of four, has also said she prays regularly.
Last month, in an episode of the "Angie Martinez IRL Podcast," Kardashian, the ex-wife of rapper Kanye West, spoke about the challenges of co-parenting and broke down in tears.
However, she also emphasized the importance of her daily prayer routine with her children, North, Saint, Chicago and Psalm. Even when she's away, she makes sure to connect with them over FaceTime to pray together. She said her children have come to expect this daily practice from her and that she finds it essential to her well-being.
She said maintaining quiet time to connect with God was necessary and she always has something to pray for. "Health and happiness and calmness, sometimes. … Calmness is my superpower. … [But] sometimes, I need a little bit of help in that area."
Despite her three marriages, she considers herself a "hopeless romantic" and has faith that God will bring her the perfect person. "I believe in God, love, faith in all of it, and He will bring me my perfect person," she declared.