Dallas Jenkins made 'The Chosen' amid frustration with faith-based content: God said, 'My people deserve good stuff'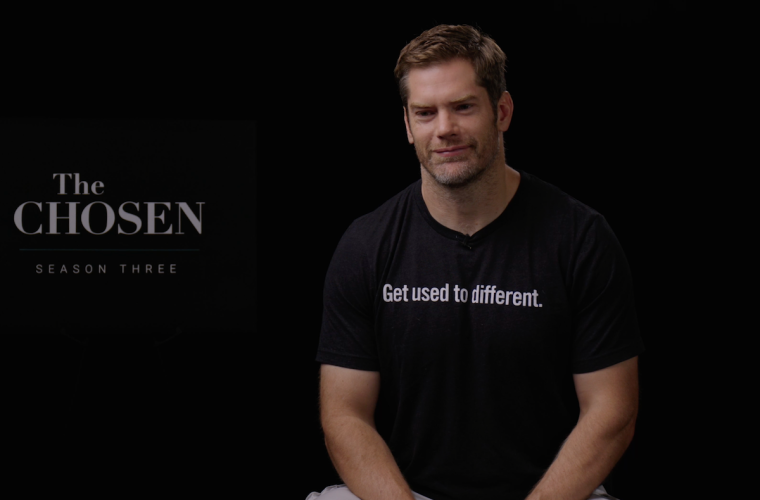 Dallas Jenkins, creator and director of "The Chosen," recently shared how a calling from God and disillusionment with faith-based entertainment prompted him to create the hit series about the life of Jesus and His followers.
The filmmaker recently appeared on Allie Beth Stuckey's "Relatable" podcast to discuss the show's third season, which premiered in November. He shared how, as a young boy, he always knew he wanted to enter the entertainment space, particularly as he felt Christians weren't well represented in film and television. 
"My thought was, as a young guy growing up — I grew up in the faith and as a Christian — I loved TV and movies but there wasn't anything that represented my faith that I liked as much as the normal TV and movies I would watch," Jenkins said. "If there was a Christian movie that came out, it wasn't any good." 
"I remember there was a moment," Jenkins, the son of Left Behind author Jerry B. Jenkins continued. "I think it was around 2007 or so, I was mowing the lawn, and I felt like God just put it really strongly on my heart. Because I was kind of bad-mouthing/apologizing for faith-based films. 'Like I don't really wanna do that because they're so bad.' And God was like, 'My people deserve good stuff too. So why don't you just make it better?'"
"I've found that people that rejected stories of faith were rejecting more the quality than they were necessarily the story," Jenkins said. "There are plenty of people who aren't believers who will watch a movie or TV show that comes from a faith perspective or is about a faith story if it's compelling. … We found that with 'The Chosen.'"
Though "The Chosen" creators strive to remain faithful to the biblical text, they do take creative liberties with characters whose backstories are not explicitly detailed in the Bible.
"I would say, probably 95 percent of the content of the show isn't directly from Scripture. People call it a Bible show; they'll call it a Jesus show. And I'm OK with that, but I'll say, 'This is actually — I mean the Bible is for sure the primary source of truth and inspiration for the show, but there's a ton of content that isn't actually directly from Scripture,'" Jenkins said. 
"It's a dangerous proposition," he continued. "You're walking a fine line, especially as someone like myself who loves the Bible, and I know that people who watch it, the majority of people who watch it, are going to be wanting us to remain faithful to the Scriptures as much as possible."
"We operate from this question: Is this plausible? Whatever we write, if it didn't come from Scripture — is this plausible, culturally, historically? And does it fit within the character and intentions of Jesus and in the Gospels, even if it's not directly from them, or even if we don't know if it's fact or not?"
Jenkins stressed that "The Chosen" isn't "pretending to be the Bible," adding: "We're not a replacement for Scripture; we never claimed to be. … This is a show about first century Galilee using the Bible as our primary source."
"I have Bible consultants that I work with. I go through a lot of research, a lot of prayer. … We take this very, very seriously," he said. 
"The Chosen," the largest fan-supported entertainment project of all time, has been watched by 94 million people worldwide since its launch in 2019 and has been translated into 62 languages. In November, the show was honored with an award from the Washington, D.C.-based Museum of the Bible for the program's cultural impact.
Jordan Walker Ross, who plays the role of Little James, one of Jesus' apostles, recently told The Christian Post that he's heard from countless people how the show has impacted them, from non-believers to Gen Z.
"The thing that sets ['The Chosen'] apart is how real and authentic all of these characters feel, how human they are, how flawed they are," he said. In the show, Little James suffers from cerebral palsy and scoliosis, which makes him limp.
"I think one great thing about Gen Z is they're open to having these difficult conversations and asking the tough questions, and 'The Chosen' is the same. 'The Chosen' asks a lot of really difficult questions, like, 'Why am I not being healed, but other people are?' And I think that that resonates, and I think that Gen Z is a generation of thinkers and questioners and 'The Chosen' definitely leans into that. I hope that it has a lifelong impact on them."
Neal Harmon, the CEO of Angel Studios, told CP they're planning seven seasons and fundraising $100 million with the goal of reaching 1 billion people with "The Chosen" by 2027.
"We always believed that we could get to a seven-season series around this, and we always believed that we could build a movement as we saw the reception and the hunger," he told CP. 
"We set our sights very high for reaching a billion people by 2027 with 'The Chosen,' and that's an ambitious goal, we believe it's possible. We believe that the hunger and the need is out there. But we've really got to work hard to get there."