1,100 Dead and Counting as Heatwave Sweeps India; Record-Breaking Temperatures Melting Roads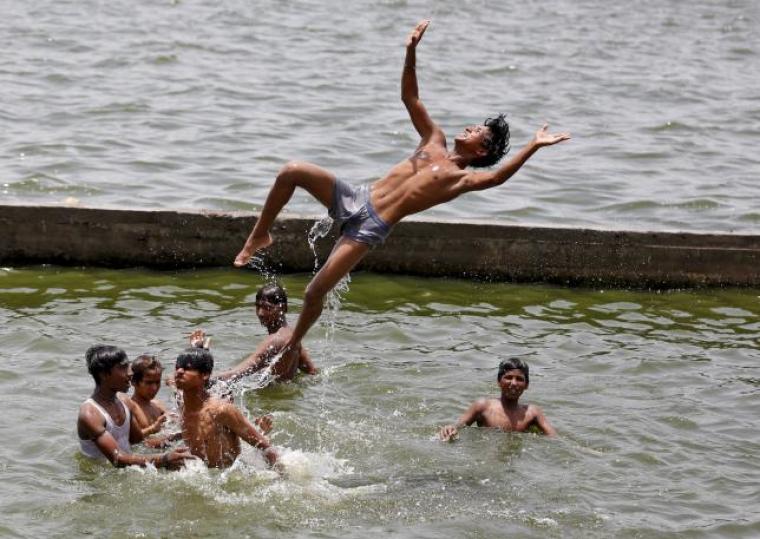 An intense heatwave in India that has broken some temperature records has killed over 1,100 people and counting in the last few days. Poor and homeless people are most vulnerable to the sweltering conditions, while the nation reportedly recorded its highest maximum temperature at 117 degrees Fahrenheit at Titlagarh in the state of Odisha on Monday.
CNN reported that 884 of the deaths were recorded in the state of Andhra Pradesh, with another 226 people confirmed dead in Telangana. The millions of homeless people in India are the most vulnerable, as they must often stay outside and face the heat, with nowhere else to go.
TIME Magazine said that deaths have also been reported in the eastern states of Odisha and West Bengal, and in Gujarat on the country's western coast. It added that local newspapers and Twitter users have been posting images of 113°F temperatures in the capital of New Delhi melting some of the city's asphalt roads.
India's weather agency has said that monsoon rains later in the week should provide relief, but they warned that another heatwave is expected to follow.
"The heat wave is likely to subside marginally on Thursday and Friday, when stray dust storms or thundershowers are expected. But maximum temperatures will not fall substantially," B.P. Yadav, the director of the India Meteorological Department, told the Times of India.
"Delhiites can expect major relief from the heat from June 2, when there are indications of good showers in the region which may last till June 4. Thereafter, easterly winds are likely to replace the hot westerlies, which would have a cooling effect," he added.
Officials warned that people must take protective measures whenever they have to venture outside.
"The state government has taken up education programs through television and other media asking people not to venture outside without a cap, to drink water and take other measures," said Tulsi Rani, Andhra Pradesh's special commissioner for disaster management.
"We have also requested NGOs and government organizations to open up drinking-water camps so that water will be readily available for all the people in the towns."