15 Muslim Migrants Arrested After Murdering and Throwing 12 Christians Overboard in 'Religious Hate' Attack
15 Muslim Migrants Arrested After Murdering and Throwing 12 Christians Overboard in 'Religious Hate' Attack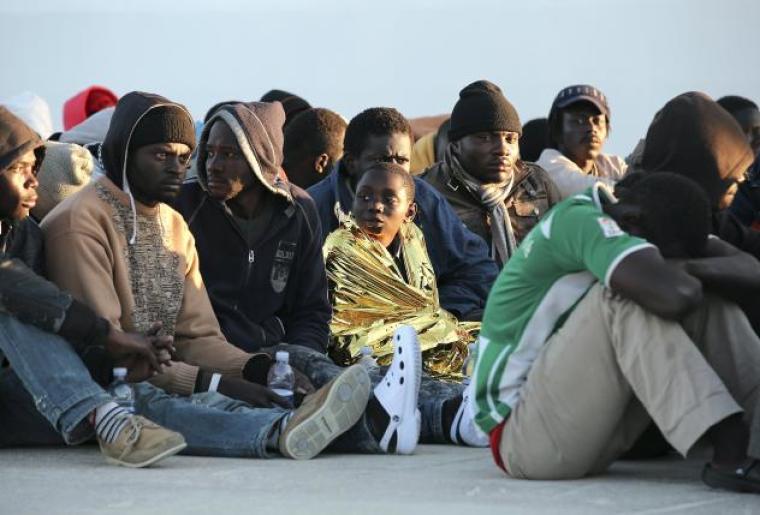 At least 15 Muslim migrants have reportedly been arrested by Italian police after murdering and throwing overboard 12 other migrants, Christians from Ghana and Nigeria, who were all on a boat heading to Italy.
BBC News reported that the Muslims were arrested when they reached the Sicilian city of Palermo, and were charged with "multiple aggravated murder motivated by religious hate."
Migrants from various parts in Africa travel to Italy by boat in large numbers every week, often resulting in massive maritime disasters.
In a separate incident earlier this week, close to 10,000 people were rescued from a migrant boat that sank between Libya and Italy, but over 40 drowned. At least 500 people are believed to have died trying to cross the Mediterranean since the beginning of January.

Sky News reported that witnesses saw the Muslim migrants killing and throwing the Christian passengers into the sea after a brawl occurred.
Ebrima Jaiteh, one of the passengers who arrived at the Sicilian port of Trapani, described the journey as "hell."
"I have been travelling non-stop for months, through many dangerous countries," he said.
"In Tripoli they treated us like animals. They beat us. They shouted at us. They took all our money."
He continued: "No human being should have to go through this. I thank God we made it. Many of my friends in different boats did not."
CNN noted that there were 105 people who left on the rubber boat from Libya on Tuesday on the trip toward Italy. The alleged Muslim assailants are believed to be from the countries of Ivory Coast, Mali and Senegal.
Other passengers on the boat, who were not identified, allegedly told Palermo police that they were spared because "they strongly opposed the drowning attempt and formed a human chain."
Police have not yet explained what led to the clash and the killings, but confirmed that religion was a motive for the attack.
"The motive for the resentment was traced to their faiths," officers said. "Twelve people are said to have drowned in the waters of the Mediterranean, all of them Nigerian and Ghanaian."
European Commission spokesperson Natasha Bertaud has said that Italy's Operation Triton, the border control policy which operates at a little over $3 million a month, is not enough to deal with the high levels of migrants. A record of 170,000 people crossed from Africa and the Middle East to Italy last year, fleeing poverty and conflict.
"We have neither the money nor the political support to launch a European border guard system," she said.
Bertaud admitted that there is no "silver bullet" for the problem. The Italian government has called on other European Union countries for help, but so far only 22 out of the 28 members support the current system — some, like the U.K., have argued that that the border control policy unintentionally encourages more migrants to attempt the dangerous voyage.