16,000 Pigs Floating in China River Followed by 1,000 Dead Ducks (VIDEO, PHOTO)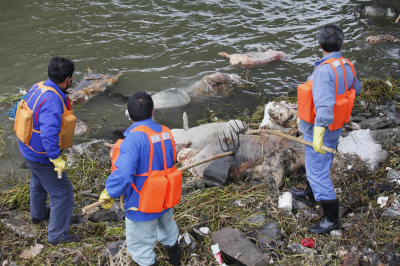 An incident where 16,000 pigs were found floating down rivers in China recently has now been followed up by reports of more than 1,000 dead ducks floating in a separate river in the country.
The shocking revelation of dead animals has shocked locals and made news around the globe.
The new story about 1,000 dead ducks comes just a week after the story of 16,000 dead pigs being found in rivers near Shanghai.
The 1,000 dead ducks were fished out of the Nanhe river in the Sichuan province, and authorities have reportedly gathered the carcasses in woven bags and are burying them underground. The burial technique is said to have been used to ensure that local residents and livestock are not put in danger by any viruses or infections from that may have been carried by the dead animals.
The previous story of 16,000 pigs, stemmed from two rivers near Shanghai, and in that case, authorities spent huge resources on pulling the thousands of pig carcasses from the rivers.
The cause of death in both the pigs and ducks cases remains a mystery. Authorities have moved to claim that drinking water remains safe in both regions where the mass of dead animals were found.
Some rumors have pointed to the fact that the sale of pig products is a big business in the areas around Shanghai, and huge amounts of money are exchanged between businessmen on official and non-official levels.
A recent crackdown on hog farms has been rumored to have scared some farmers, who have been dumping their diseased products en mass into local rivers, according to The Guardian newspaper.
Here is a video news report into the 16,000 dead pigs and 1,000 dead ducks found in China rivers:
Dead Ducks Join Dead Pigs in China Rivers