2013 State of the Bible: Americans Say Morality Is Declining, Cite Lack of Bible Reading
NEW YORK – The American Bible Society released on Tuesday its annual State of the Bible report, which revealed that a majority of Americans feel the morals and values of the country are declining. And the most cited reason for this decline, according to the report, is a lack of Bible reading.
The Christian Post had the opportunity to sit down with Doug Birdsall, the new president and Chief Executive Officer of ABS, in an exclusive interview on Tuesday that took a closer look at the State of the Bible report and the international experience Birdsall brings to the table.
"As the new president who has only been here for a few weeks, I am energized by what I see in the State of the Bible report that we have done together with Barna Research. I'm also excited and somewhat sobered by the challenges that we face," Birdsall commented.
The 2013 State of the Bible survey, conducted in January by Barna Group on behalf of ABS, is based on 1,005 phone interviews and 1,078 online surveys with U.S. adults, 18 years and older.
According to the results, 77 percent of Americans believe that the nation's morals and values have been declining. Thirty-two percent blamed the decline on a lack of Bible reading in the country while 29 percent cited the "negative influence of media." A quarter blamed corruption from corporate greed. Most Americans (56 percent) believe the Bible has too little influence in American society while only 13 percent think the Bible has too much influence.
Although 66 percent of those surveyed said the Bible contains everything a person needs to know to live a meaningful life, 58 percent said they don't actually want the wisdom and advice given from Scripture.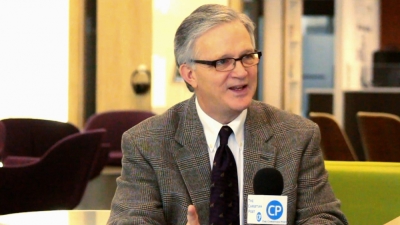 "It's a disconnect," Birdsall explained. "How many people out there know that smoking is terrible for your health but continue to smoke? That number is actually declining. But how many people are overweight – a tremendous problem in a rich country with plenty of food. People realize that junk food is not good for you but they continue to eat it."
Among some of the issues people are struggling with, the new ABS president, who took charge in March, pointed to a separate survey that identified things like integrity of marriage and divorce, gambling, abuse of alcohol and drugs, and others.
"We realize that the Bible gives guidance for the family, for the individual. But in a sense we turn off the GPS and we drive blind," he commented. "The good news is that people realize that [the Bible] is good for you. If we can simply get people to practice what they know is the right thing, to bring together congruity between what I know to be true and what I actually do, that would be a great positive."
Birdsall, who will be taking the 196-year-old ABS forward as it enters its third century, said that change is definitely possible.
As an example he used the great pollution problem in the late 20th century, which was severely damaging America's skies and rivers. When the problem became unavoidable, many began waking up; more efficient automobiles started being produced, recycling was introduced – significant efforts were made to try and reverse the trend of pollution.
"We would like to see the same renewal in our spiritual ecosystem in America," the ABS president remarked.
Another interesting finding from 2013 The State of the Bible concerns young people in the 18-29 age group. As other national surveys have pointed out, many in this demographic remain disconnected from religion, and are the least likely to take time to read the Bible.
What the survey also found, however, was that young people are also more interested in receiving input and wisdom from the Bible when it comes to subjects like parenting, family conflict, dating and relationships.
"[Young people] are struggling with things that generations after generations have struggled with," Birdsall noted. "They aspire for something better, and they realize that the only reliable source for wisdom is the Bible. But there is a disconnect. We have to do things that are going to encourage people to re-engage with the Bible."
One such re-engagement effort has been History Channel's hit TV miniseries "The Bible," produced by Mark Burnett and Roma Downey, which has drawn over 10 million viewers each Sunday night since its premiere on March 3.
The ABS atrium in New York promotes the series heavily with large LSD screens and touch-pads showing clips and features from the show. Birdsall shared that the show's success is a clear indication that millions of America are thirsty for the Bible.
"They live at a time when there is very little reverence for the Bible in other things that they watch or read or listen to. There is a huge ready-made audience that is starving, and it is for them."
The ABS head added that a number of viewers may also not know much about the Bible, and the show has sparked their curiosity.
"They've never really read it, they might have thought 'I don't really have the discipline to read it but I can sit down for 2 hours on Sunday evenings.' Hopefully one day those people will move that curiosity to commitment, and that's what we want to see across the country."
Birdsall, who holds a master of divinity from Gordon-Conwell and a master of theology from Harvard University, brings over 30 years of experience working with missionary organizations to ABS. Previously, he served from 1980 to 2007 with Asian Access in Japan, first as a missionary and then as president of the organization.
Birdsall also served as the executive chairman of the Lausanne Movement from 2004 to 2013, when he became honorary chairman. The global network of reflective practitioners, as the ABS president describes it, held its first congress in Lausanne, Switzerland, in 1974, and was organized by evangelist Dr. Billy Graham.
The Lausanne Movement serves as "a thought leader in the work of the mission of the church and world evangelism, coming up with creative, courageous strategic responses," Birdsall explained.
As chairman, he presided over the 2010 congress in Cape Town, South Africa, which has been referred to as "the most representative gathering of leaders in Christian history." More than 4,200 representatives attended the gathering from over 198 countries, linking together over 100,000 Christian leaders from around the world.
As for the future direction of ABS, Birdsall says that the organization has a huge opportunity ahead of them right now.
"We do see our culture at a crossroads. There are those who are increasingly committed to the Bible, and on the other hand there are those who are increasingly antagonistic toward it," he explained.
"I think what the American Bible Society can do, is we can really become a catalyst. We engage with tens of thousands of churches across the country, and they don't need to be convinced that there is a problem. But if we can get them working together, working to get them developing resources and say 'Let's focus on the next generation,' that's the greatest challenge that we have.
"If we work together with organizations like Young Life, InterVarsity, Campus Crusade for Christ, Youth for Christ – these organizations that are really committed to high school students, to college students, to young working people – I think the challenge is really sharing a vision, creating a sense of urgency, and developing a plan, resources. This is really the great opportunity that is before the American Bible Society."