2nd Graders Correct NFL Tweets: Chris Culliver, Wes Welker Twitter Accounts Given English Lesson
2nd Graders Correct NFL Tweets: Chris Culliver, Wes Welker Twitter Accounts Given English Lesson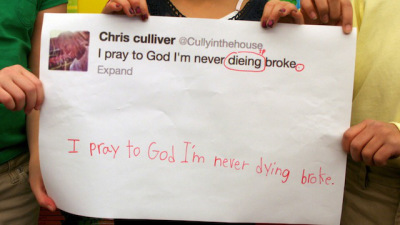 A group of 2nd graders have corrected a number of NFL tweets; handing out a lesson in spelling and grammar to a number of top NFL stars.
The second grade students from Elmwood Franklin Elementary in Buffalo, N.Y. were given a challenge by faculty at the school to correct the grammar and spelling mistakes in a number of Twitter postings from top NFL players.
The young children went to work on tweets from Chris Culliver, Wes Welker and Titus D Young Sr. on Friday, correcting errors in grammar the stars had made in the world of Twitter.
In one tweet by Chris Culliver in which the San Francisco 49ers player tweeted, "I pray to God I'm never dieing broke"
Chris Culliver has been in the news a lot this week as the San Francisco 49ers prepare to take on the Baltimore Ravens in New Orleans this Sunday for Super Bowl 47.
However, despite the pressure that must be on Culliver in preparing for the big game, the kids were still unforgiving on his spelling and grammar.
The group of seven and eight year olds got out the red pen to correctly identify Culver's spelling mistake that "dieing" should be "dying" and they also added a period to the end of the tweet for good measure.