3-Y-O Starts Transition From 'Jack' to 'Jackie' Because He Was Unhappy Being a Boy; Doctor Calls It Mental Disorder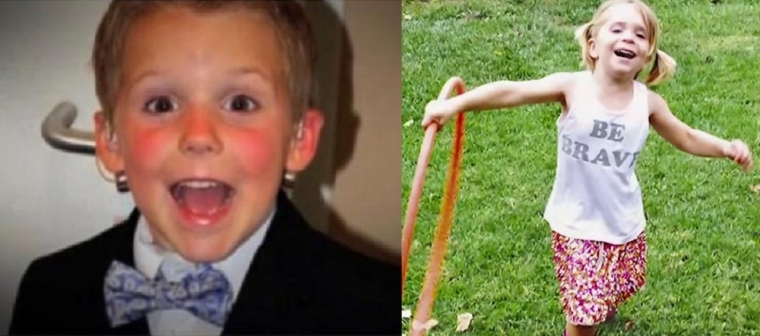 Their 3-year-old son who liked to wear his sister's clothes and pink boots told them last year that he was unhappy being a boy. Now, an Oakland couple is trying to keep their son happy by supporting his transition from a boy named "Jack" to a girl called "Jackie."
"Jackie just looked really, really sad; sadder than a 3-and-a-half-year-old should look," the boy's mother, Mary Carter, told NPR about the life-changing moment last year when she decided to support his transition from Jack to Jackie. "This weight that looked like it weighed more than she did, something she had to say and I didn't know what that was."
"So I asked. I said, 'Jackie, are you sad that you're not going to school today?' And Jackie was really quiet and put her head down and said 'No, I'm sad because I'm a boy,'" said Carter.
The concerned mother said she thought about her son's statement a bit longer then said to him: "'Well, are you happy being you?'" and it made him smile.
It was at that point on May 15, 2014, that Carter said she knew it was time to support her son's transgender move.
She took him to a drug store and bought elastic bands to pull his hair into small ponytails even though it wasn't very long at the time. The decision made Jack happy.
"And I've never seen such a happy child," Carter recalled. "To go from maybe an hour before this, this child who looks so sad, to that, I felt like I'd done something right by her."
Over the next few months after that, with help from the boy's pre-K teacher, they settled on Jackie as the new name for Jack and in October 2014, Jack celebrated his first birthday as Jackie at age 4.
Jackie's father, James Christian, explained, however, that the transgender move for his son wasn't without struggles and recalled an incident at a community party in Atlanta, Georgia, during the Fourth of July weekend last year.
"There was a point when some of the other boys, alpha males, talking about 15 kids surrounding Jackie," he said, "wanted to challenge this notion, 'Wait a minute, you said you're a boy but you're wearing a dress and have ponytails. I don't understand that.'"
Christian said he was upset at first until "this girl of about 9 stepped in and said, 'This is Jack, he's my friend.' And Jackie stood her ground, and so that made me very proud," he noted.
Despite the support for this process by Jackie's parents, however, Walt Heyer, an author and activist who underwent a sex change operation decades ago, regretted the surgery, and returned to identifying as a male again, says children cannot be born as one gender and identify as another by accident.
"There's a lot of questions here. Kids are not born transgender. Childhood developmental disorder that comes out of some event or series of events or abuse or neglect or trauma or overbearing mother or father or someone or a lot of times its sexual abuse," Heyer told The Daily Caller.
And in a recent Wall Street Journal op-ed highlighted by CNSNews, Dr. Paul R. McHugh, the former psychiatrist-in-chief for Johns Hopkins Hospital and its current Distinguished Service Professor of Psychiatry, said transgenderism is a "mental disorder" that should be treated. He also noted that studies from Vanderbilt University and London's Portman Clinic said that 70–80 percent of children who expressed transgender feelings, "spontaneously lost those feelings" over time.
"This intensely felt sense of being transgendered constitutes a mental disorder in two respects. The first is that the idea of sex misalignment is simply mistaken — it does not correspond with physical reality. The second is that it can lead to grim psychological outcomes," he noted.
The transgendered person's disorder, noted Dr. McHugh is similar to a "dangerously thin" person suffering anorexia who looks in the mirror and thinks they are "overweight."
For transgendered people who had sexual reassignment surgery, explained McHugh, most said they were "satisfied" with the operation "but their subsequent psycho-social adjustments were no better than those who didn't have the surgery."
McHugh noted that it is precisely because of this situation that Johns Hopkins stopped doing sex-reassignment surgery.
"And so at Hopkins we stopped doing sex-reassignment surgery, since producing a 'satisfied' but still troubled patient seemed an inadequate reason for surgically amputating normal organs," he explained.
"'Sex change' is biologically impossible," said McHugh. "People who undergo sex-reassignment surgery do not change from men to women or vice versa. Rather, they become feminized men or masculinized women. Claiming that this is civil-rights matter and encouraging surgical intervention is in reality to collaborate with and promote a mental disorder."