38 Dead After Bombings Strike Iraqi Christian Areas on Christmas Day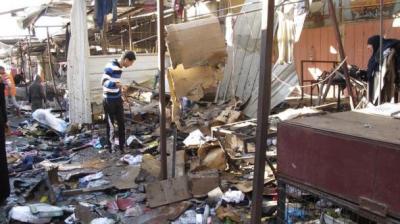 At least 38 people are dead and 60 wounded after two bombs went off on Christmas Day in Baghdad. One exploded outside a Catholic church as members of the congregation were leaving a Christmas Day service, while another bomb killed 11 in a market in a Christian neighborhood.
The attacks will likely only incite more anxiety in Iraq's waning Christian population, which has long been targeted by extremists following the U.S. invasion of the country and the toppling of Saddam Hussein. The population has dwindled down to less than 500,000 from 1.4 million in 2003.
Dr. David Curry, president/CEO of Open Doors USA, said that he believed the violence was part of a deliberate act to remove Christians from the country.
"There is a concerted effort by extremists to drive Christians out of the Middle East," Curry said in a statement. "Iraq not only is a hostile, volatile environment in general, but often the violence is directed specifically towards Christians. As a result, one of our field workers said that if the exodus of Christians from Iraq continues at the current pace, it is possible there could be no Christians left in Iraq by 2020."
Human rights activist William Warda told Reuters that he believed three to five Christian families were leaving the country daily.
"The future is very critical because of immigration," said Warda. "Many Christians … are fleeing from the country because of this issue, because there is no sign of a bright future."
Many Christians had been cautiously optimistic about celebrating this year after Prime Minister Nuri al-Maliki's Shi'ite-led government made Christmas a national holiday for the first time.
Ammar Al-Hakim, one of Iraq's most powerful Shi'ite politicians, a group that like Christians have found themselves the target of al-Qaeda, attended and spoke at a Christmas Eve mass. Al-Hakim told the congregation that Jesus Christ was an example of forgiveness and peace and offered solidarity to Christians.
"They target you like they target us. There are people in this country who believe that anyone who has a different opinion should be killed," said Al-Hakim, as quoted by Reuters. "We are partners as targets. We are partners in this challenge. And we will remain partners in confronting extremism, violence and terrorism."
Despite these gestures, Christians nevertheless took precautions. On Christmas Eve, outside a Catholic Church in Baghdad, "soldiers and police ran bomb detectors across cars, searched trunks and bags and patted down visitors before the evening ceremony."
In Iraq, Christmas Eve this year coincided with two other politically significant events – the Shi'ite holy day of Arbain and a military offensive aimed at driving out al-Qaeda in the Sunni stronghold of Anbar province.
State television coverage juxtaposed Iraqi troops with Shi'ite pilgrims dressed in black and people wearing Santa Claus suits.
This is not the first time that Iraqi Christians have been targeted on a holy day. In 2010, a suicide bomb on Christmas Day killed dozens.