4 Dead 14 Injured in Horrific Crash With Church Van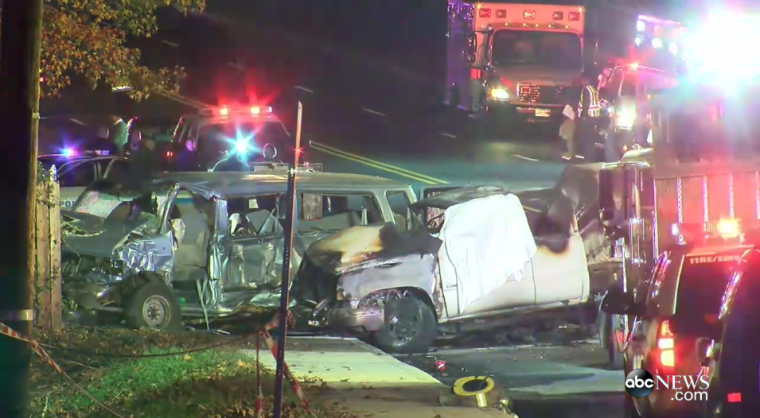 Three adults and a child are dead while more than a dozen people are in critical to serious condition after a crash with a church van in Prince George's County, Maryland, on Sunday.
Emergency responders told WUSA9 that the three vehicle crash was sparked at about 5 p.m. when a white pickup truck rear-ended a Cadillac sedan.
Eyewitnesses say as the truck sped off it caught fire and had become a "bomb on wheels" when it collided with a van packed with people setting off an inferno.
"He (pickup driver) just flew up the road, he hit the van and just smack. The impact was so fast, it was crazy. It went up in flames, just went up in flames," Keiona Washington told WUSA9.
"It was really hard to see, to watch him drive by on fire and not stopping at all, to run into that family," said Patricia Lesane.
The Associated Press identified the van as a "church van" in a report late Sunday.
Prince George's County Fire Department spokesman Mark Brady also told the AP that 14 people six —children and eight adults — were transported to a number of area hospitals. Eight of the victims, including four of the children, were in critical condition while the others suffered serious injury.
The driver of the truck was reportedly among the dead. Officials also said the death toll could rise.
The Prince George's County Police Department told The Christian Post Monday morning that they were not releasing any identifying details about the victims until all their families had been notified. They expected to complete that process late Monday.
"Due to the injuries and just how many people were involved, the family notifications have not been completed at this point so we haven't released any of that information but we hope to do so as soon as we can today," Lt. Kirk McClean said. "It was a horrific accident and we want to make sure that all the families are notified before we release their names."
McClean also declined confirming whether or not the van involved was affiliated with a church.
"In terms of who the vehicles are affiliated with we're not releasing that information as yet but we hope to do so at some point as well," he added.
Fire department spokesman Brady said a lot of the firefighters and paramedics who were first to arrive on the scene had a difficult time with the carnage. Brady explained that it's not an easy job when it comes to this, especially when it involves children.
"The first thing I did was call my mom and tell her I loved her. It's just crazy that you can lose your life in a split second like that," Lesane told WUSA9. "I had never, ever, ever seen or experienced anything like this before."