41 Children Killed by Suicide Bomb Attack Near Syrian School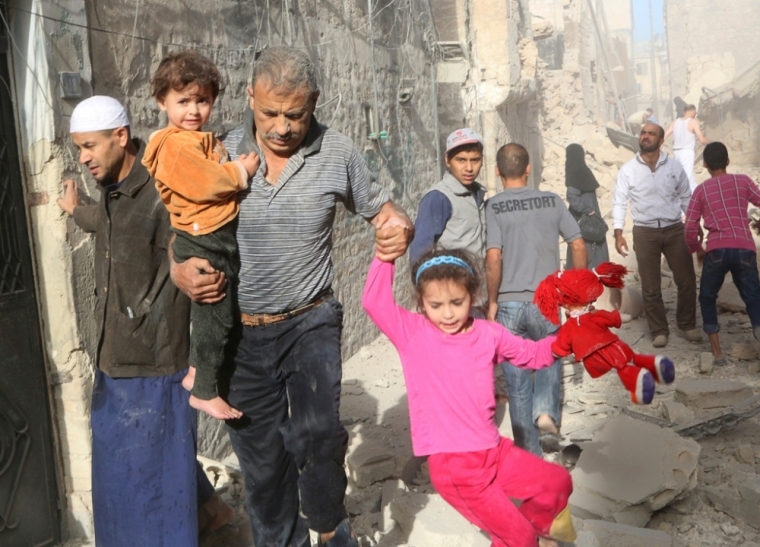 At least 41 children and 48 people in total were killed by two heavy suicide bomb blasts near a school in Homs, Syria, several sources have reported.
The Syrian Observatory for Human Rights, which is monitoring the mounting number of casualties from the three-year-old Syrian civil war, said that the explosions occurred in the Ekrima neighborhood in Homs. It added that the death toll of 48 people is likely to go up, as there are also a number of seriously injured people.
Official Syrian sources said that a car bomb and a suicide bomber caused the explosions as the children were coming out of school. Fides News Agency said that the children were targeted because many of them belong to the same religious community as the family of President Bashar al-Assad. It added that the attack was one of the heaviest losses of life in terms of children since the beginning of the Syrian conflict.
There are a number of competing rebel factions that have targeted the government of Assad, including terror group ISIS, which has spread throughout Syria and Iraq.
Assad himself has been accused by the international community of severe human rights violations, such as using chemical weapons in an attack near Damascus in August 2013, which killed 1,429 people, including 426 children.
Assad later agreed to hand over all of Syria's chemical weapons to be destroyed, but The Organization for the Prohibition of Chemical Weapons found in an investigation in September evidence that chlorine gas had again been used as a weapon in northern Syria this year.
The U.N. high commissioner for human rights revealed in a report in August that the Syrian death toll has topped 191,000 people, and that over 9 million others, close to half of them children, are in need of humanitarian aid.
"It is a real indictment of the age we live in that not only has this been allowed to continue so long, with no end in sight, but is also now impacting horrendously on hundreds of thousands of other people across the border in northern Iraq, and the violence has also spilled over into Lebanon," Commissioner Navi Pillay said at the time.
Over 3 million Syrian refugees have fled to neighboring countries seeking protection from the civil war, where they have faced various new challenges.
Kristin Wright, director of advocacy for Christian relief group Open Doors USA, told The Christian Post last week that children refugees are often the most affected in war, and spoke of the importance of the international community reaching out to help.
Wright told CP that "supporting the schools for refugee children is one of the most important things that we, as Americans, as people from all backgrounds around the world, can be doing for these children. Providing safe spaces for them to be nurtured, to be educated, to be supported after everything that they have been through."
The Assyrian Human Rights Watch also announced on Wednesday that three Christians have been kidnapped from the city of Tel Tamar, in the north-eastern province of Hassaké. The kidnappers are believed to be a jihadist faction that has made its stronghold in the city of Raqqah.