5 Christian Families Flee Pakistani Village After Teen Falsely Accused of Blasphemy
5 Christian Families Flee Pakistani Village After Teen Falsely Accused of Blasphemy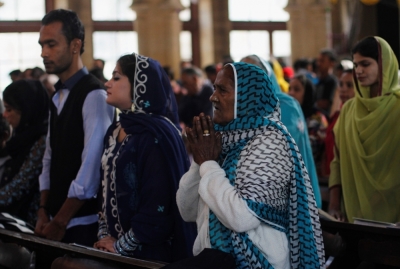 Five Christian families who lived in a village about 120 miles outside of Lahore were forced to flee their homes after a teenage son of one of the families was falsely accused of blaspheming against Islam, a crime that can be punishable by death in the majority-Muslim country.
World Watch Monitor reports that the only five Christian families in the village of Sukheki in the Punjab province fled the village and went into hiding last Friday after a fake Facebook page that was created to resemble that of a television news station accused 18-year-old Sonu Arshad of blasphemy and angered Muslims in the town.
"There is no evidence that Arshad committed any crime," Tahir Hussain, the chief of police in the nearby city of Daska, told World Watch Monitor. "This is a fake campaign and the case has been forwarded to the Federal Investigation Agency to identify those who made this fake Facebook page."
According to the news outlet, the fake Facebook account posted a picture of Arshad and asked local Muslims to "burn his church and give him the death penalty."
The post caused an extreme uproar in the local Muslim community.
According to World Watch Monitor, a mob formed last Friday after the Muslim community's prayers. However, police took control of the situation before it got out of hand.
A police case has been launched in an attempt to figure out who created the Facebook page, which was created in the likeness of a local television outlet called Madhani.
Naseer Ghulam, a local Christian counselor, told World Watch Monitor that there was "no knowledge [of] where the family has gone."
"No one knows the reason for accusing [Arshad] through this smear campaign," Ghulam said.
Pakistan ranks as the fourth-worst nation in the world when it comes to Christian persecution, according to Open Doors USA's 2017 World Watch List.
A large reason for Pakistan's high placement on the list is because of the existence of its blasphemy laws, which human rights activists have repeatedly warned are regularly used by Muslims to settle scores against religious minorities.
Under the Pakistan penal code, blasphemy is a crime that is punishable with life in prison or even a death sentence.
Christian mother Asia Bibi, who is from the Sheikhupura District of Punjab, was accused by Muslim women of insulting Islam during an argument. She was sentenced to death in 2010 and has been sitting on death row ever since.
Although the international community has called for Bibi's release, she has been denied due process as her appeals of the death sentence have been delayed by the Pakistan Supreme Court a number of times.
Over 650,000 people have signed an online petition calling on the Pakistani government to release Bibi.
Bibi is not the only one to have been victimized by Pakistan's blasphemy laws. In September, a Christian man named Nadeem James was sentenced to death by a Pakistani court after he was falsely accused of sending a blasphemous message through WhatsApp to a Muslim friend in 2016 and charged under section 295-C of the Pakistani penal code.
Earlier this month, it was reported that a 70-year-old Pakistani Christian man named Mukhtar Masih, who was accused of blasphemy, died before he could clear his name.
Masih was arrested in January and accused of posting a letter that contained blasphemous messages to the door of a local mosque near the town of Gujranwala in the Punjab province. Masih had denied the accusations. He was released on bail in May. Masih died of gastrointestinal bleeding.