5 Pastors Now Gone at Crossroads Christian Church, Elders Say Fired Lead Pastor Wanted 'Complete Control'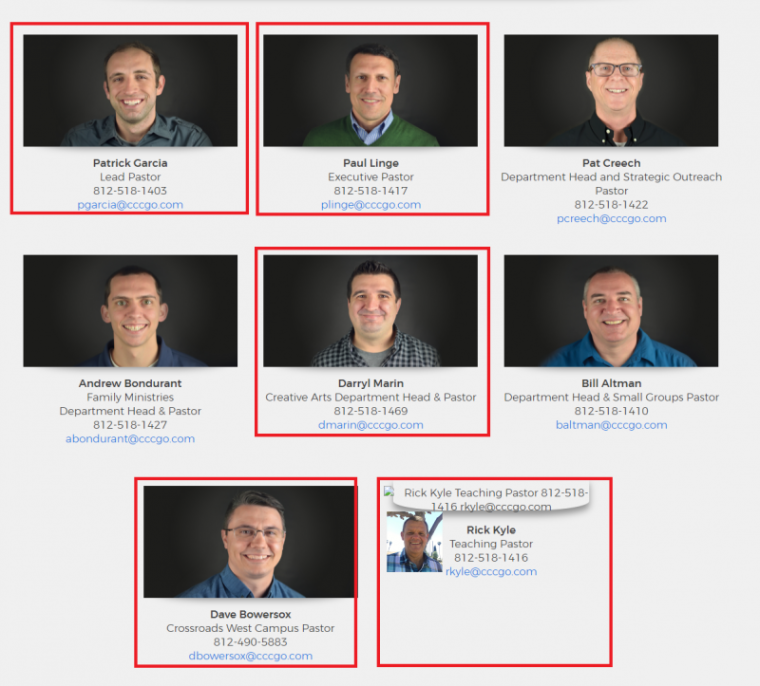 Two pastors resigned in protest from Crossroads Christian Church in Indiana Saturday after elders painted fired lead pastor Patrick Garcia, as a power-hungry, inexperienced leader who wanted "complete control."
"We would like to thank our Elders at Crossroads Christian Church for allowing us to speak to this unfortunate situation. After extensive conversation with the elders reviewing the facts regarding this matter, we find that we respectfully disagree with their decision to terminate Pastor Patrick Garcia and in good faith are unable support it. We are saddened to announce that effective today at 5:00pm, we have both resigned our jobs as Pastors at Crossroads Christian Church," pastors Darryl Marin and David Bowersox announced in a joint statement shortly after elders addressed the congregation in a contentious meeting Saturday.
"We love Crossroads and are thankful for the years of service we have had with our church family and community. We are praying that God will continue to bless and minister to the people as you pursue Christ together in unity," the pastors added.
The resignations came after Crossroads Christian Church elders announced on Facebook last week that Garcia and Kyle had been fired and invited congregants to hear the reasons behind the decision during weekend services.
Appearing on stage with several other elders at the church in a recording of the meeting with congregants Saturday, lead elder Matt Volkman said that Garcia's firing had nothing to do with disagreements over worship styles or "young versus old" as previously reported.
"Despite what you may have seen on social media or on the news, these terminations of Patrick Garcia and Rick Kyle are not a statement about young versus old. These terminations are not a statement about worship styles or preferences. These terminations are not a return to the way things were. These terminations are not at all about wrong visions ...," Volkman said.
"About 2.5 years ago we appointed Patrick Garcia to serve as our lead pastor. He was intentionally not named senior pastor but lead pastor due to his lack of Christian leadership experience. Throughout the last 2.5 years, Patrick has demonstrated with his comments, his behaviors and his actions that he sees the eldership as merely a supportive body without real leadership oversight responsibility. It's articulated throughout this tenure that the elders should have diminished interaction with staff and diminished interaction with leadership. He has attempted to curtail the elders' role as leaders and overseers of the church. This is in direct conflict with the role of the elder board as stated in our articles and our bylaws," the lead elder continued.
Volkman explained that it is the responsibility of elders to protect the shepherding of the church. He said over the last several weeks the elders had been meeting intensely to discuss the state of their church which has served their community in Indiana for 51 years with "Holy Spirit-guided direction." They sought to guide Garcia, Volkman said of the elders, but Garcia was resistant.
"Patrick has indicated an ongoing desire for complete control without input from the elders up to and including the hiring and termination of staff without review. He's asked for complete financial authority. He's recommended the removal of multiple layers of accountability and has been resistant to coach and has been resistant to counsel despite very, very, direct feedback. He's been non-responsive to requests for accountability on performance metrics," Volkman said. "In addition, Patrick has demonstrated failures in judgement and leadership. He demonstrates a lack of humility. He demonstrates a lack of maturity, he demonstrates a divisive nature with our elder board."
Volkman noted during his statement that after the elders decided to fire Garcia, elder John Smith chose to resign voluntarily. This revelation elicited cheers from the congregation and a male voice could then be heard on the video accusing Volkman of slander as the lead elder begged the church to "please hear me."
Another shout from the audience urged the elders to "step down!" which also elicited cheers and applause from members of the congregation.
Volkman acknowledged that while the decision to fire Garcia was difficult the elders are in agreement that God is leading the change.
He further revealed that Kyle received a disciplinary warning about six months ago for violating a staff covenant. He is said to have made a public outburst at other staff members and was also accused of being hostile toward the elders. He was fired because of his support for Garcia.
Kyle, in comments to Tristate, called the allegations against Garcia spin.
"The charge against Patrick is he wants to be too much in charge. Then they spun it to say they're really all about outreach, when they have several times told us that we are too evangelistic, we are too outreach-focused," he said after the meeting at the church.
He also explained that his outburst involving church staff was over a broken toilet.
"Apparently, I was mad in the hallway and I was. The real deal is the toilet had been broken for five days and I approached our HR lady and said 'why is the toilet broken?' So that was my outrage. The other thing against me was the way I have shown anger towards them. But to be honest with you, I am angry," he said.
Many members of the church also remain upset about the decision made by the elders. Raven Hart, a newer member to both Christianity and Crossroads told 14 News she wished the pastors had been reinstated.
"Wish they would be reinstated. I just don't understand it. I've never been very good at politics, but it's not right what's happened," she said. "I've seen Rick Kyle and Patrick Garcia both preach, and they're on fire for God. That's what I need in my life."
She explained that she wasn't prepared for the firings and wasn't sure she would be returning to the church.
"Thinking about the first time is really hard because they're really good people and you know they're just trying to get the word of God out where people can understand it and it's just really difficult," Hart said on Saturday.
"When I went in there this morning I planned on listening to them the whole time, but once they started talking bad about their pastor, I said it was ridiculous and I walked out. We're all just a mix of wonderful and terrible at the same time and I just didn't think that was right so I had to leave. So I'm really not sure."
Crossroads Christian Church is a nondenominational megachurch near Evansville that draws about 3,500 people to weekend services. It is one of the area's largest churches and has plants in Brooklyn, New York and San Jose, California.
A church representative told The Christian Post last week that Paul Linge, who as of Friday was listed on the church's website as executive pastor, also resigned in recent weeks.
Pat Creech who has worked at the church for 15 years will serve as interim executive pastor until Garcia is replaced.