5 takeaways from PRRI's 2021 American Values Survey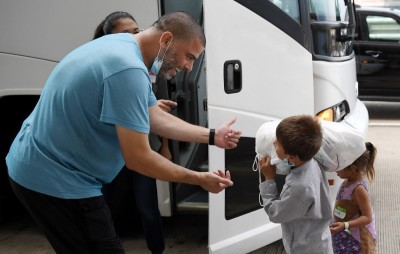 5. Americans of all religious and political backgrounds support letting Afghan refugees into the U.S.
As chaos engulfs Afghanistan following the withdrawal of U.S. troops, majorities of Americans are indicating support for allowing Afghan refugees to resettle in the U.S. Overall, 66% of Americans oppose passing a law that would limit the ability of Afghan refugees to enter the country.
Opposition to a law that would prevent Afghan refugees from entering the U.S. stands at 50% among Republicans, 73% among independents and 77% among Democrats. Majorities of all religious groups surveyed also express opposition to preventing Afghan refugees from entering the country.
Non-Christians (87%) and religiously unaffiliated Americans (77%) are the most opposed to keeping Afghan refugees out of the U.S., followed by other Christians (68%), white mainline Protestants (67%), Hispanic Catholics (65%), black Protestants (63%), white Catholics (61%) and white evangelical Protestants (57%). 
A group of Republican elected officials have expressed concern about the Biden administration's vetting process for Afghan refugees after a teenage Afghan refugee allegedly sexually assaulted a teenage girl at a hotel in Montana. The state's Republican Gov. Greg Gianforte sent a letter to President Joe Biden calling for a halt in the resettlement of Afghan refugees following the rape while Sen. Steve Daines, R-Mont., asked Homeland Security Secretary Alejandro Mayorkas why the perpetrator was given humanitarian parole status.
In September, two Afghan men staying at the Fort McCoy U.S. Army base in Wisconsin after being evacuated from their country have been indicted by a federal grand jury on separate charges of forcibly engaging in a sexual act with children and assaulting spouse by strangling and suffocating her.
Other concerns that have been raised involve child brides evacuated out of Afghanistan who were brought to Fort McCoy in Wisconsin and transit sites overseas. Last month, a State Department document showed that it sought "urgent guidance" from other agencies on what to do because child marriage is illegal in the U.S. and some girls said they had been raped.