6 Interesting Facts About the Christian Faith of Rick Santorum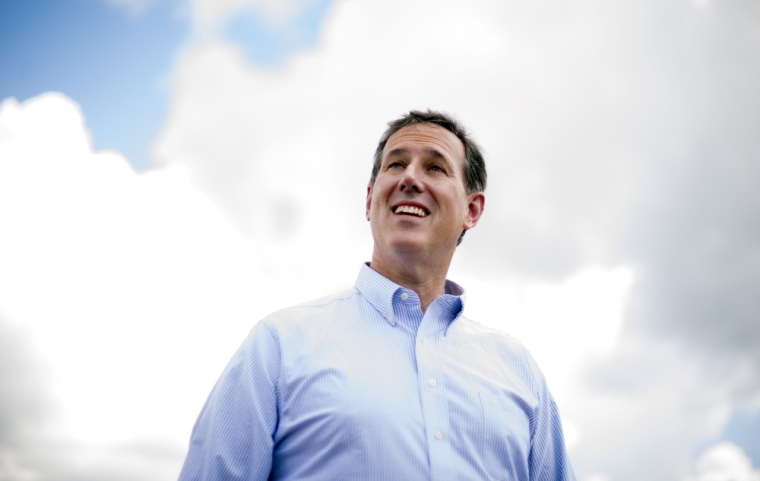 Former Senator Rick Santorum is well known for his devout Catholic faith. In the 2012 Republican Presidential Primary, Santorum scored big wins with many Evangelical voters and dominated a large part of the Deep South.
Santorum ultimately finished second in the delegate count to Mitt Romney and won 11 states outright, plus he was the belated victor in the Iowa caucus, surpassing the former Massachusetts governor and eventual nominee by 34 votes. He was outspent by Romney by a margin of 45-1.
Santorum, who represented Pennsylvania in the Senate from 1995 to 2007, is well known for his strong defense of the unborn and helped pass the 2003 ban on partial-birth abortions.
He is the father of eight children and has been married since 1990. He's a fan of the Pittsburgh Pirates and is an avid participant in fantasy baseball.
Below are six facts about the faith of Rick Santorum:
1. Santorum has said that John F. Kennedy's 1960 speech and statement that if elected his Catholic faith would not influence his policies makes him want to "throw up."
Kennedy gave the speech to the Greater Houston Ministerial Association and essentially divorced his Roman Catholic faith from having any influence on governance. Santorum, of course, has said he believes his faith and moral worldview plays a powerful role over governance and political leadership.
2. While Santorum has said he takes Obama's for his word at being a Christian, he called his policies "phony theology."
In a 2012 story in the Christian Post, Santorum said President Obama is pushing an agenda that is "not about you. It's not about your quality of life. It's not about your jobs. It's about some phony ideal. Some phony theology. Oh, not a theology based on the Bible. A different theology," the former Pennsylvania senator told tea party activists and Evangelicals in Columbus, Ohio.
3. Santorum, who was more popular among Protestants than Catholics in 2012, said he does better among "people who take their faith seriously."
Santorum was not slamming his fellow Catholics, only noting that Evangelicals seemed to be more unified and homogenous in sharing the same goals he does. Santorum lost the Catholic vote to Mitt Romney, a Mormon.
4. The former Senator called himself a "nominal Catholic" before meeting and marrying his wife Karen.
The couple got serious about their Catholic faith when they decided to marry. Before tying the knot with Rick, Karen Santorum was romantically linked to an abortion doctor.
5. While some Republican candidates have been rushing to say they would or already have attended a gay wedding, not Santorum.
"I just felt like as a person of my faith that would be something that would be a violation of my faith. I would love them and support them, but I would not participate in that ceremony," Santorum said during an April interview with Hugh Hewitt.
6. Santorum has said that young people are not just indoctrinated into moral relativism by the entertainment culture and institutions of higher education, but indoctrinated into thinking that is openly hostile to Christianity.
Speaking to Tony Perkins of the Family Research Council on the 40th Anniversary of Roe V. Wade ruling, Santorum said much of the country has eschewed universal truths.
"If you look at the popular culture and what comes out of Hollywood, if you go to our schools and particularly our colleges and universities, they are indoctrinated in a sea of relativism and a sea of antagonism towards Christianity.
"Abortion is a symptom. Marriage is a symptom. Pornography [is a symptom]," he added. "All of these are symptoms to the fundamental issue that we've gotten away from the truth and the 'Truth-Giver.'"