$65M Tri-Faith Campus Unites Christians, Jews and Muslims in Omaha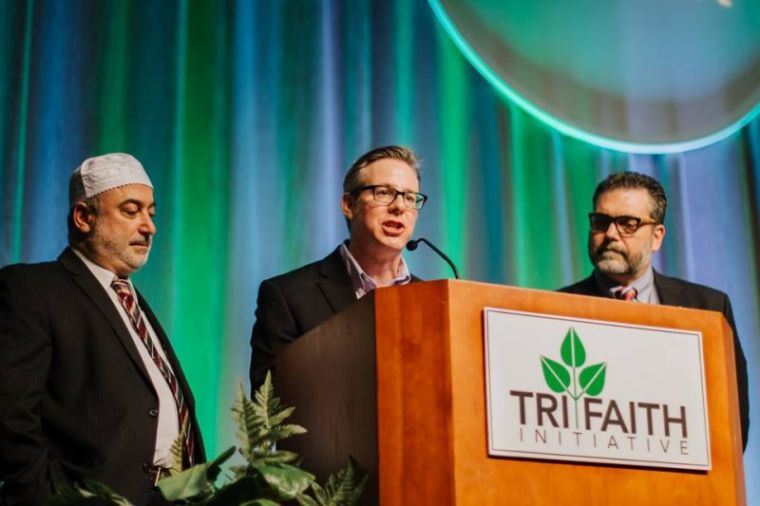 Members of a synagogue, mosque and church in Omaha, Nebraska, will soon be neighbors on a $65 million, 35-acre tri-faith campus in a bid to promote understanding and "a new vision of peace."
"It's a remarkable project, arguably the largest project in interfaith cooperation globally," the Rev. Bud Heckman, executive director of the Tri- Faith Initiative, told the Independent Tribune this week. "It's very bold and ambitious for the people of Omaha to think big like this and to build something on this scale."
In 2009, Temple Israel, Countryside Community Church, and The American Muslim Institute went public with their vision to establish a joint campus at a banquet called "Dinner in Abraham's Tent," alluding to the connection all three faiths have with the biblical Abraham.
The vision for the initiative was sparked on 9/11, according to the Tribune, when Rabbi Aryeh Azriel of Temple Israel gathered congregants to help defend a mosque after the terrorist attack. Moved by the gesture, Muslims soon began engaging members of the synagogue at picnics and discussions. Five years later in 2006, they began privately considering building houses of worship together and find a Christian partner to help.
"We believe that we are being led together by our God and that we are all called to be a blessing to each other and our community. As far as we know, our shared commons is the only undertaking of its kind. But it's a big world out there; we celebrate, support, and join in the flow of interfaith work that is practiced all around the globe," the initiative explains on its website.
The three faith groups have agreed to foster an environment of acceptance, respect and trust-building and not proselytize to each other.
"We seek and create opportunities for communities, groups, families and individuals to gather, meet, interact and learn from one another. We look for opportunities to understand differences and build on commonalities among each other. Each participant has an equal voice," the group said.
Each faith group is also expected to own, design and maintain their own place of worship on the campus as well as make decisions separately over their affairs.
Five years ago in 2013, Temple Israel completed a synagogue on the campus and in 2015, Countryside Community Church voted to join the tri-faith campus, replacing the Episcopal Diocese of Nebraska, which dropped out largely because of the cost, the Tribune said.
The American Muslim Institute opened its mosque on the campus in 2017 and has been facilitating ongoing tours and interfaith talks. Countryside Church, a member of the United Church of Christ, is expected to open on the campus next Easter while a fourth building on the campus, a shared space to be known as the tri-faith center, will be completed by late 2019.
"A shared Tri-Faith Center on the Tri-Faith Commons will serve as a hub of collaboration for social events, educational activities and conference facilities. The center will welcome people of all faiths and will become a model for peaceful co-existence that builds on America's promise of religious freedom and our desire for understanding. We hope for it to become a place where people from throughout the country come to study and interact," the initiative said.